Welcome to the NEW Nukewatch.org.
We are currently in the process of updating our website so that we can bring you the important nuclear news in the best way possible. Please check back as we continue to update our website with new content and designs.
Press Releases
Washington, DC and Santa Fe, NM
Today, the Project On Government Oversight and Nuclear Watch New Mexico sent the Department of Energy Secretary a letter urging that the FY 2014 contractor incentive award fee for the Sandia National Laboratories be completely denied. The two watchdog organizations wrote to the Secretary earlier this month to urge him to cut performance incentive award fees at least in half for the Los Alamos Lab contractor because of substandard performance that led to the contamination of 21 workers at the Waste Isolation Pilot Plant and the indefinite closure of that multi-billion facility. As deplorable as the Los Alamos situation is, the Sandia case is arguably worse because it involves direct violations of federal law that prohibit contractor use of taxpayers' dollars to lobby the government for further work.
The Sandia Labs are run by the for-profit Sandia Corporation, wholly owned by the country's largest contractor, the Lockheed Martin Corporation. According to its current contract with the federal government, the Sandia Corporation could earn up to $9.8 million in FY 2014 performance incentive award fees (it also stands to receive $18.3 million in fixed fees). In addition, Lockheed Martin could receive $2.8 million for "Home Office And Other Corporate Support," which includes the subcategory "Provision of Corporate Ethics." The Department of Energy should refuse to pay both because of improper lobbying of Congress and federal officials and Lockheed Martin's ethical failure while doing so.
Nuclear News
When asked by Hudson Institute Senior Fellow Rebeccah L. Heinrichs whether the LRSO is a weapon the US military truly needs for nuclear deterrence, Hyten said there was a "million reasons" for the program, most of which are classified.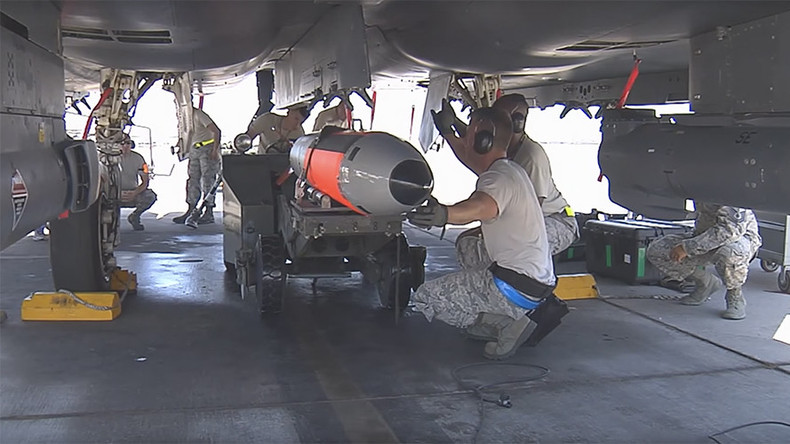 The editor-in-chief of Russia's National Defense magazine, Igor Korotchenko, warned that the second test of the B61-12 could indicate that the US is speeding up its rearmament program while "both Washington and Brussels are considering the scenario of a limited nuclear war in Europe." He added that NATO forces have already conducted drills in the Baltic Sea, including mock nuclear strikes on Russia. "During regular exercises, including those in the Baltic Sea, the air forces of NATO countries have repeatedly carried out combat training tasks involving tactical nuclear strikes on targets located in the northwest of our country," Korotchenko told RIA Novosti (ref).
NNSA press release on the B61-12 tests: (view/download PDF)

There are an estimated 180 B61 nuclear bombs stored at NATO bases in Italy, Belgium, the Netherlands, Germany and Turkey. 
Action Alerts
It seems we can't find what you're looking for. Perhaps searching can help.
Must Reads
It seems we can't find what you're looking for. Perhaps searching can help.
Quotes
It seems we can't find what you're looking for. Perhaps searching can help.