Through comprehensive research, public education and effective citizen action, Nuclear Watch New Mexico seeks to promote safety and environmental protection at regional nuclear facilities; mission diversification away from nuclear weapons programs; greater accountability and cleanup in the nation-wide nuclear weapons complex; and consistent U.S. leadership toward a world free of nuclear weapons.
New & Updated
"A lawsuit remains before a federal judge in South Carolina in which the plaintiffs – SRS Watch, Nuclear Watch New Mexico (Santa Fe, NM) and Tri-Valley CAREs (Livermore, CA) – have demanded that a programmatic environmental impact statement (PEIS) on pit production be prepared. The PEIS would analyze impacts of pit production at all DOE sites, including heretofore unanalyzed disposal of plutonium by-product waste (transuranic waste) from pit production in the Waste Isolation Pilot Plant (WIPP) in New Mexico."
By Savannah River Site Watch | October 5, 2022 einpresswire.com
SRS Pit Plant would Fabricate Plutonium Pits (Cores) for New and Old Nuclear Weapons; Schedule Delays, Cost Increases Mounting, with Cost Nearing $12 Billion
Our prediction that the unneeded SRS plutonium pit plant would continue to face significant delays and substantial cost increases is sadly being proven true"
— Tom Clements, Director, SRS Watch
COLUMBIA, SOUTH CAROLINA, US – A facility proposed to make the key plutonium component for new U.S. nuclear warheads faces another substantial delay, according a U.S. Department of Energy official at a nuclear meeting this week in South Carolina. The delay of construction of the Plutonium Bomb Plant, proposed to make plutonium "pits" at the U.S. Department of Energy's sprawling 310-square-mile Savannah River Site (SRS) near Aiken, SC, could push the price tag to $11.5 billion or higher.
It seems we can't find what you're looking for. Perhaps searching can help.
It seems we can't find what you're looking for. Perhaps searching can help.

New Nuclear Media: Art, Films, Books & More
The Richard Eeds Show. 8/3 – Jay Coghlan of Nuclear Watch New Mexico on The Event Commemorating the 75th Anniversary of the Bombing of Hiroshima.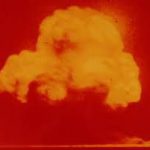 On the 75th anniversary of the world's first nuclear weapons explosion: The Trinity test near Alamogordo in 1945, KSFR News Director Tom Trowbridge spoke with a longtime New Mexico journalist about the anniversary.