Through comprehensive research, public education and effective citizen action, Nuclear Watch New Mexico seeks to promote safety and environmental protection at regional nuclear facilities; mission diversification away from nuclear weapons programs; greater accountability and cleanup in the nation-wide nuclear weapons complex; and consistent U.S. leadership toward a world free of nuclear weapons.
New & Updated
Holtec has said the facility would be temporary until a permanent repository could be built, but Rep. Janelle Anyanonu, D-Albuquerque, fears that wouldn't be the case.
"Once it opens, it's going to be permanent," Anyanou said.
Several lawmakers brought up the recent toxic train wreck near East Palestine, Ohio, as evidence hazardous waste could contaminate communities if a similar incident happened in New Mexico. Holtec has said it will transport all the waste by train.
By Robert Nott, THE SANTA FE NEW MEXICAN | February 25, 2023 santafenewmexican.com
A bill that would stymie, if not stop, efforts to build a radioactive waste disposal storage site in the southeastern part of the state is getting closer to the legislative finish line.
The House Government, Elections and Indian Affairs Committee voted 6-3 on Saturday to approve Senate Bill 53, which would prohibit the storage and disposal of radioactive materials or waste in New Mexico unless the state has agreed to the creation of the disposal facility and unless the federal government has already created a permanent nuclear waste repository.
The Senate has passed the bill, which now goes to the House Judiciary Committee. If it clears that committee, it will go the floor of the House of Representatives for a final vote.
The effort, sponsored by four Democratic lawmakers, is aimed at slowing the efforts of Holtec International from building a proposed storage site between Hobbs and Carlsbad that would hold highly radioactive uranium from reactor sites around the country.
"I don't want to see New Mexico become the nation's dumping ground [for radioactive waste]," Rep. Matthew McQueen, D-Galisteo, one of the bill's co-sponsors, told committee members.
"It's been nearly 20 years since the chromium plume was discovered, yet DOE is still struggling with cleanup,"
The current pump-and-treat method is marginally effective at best and a process that actually could take centuries to complete at this pace, said Scott Kovac, Nuclear Watch New Mexico's operations director.
The contaminated water should be removed, treated and taken to another site instead of injected back into the plume, he said.
By Scott Wyland, The Santa Fe New Mexican | February 22, 2023 santafenewmexican.com
State regulators have ordered the U.S. Energy Department to stop injecting treated water into an underground chromium plume by April 1, saying the method is pushing the contamination at the Los Alamos National Laboratory site toward a nearby pueblo and deeper into the aquifer.
The state Environment Department has called into question a pump-and-treat method the federal agency's environmental management branch has used for years in an effort to remedy the mile-long toxic plume and keep it from spreading to the adjacent San Ildefonso Pueblo.
Regulators say the technique of extracting contaminated water, treating it and pumping it back into the aquifer is not remediating the decades-old plume or containing it but instead is stirring up the hexavalent chromium and pushing it toward the pueblo.
Hexavalent chromium is a known carcinogen. If ingested in drinking water, it can harm the liver, kidneys and reproductive systems, and some research indicates consuming large amounts over a long period can cause stomach cancer.
"DOE has not demonstrated … that injection of treated water has resulted in hydraulic control of the plume," Environment Department spokesman Matt Maez wrote in an email. "NMED is concerned about threats to public health and the environment from the plume being pushed towards and onto San Ildefonso, instead of being mitigated by DOE's current injection strategy."
The Oak Ridge complex was home to the Manhattan Project for research and development during World War II
An NNSA spokesperson confirmed that the fire started at 9.15am at the federal facility: Authorities confirmed that the material involved in the fire was a metal compound of uranium.
By EMMA JAMES FOR DAILYMAIL.COM | February 22, 2023 dailymail.co.uk
A fire 'involving uranium' broke out at a National Security Complex in Tennessee with all staff being evacuated from the site.
The National Nuclear Security Administration said that an emergency response responded to the blaze on Wednesday morning at the Y-12 National Security Complex in Oak Ridge.
All of their 200 employees were accounted for, with other buildings next to the site being evacuated as a precaution.
An NNSA spokesperson confirmed that the fire started at 9.15am at the federal facility, and the blaze was limited to the site itself.
They added: 'Emergency Services responded to the event. The site activated the Y-12 Emergency Response Organization and we've been in close contact with local and state officials.
But they confirmed that they would assess employees, if needed, following the incident.

FOR IMMEDIATE RELEASE, February 21, 2023 | Scott Kovac – 505.989.7342 | Email
At a February 9, 2023 public community forum hosted by the Department of Energy's Environmental Management Los Alamos Office, there were strong indications that the New Mexico Environment Department (NMED) is convinced that DOE's plans to remediate the chromium groundwater contamination plume under Los Alamos National Laboratory (LANL) is not working. Kimberly Lebak, program manager for N3B, the LANL cleanup contractor, described how it is finalizing the 2023 milestones under the Consent Order that governs cleanup, despite the fact that the NMED Groundwater Bureau has requested that DOE stop injecting treated water by April 1, 2023. DOE and NMED are not seeing eye-to-eye concerning the "Interim Measure" that N3B is using to contain the chromium plume.
The two agencies disagree on the Interim Measure, originally designed to prevent chromium from migrating across the San Ildefonso Pueblo border while DOE tries to figure out a final remedy.
"'Putin's announcement makes it far more likely that after New START expires, there will be no agreement limiting U.S. and Russian strategic nuclear arsenals for the first time since 1972,' said Daryl Kimball, executive director of the Arms Control Association, a Washington-based organization that supports arms control agreements."
What does justice, therefore, mean to a community that has lost so much?
By Ann M. Simmons, Sabrina Siddiqui and Austin Ramzy THE WALL STREET JOURNAL | February 21, 2023 wsj.com
MOSCOW—Russian President Vladimir Putin said Moscow would step back from the last remaining major nuclear-arms-control treaty between the U.S. and Russia, and vowed to continue the military campaign in Ukraine as the diplomatic gulf widened between Moscow and the West.
Mr. Putin's move, announced Tuesday during a wide-ranging state-of-the-nation address in Moscow, came hours before President Biden again sought to rally international support for Ukraine in Poland ahead of the first-year anniversary of the invasion, and a day after traveling to Kyiv to meet with Ukrainian President Volodymyr Zelensky.

FOR IMMEDIATE RELEASE, February 13, 2023 | South Carolina Environmental Law Project, Savannah River Site Watch, Nuclear Watch New Mexico, Tri-Valley CAREs, Gullah/Geechee Sea Island Coalition
AIKEN, S.C. — In a win for public participation and environmental protection, the United States District Court of South Carolina denied the Department of Energy's motion to dismiss a 2021 legal action filed by multiple citizen groups. The suit was prompted by the agencies' failure to take the "hard look" required by the National Environmental Policy Act at their plans to more than quadruple the production of plutonium pits for new nuclear weapons and split their production between the Los Alamos National Laboratory and the Savannah River Site.
In her ruling, Judge Mary Geiger Lewis thoroughly rejected the defendants' arguments that the plaintiffs lacked standing, saying it was "not a close call".
"We were able to defeat yet another attempt to use standing as a weapon to keep members of the public out of the government's decision-making process," said Leslie Lenhardt, Senior Managing Attorney at the South Carolina Environmental Law Project (SCELP).
To date, the Department of Energy (DOE) has refused to fully examine the environmental and safety impacts of their cross-country plan, which would create massive quantities of dangerous and radioactive material, put hundreds of billions of taxpayer dollars on the line, risk a new nuclear arms race, and violate the nation's foundational environmental law.

FOR IMMEDIATE RELEASE, February 8, 2023 | Joni Arends, Concerned Citizens for Nuclear Safety – 505.986.1973 | Email
Jay Coghlan – 505.989.7342 | Email
Santa Fe, NM – The Department of Energy (DOE) will spend $9.4 billion dollars in New Mexico during this fiscal year 2023, 10% more than the State's entire operating budget of $8.5 billion. To help enable its agenda of expanding nuclear weapons production that will cause more radioactive wastes and contamination, the DOE's semi-autonomous National Nuclear Security Administration (NNSA) or its contractors often go head hunting for top State officials.
The New Mexico Environment Department (NMED) has sued DOE over the slow pace of cleanup at the Los Alamos National Laboratory (LANL). Stephanie Stringer, former Deputy Cabinet Director (the number two position at NMED), applied to work for NNSA in August 2022, and resigned to take that job in November. During that time, she was privy to NMED litigation strategy against DOE and chaired the New Mexico Water Quality Control Commission that denied a citizens' motion against one of LANL's most crucial facilities for expanding plutonium pit production, the Radioactive Liquid Waste Treatment Facility. As a result, the New Mexico Ethics commission fined Stringer a paltry $250. Assuming that Stringer is earning at least $100,000 base salary in her new position, that fine would have cost her approximately five hours of her time.
A traditional—and sustainable—way of eating is just one of many things the US government has stolen from the Bikini community and other Marshallese by conducting 67 atmospheric nuclear tests. Marshallese have lost their culture, their land, and their health.
What does justice, therefore, mean to a community that has lost so much?
By Rebecca Davis Gibbons | February 2, 2023 thebulletin.org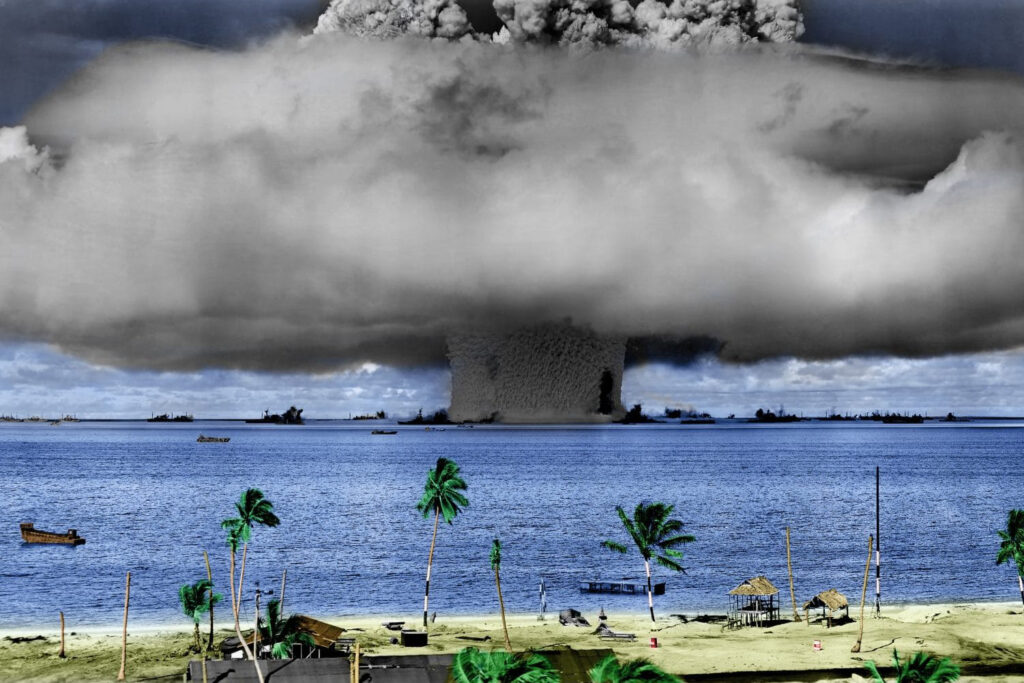 Editor's note: This commentary is part of a roundtable on nuclear injustice.
I commend Franziska Stärk and Ulrich Kühn on calling attention to the important but underappreciated topic of nuclear injustice in their recent piece in the Bulletin. As their article makes clear, many individuals, communities, and countries have faced nuclear-induced injustices over the course of the nuclear age.
Some readers of Stärk and Kühn's article may disagree over aspects of their assessment of nuclear deterrence or the effects of nuclear weapons in the ongoing war in Ukraine. But there should be little debate over the injustices faced by communities victimized by past nuclear testing and uranium mining. A prime example of nuclear injustice can be found on Kili Island in the Republic of the Marshall Islands, a place where I have firsthand experience.
On the day I arrived on Kili Island with two other recent college graduates, our hosts walked us down to the beach. A power boat came ashore, making its way through a channel where the coral that makes up and surrounds the island had been blasted away. One of the fishermen held up a large tuna. He pulled out a knife and cut some of the flesh and gave it to us. I enjoyed the freshest sashimi I had ever tasted to this day.
It turned out, however, that fish, a traditional staple of the Marshallese diet, was not going to be part of mine as I lived and taught elementary school on the island in the early 2000s. The community on Kili, a speck of an island at 200 acres, is inhabited by the Bikini people. In February 1946, the US military governor for the Marshall Islands arrived on Bikini Atoll and asked its residents to temporarily move off their atoll, with its 23 islands and a lagoon full of fish, so the United States could test weapons for "the good of mankind and to end all world wars." They agreed to leave with the promise they would return.
"No more waste. No more wasteland. No more sacrifice. No more sacrifice zone. No more suffering. We've done enough."
Santa Fe New Mexican, Tina Cordova | January 28, 2023 santafenewmexican.com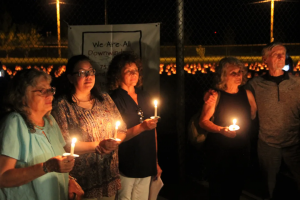 Many years ago, Jan. 27 was designated the National Day of Remembrance for Downwinders, a time to recognize the sacrifice and suffering so long experienced by those who were overexposed to radiation as part of our country's testing of nuclear weapons. The people of New Mexico were, after all, the first "Downwinders" any place in the world.
It would be monumental if our government would do more than set aside a day to remember us and actually take responsibility for the damage that was done to us. Holding the government to account is an ongoing fight that we wage every day with Congress — only to be told it's going to cost too much. This, while they pass an $857 billion defense budget.
This year, as the people of New Mexico reflect on what happened to us more than 77 years ago, we should also reflect on what is about to happen to us today. A proposal is making its way through the federal government that would allow private industry to store tens of thousands of tons of high-level nuclear waste in southeastern New Mexico.
We cannot accept the risk of this prospect and must fight this effort with all that we have.

Half the cast and crew involved with the John Wayne film, The Conqueror, shot in 1954 and released two years later, died of cancer.
Beyond Nuclear | January 19, 2023 beyondnuclear.org
They were the most high-profile victims of the fallout from atomic testing at the Nevada Test Site, which contaminated land, water and people. Although the film location site, in St. George, Utah, was more than 100 miles away, the radiation levels there were so high that when Wayne tested them with a Geiger counter he thought the equipment was broken. As The Guardian described it in a 2015 article, "the United States turned swathes of the desert radioactive during the cold war and denied it."
Now, a new documentary directed by Mark Shapiro and Douglas Brian Miller — Downwind — is premiering at the Slamdance film festival, telling the stories of St. George citizens and activists harmed by the radioactive fallout from the Nevada Test Site. Libbe HaLevy talks to Shapiro on this week's Nuclear Hotseat.
CRITICAL EVENTS
It seems we can't find what you're looking for. Perhaps searching can help.
ACTION ALERTS
It seems we can't find what you're looking for. Perhaps searching can help.
It seems we can't find what you're looking for. Perhaps searching can help.
Interfaith Panel Discussion on Nuclear Disarmament - August 9

It seems we can't find what you're looking for. Perhaps searching can help.
Posts Related to: NUCLEAR SAFETY
Dear Friends and Colleagues:
Tonight, MSNBC will air a powerful documentary called "In the Dark of the Valley" at 7 p.m. PST/ 10 p.m. EST. The film follows the story of Melissa Bumstead, a mother whose search for answers about her young daughter's cancer leads her to the contaminated Santa Susana Field Laboratory (SSFL), a former nuclear and rocket engine testing site near Los Angeles. I have been involved in the fight to clean up SSFL for 15 years, and PSR-LA has been involved for over 30 years. PSR-LA Board President Dr. Bob Dodge and I are featured in the film, along with our longtime ally Dan Hirsch, President of Committee to Bridge the Gap; generations of SSFL cleanup activists, and many others.
I urge you to watch the documentary tonight or record it to watch later. Not only is the film masterfully done and visually stunning, it manages to capture the heart of one of the longest and most intensely fought battles to clean up a contaminated site in the US. That's a big deal.
I'm writing to you all today because as I reflect on the fight to cleanup SSFL — the struggles, the hard work, the heartache, the setbacks, the frustration, the power of the forces we're up against, the greenwashing, the gaslighting,the personal sacrifices made by so many, the folks we've lost along the way — the fact that this film was made so well and is going to be broadcast nationally is more than a big deal. It's a victory. And victories, especially in these troubled times, should be shared and savored. Particularly for those of you who don't know as much about SSFL, understanding just how brutal SSFL cleanup advocacy is, and how amazing the community and cleanup advocates are, makes this film — this victory — even sweeter.