Arsenal of Information
---
---
---
Dossiers:
B61-12 Enhanced Nuclear Bomb
Marshall Islands Lawsuit
Lockheed and Contractor Lobbying Abuses
MOX / Plutonium Disposition
CMRR-Nuclear Facility
Conference on the Humanitarian Impact
Nuclear Testing Since 1945
Fukushima Disaster and Updates
Atomic Histories
---
Nuclear Watch Interactive Map of the
Nuclear Weapons Complex
View full size
Facilities:
Kansas City Plant
Lawrence Livermore National Labs
Los Alamos National Laboratory
Nevada National Security Site
Pantex Plant
Sandia National Laboratories
Savannah River Site
Washington DC
Waste Isolation Pilot Plant (WIPP)
Y-12 National Security Complex
Facility Spotlight:
At Y-12, the cost of designing the Uranium Processing Facility keeps spiraling: $92 million in '06, $2 billion by '16. (How do you spend 2 billion dollars designing anything?) - See OREPA's June '15 UPF update

- NNSA Cuts Los Alamos Lab's Award Fees by 90%
- DOE IG Report: Sandia Labs Misused Federal Funds
- Y-12: Poster Child For A Dysfunctional Nuclear
Weapons Complex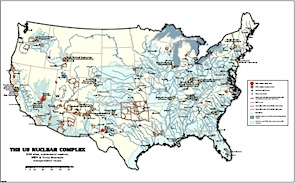 Click the image to download this large printable map of DOE sites, commercial reactors, nuclear waste dumps, nuclear transportation routes, surface waters near sites and transport routes, and underlying aquifers. This map was prepared by Deborah Reade for the Alliance for Nuclear Accountability.
Quote of the Week

---
"Just as wealthy nations have incurred an 'ecological debt' that demands more from them in addressing the environmental crisis, nuclear weapons states have incurred a nuclear debt. Because of the risks their nuclear arsenals pose to the world, nuclear weapons states bear a heavy moral burden to ensure that their nuclear weapons are never used and to reduce their stocks substantially while taking the lead in negotiating a nuclear ban."
- Archbishop Paul Gallagher, the Vatican's foreign minister, in a statement delivered to the International Atomic Energy Association in Vienna. ref: Huffington Post, Sept. 15, 2015.
---
Ben Ortiz, 1937-2015
Ben Ortiz, a former mechanical technician at Los Alamos National Laboratory who founded the Los Alamos Project on Worker Safety, died July 18 at his family home in Nambe. He was 77. (more on Ben's life and work)
---
Follow the Money!

---
NNSA FY 2016 Budget Request
- Nuclear Watch Analysis/Compilation (PDF)
---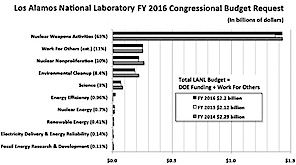 LANL FY 2016 Budget Request
Click to view full PDF incl. annotations
---
Lawrence Livermore FY 2016 Budget Request


View full PDF incl. annotations
Chart by Tri-Valley CARES
---
Congressional Budget Office report:
Projected Costs of Nuclear Forces 2014-2023

CBO presentation based on the report: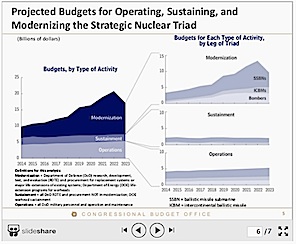 Click to view presentation
---
Stockpile Stewardship and Management Plan
View/Download FY 2015 SSMP (PDF)
NWNM Analysis (PDF) / Analysis Summary (PDF)
---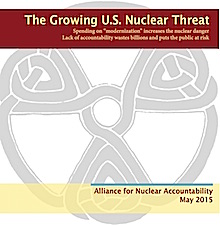 The Growing U.S. Nuclear Threat
Spending on "modernization" increases the nuclear danger. Lack of accountability wastes billions and puts the public at risk.
Alliance For Nuclear Accountability Report 5/2015

---
Nuclear Watch Media
---
Jay Coghlan, Nukewatch Director, interview: Earth Matters Radio re legacy of the US nuclear weapons program on the 70th anniversary of the Hiroshima/Nagasaki bombings. Thursday Aug 6 at 10 am and 8 pm on 89.1FM. Archived podcast here
See the NukeWatch YouTube channel
for our collection of videos.
---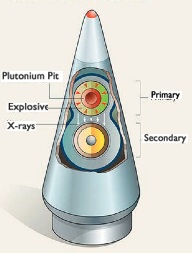 Successful Citizen Activism Against
Expanded U.S. Plutonium Pit Production
This is the unsung story of successful citizen activism against repeated government attempts to expand the production of plutonium pit cores, which has always been the choke point of resumed U.S. nuclear weapons production. This history is a critical part of the march toward a future world free of nuclear weapons. We gratefully dedicate it to Leroy Moore, longtime activist with the Rocky Mountain Peace and Justice Center, and J. Carson Mark, retired director of the Los Alamos Lab's Theoretical Division and ardent arms control advocate.
(View/download full report- PDF)
---
March 27: NukeWatch Fact Sheet
Plutonium Pit Production
In 1989, an FBI raid investigating environmental crimes abruptly stopped the annual production of hundreds of plutonium pits at the Rocky Flats Plant near Denver.
In 1997 the Department of Energy reestablished limited production of up to 20 pits per year at the Los Alamos National Laboratory (LANL).
Since the turn of the century citizen activists have stopped the National Nuclear Security Administration in each of its four attempts to expand production far beyond the 20 plutonium pits per year.
Plutonium pit production has always been the choke point for resumed U.S. production of new nuclear weapons. See the NukeWatch fact sheet including a timeline of pit production restart attempts:
(View/download "Plutonium Pit Production at LANL")
---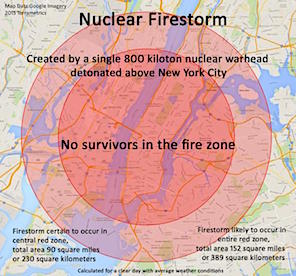 What would happen if an 800-kiloton nuclear warhead detonated above midtown Manhattan?
You should read this.
---
Who Will Claim Ronald Reagan's Mantle On

Nuclear Disarmament Today?
"A nuclear war cannot be won and must never be fought. The only value in our two nations possessing nuclear weapons is to make sure they will never be used. But then would it not be better to do away with them entirely?" -1984 State of the Union
"We seek the total elimination one day of nuclear weapons from the face of the Earth."
-Inaugural Address, 1985
"My dream is to see the day when nuclear weapons will be banished from the face of the Earth."
-from "Ronald Reagan and His Quest to Abolish Weapons" by Paul Lettow
(Read more of "Ronald Reagan, Republicans, and Nuclear Weapons" by Jonathan Granhoff, President, Global Security Institute)
---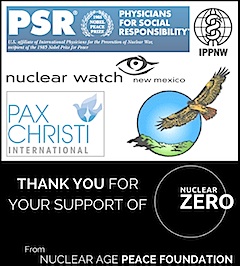 ---

Recent visitors - click to enlarge
---

"If you really want a future world free of nuclear weapons, you can hardly make a better investment than to give to Nuclear Watch New Mexico. They need and deserve your support so that they can carry on their groundbreaking work. I urge you to be generous with them!" - Danielle Brian, Executive Director, Project on Government Oversight.
Please support our work! Donations are tax-deductible

New & Updated
---
October 2, 2015:
Right Livelihood Award to Tony de Brum & the People of the Marshall Islands


"Having witnessed the deleterious effects of US nuclear tests in his country as a young boy, Tony de Brum, as Foreign Minister of the Marshall Islands, took the unprecedented step of filing lawsuits against all nine nuclear weapons states in the International Court of Justice in 2014, seeking to hold them to account for their failure to abide by the provisions of the Nuclear Non-Proliferation Treaty (NPT) and customary international law." (more)
---
US Deployment of New Nuclear Bombs To Bases in Europe Alarms Russia
Russian and US presidents Putin and Obama will meet at the UN this week with other leaders in an attempt to find some unity regarding the Syrian mess. The effort was triggered by the massive refugee flows into Western Europe, threatening to split the EU along the lines of the old Warsaw Pact, and the Russian intervention in support of Assad, with a buildup of Russia's military base on the northern Syrian coast.


US/NATO relations with Russia have continued to degrade while the world's attention was focussed on the refugee crisis in Europe.
NATO has been prepositioning armaments and supplies for its Rapid Reaction Force in a perimeter around Russia's western border, in a move NATO sees as a response to Russian aggression in Ukraine but which Russia sees as an aggression of greater import.
Ukraine President Poroshenko has said he will call a referendum on whether Ukraine should join NATO. That's unlikely to happen under current circumstances. But that hasn't stopped both parties from flirting around the issue. (See WSJ: "NATO Expands Cooperation With Ukraine, Support for Its Armed Forces- Ukrainian officials make clear the country intends to pursue membership of the western alliance")
In 1997, Ted Carpenter wrote for the Cato Institute, "Clinton administration officials and other supporters of NATO expansion profess to be baffled at Moscow's hostile reaction. But even the most peaceably inclined Russian leader would find it difficult to tolerate a U.S.-dominated military alliance perched on his country's western frontier."
Since then, Romania, Bulgaria, Czech Republic, Slovakia, Hungary, Albania, Croatia, Slovenia, Latvia, Lithuania, Estonia, have joined NATO. Bosnia and Herzegovina, Georgia, Macedonia and Montenegro wait in the wings. (see graphic)
We can read on the NATO site that "Allied leaders agreed that Georgia and Ukraine- which were already engaged in an Intensified Dialogue with NATO - will become members of NATO." And yet the Russians couldn't be more clear: "Any political game concerning NATO expansion into Georgia and Ukraine is filled with the most serious, most profound geopolitical consequences for all of Europe" Russia's permanent representative to NATO, Alexander Grushko, told LifeNews television channel.
In the Scandinavian countries, interest in joining NATO is growing. Russian warplanes have fired flares at Swedish fighter aircraft that intercept them; Sweden's security police have stated openly that Russia is the country's biggest intelligence threat. (ref) "Swedish membership in NATO would have politico-military and foreign policy consequences, and would require retaliatory measures from Russia," the Russian foreign ministry growled.


CNN 9/28: Pres. Putin on report of new U.S. nukes to Germany




Enter the B61-12


Against this backdrop, the US is reported to be preparing to replace some 20 nuclear weapons stationed in Germany with the updated version, the B61-12, which is in some ways a guided weapon; this is seen by Russia as constituting an aggressive escalation in her near-abroad. (See Kremlin Threatens Response to U.S. Nuclear Bomb Deployment in Germany) Russian spokesman Dmitry Peskov called the move a potential "violation of the strategic balance in Europe," that would demand a Russian response.
"This could alter the balance of power in Europe," Peskov told reporters at a press conference on Wednesday. "And without a doubt it would demand that Russia take necessary countermeasures to restore the strategic balance and parity." An unidentified "military-diplomatic" source told the Interfax news agency that among other options, that Iskander-M tactical missiles could be redeployed to Kaliningrad, the Russian Baltic enclave between Poland and Lithuania.
- See the full 60 Minutes interview with President Putin
- See our B61 bomb news archive page
- Kremlin Threatens Response to U.S. Nuclear Bomb Deployment in Germany
- US Nuclear Weapons In Europe: Massive Protest Planned Against New Atomic Weapons In Germany
- U.S. set to back NATO invitation to Montenegro: White House
- Are We Closer Than Ever To Nuclear War? ABC Australia / Future Tense
---
Keeping Russia's Missiles Away from Europe
Oct. 1, 2015. James Doyle writing in The National Interest:
"In recent months, NATO-Russian tensions in Europe have escalated beyond a war of words to reciprocal and provocative movements of military forces including troops, armored forces, missiles, aircraft and warships. An example of this dangerous activity occurred in mid-September, 2015. According to media reports, the analysis of intercepted transmissions by the Royal Air Force confirmed that Russian Tupolev Tu-160 bombers, known by NATO as "Blackjacks", had entered British airspace and began the sequence to arm nuclear weapons as part of their provocative training exercise. Such cycles of hostile rhetoric and increased tempo of military operations carry a great risk of misperception and miscalculation that can spark unintended war with horrific consequences for both sides.
"U.S., European and Russian citizens must demand that their leaders avoid a return to these Cold War tactics and once again make the prospect of war in central Europe a remote possibility. The tit-for-tat ratcheting up of tensions and mutual blame game are tired steps down an old road followed far too often to disaster, and do not represent the caliber of leadership Europeans and Russians deserve.
"In the latest round of such irresponsible behavior, on September 23, Russian Federation Council Defense and Security Committee chairman Viktor Ozerov claimed that NATO deployment of the accurate, modernized B-61 Mod-12 nuclear bomb could push Russia into leaving the Intermediate Nuclear Forces (INF) Treaty. Well, guess what..." (read full article)
---
At the UN, Pope Francis Calls for the Complete Prohibition of Nuclear Weapons
Pope Francis addressed the UN General Assembly today, Friday Sept. 25, and regarding nuclear weapons had this to say:
"There is urgent need to work for a world free of nuclear weapons, in full application of the Non-Proliferation Treaty, in letter and spirit, with the goal of a complete prohibition of these weapons."
Pope Francis has framed the possession of nuclear weapons as a moral issue, and has been urging the nuclear powers to get back to the task of nuclear disarmament. Last month, Archbishop Bernedito Auza, Ambassador to the UN for the Vatican said, "Today there is no more argument, not even the argument of deterrence used during the Cold War, that could 'minimally morally justify' the possession of nuclear weapons. The 'peace of a sort' that is supposed to justify nuclear deterrence is specious and illusory." (ref).
- - See the Nuclear Watch Press Release of Sept 25 on the Vatican's new policy on nuclear weapons
- See transcript of the Pope's Address to The General Assembly
Related resources:
- Statement Of The Holy See To The 59th General Conference Of The International Atomic
Energy Agency, Vienna 14 September 2015
- Nuclear Disarmament: Time for Abolition- A Statement by the Holy See to the UN, Dec. 2014.
- From Nuclear Deterrence to Disarmament: Evolving Catholic Perspectives
- The Pope Is Lining Up to Ban Nuclear Weapons (Defense One)
- The Pope: Not just for Catholics anymore (CNN)
On the Watchblog:
- New Mexico's Archbishop Cantu Helps Lead Vatican Charge for Nuclear Weapons Abolition
---
UK, September 12, 2015:
Anti-Nuclear Insurgent Jeremy Corbyn Wins Labour Leadership in a Landslide
Jeremy Corbyn, has "totally obliterated his opponents" with 60% of the vote;
second place Andy Burnham had 19%. BBC reports: "Corbyn was a 200-1 outsider when the three-month contest began. But he was swept to victory on a wave of enthusiasm for his anti-austerity message and promise to scrap Britain's nuclear weapons and re-nationalise the railways and major utilities." (story, BBC)
"We are not in the era of the Cold War anymore; it finished a long time ago. I am opposed to the use of nuclear weapons. I am opposed to the holding of nuclear weapons. I want to see a nuclear-free world. I believe it is possible." - Jeremy Corbin, BBC interview Sept. 30, 2015
Recommended: Trident's Replacement and the Survival of the United Kingdom
---
For immediate release, September 1, 2015:
Los Alamos Nat'l Lab Files Motion to Dismiss James Doyle Whistleblower Case
Dr. James Doyle: "This attempt by LANS to have my case dismissed before the promised Inspector General investigation or an administrative hearing is a blatant attempt to deprive me of my rights and to cover up misconduct. I have written to President Obama and Energy Secretary Moniz asking that they deny LANS' motion to dismiss and complete the promised Inspector General investigation." View full press release (PDF)
---
For immediate release, August 22, 2015:
Watchdogs Denounce Slap on Wrist for Illegal Lobbying Activities By the World's Biggest Defense Contractor- and Demand Real Accountability by Barring Lockheed Martin From Future Sandia Labs Contract
Nuclear Watch New Mexico denounces the $4.7 million settlement agreement as a slap on the wrist for the world's biggest defense contractor. Lockheed Martin clearly broke the law by engaging in illegal lobbying activities to extend its Sandia contract without competition, and engaged in deep and systemic corruption, including paying Congresswoman Heather Wilson $10,000 a month starting the day after she left office for so-called consulting services that had no written work requirements. There should be criminal prosecutions for clear violations of federal anti-lobbying laws, and Lockheed Marin should be barred from future competition for the Sandia Labs contract, expected next year.
View full press release (PDF)
View Department of Justice's settlement agreement (PDF)
View Rep. Heather Wilson's contract and invoices pursuant to our FOIA request (PDF)
---
A must read: See Charles Tiefer's outstanding article at Forbes:
The 10 Worst Things About Lockheed Martin's Alleged Lobbying Fraud
Note that five of the ten "Worst Things" directly involve New Mexico's ex-Congresswoman Heather Wilson. (read more)
Nukewatch's Jay Coghlan adds these remarks in regard to Heather Wilson:

Ex-Congresswoman Heather Wilson was appointed by John Boehner to be on the Congressional Advisory Panel on the Governance of the Nuclear Security Enterprise. In December 2014 the Panel came out with its long awaited report, "A New Foundation for the Nuclear Enterprise", which benefited the contractors. For example, it argued for diminished federal oversight over contractors, which flies in the face of reality (e.g., constant cost overruns, WIPP, Y-12 security incident, etc., etc.)

Perhaps most alarmingly, the Panel recommended that congressional oversight be strengthened by having the DOE Secretary report to the Senate Energy and Natural Resources and Armed Services Committees, and to the House Energy and Commerce and Armed Services Committees. This would likely have the opposite effect, as it seems to preclude the traditional jurisdiction of the House and Senate Energy and Water Development Appropriations Subcommittees, which have provided key oversight in the past, and have often cut certain nuclear weapons programs. (See our blog piece on the Wilson scandal; also our archived web coverage )

I publicly called on Heather Wilson to resign from that Panel because of her conflict-of-interests. She did not. To add insult to injury, the co-chair of the Panel is Norm Augustine, ex-CEO of Lockheed Martin. LM's tentacles are very widespread.

Lockheed Martin had $32 billion in federal contracts in 2014 (classified projects unknown). (ref) and (API)
This included $28 million for IRS data management. (ref)
In the nuclear weapons complex, in addition to Sandia Labs it runs the combined Y12-Pantex nuclear weapons production contract ($2 billion requested in FY 2016) with Bechtel, as Consolidated Nuclear Security, LLC.
Between 2008 and 2015 Lockheed Martin had 169,345 contracts with the US government, worth $293 billion. (ref)
- Jay Coghlan, NukeWatch.org
---
For immediate release, August 12, 2015:
Nuclear Weapons Experts File Amicus Brief in Support of Marshall Islands
The Marshall Islands lawsuit seeks to compel the US to begin talks to eliminate nuclear weapons as promised in the Non-Proliferation Treaty.
The amicus brief has been prepared by: Hans Kristensen, Director of the Nuclear Information Project at the Federation of American Scientists; Dr. James Doyle, a nuclear nonproliferation expert fired by Los Alamos National Lab after publishing a study arguing for nuclear weapons abolition; Robert Alvarez, a former Senior Policy Advisor to the Secretary of Energy, now at the Institute for Policy Studies; and Jay Coghlan, director of Nuclear Watch New Mexico.
View/download full press release (PDF) / View/download the amicus brief (PDF)
See also: 'Four Reasons Why U.S. Claims of NPT Compliance Are False', a NukeWatch fact sheet presented during the 2015 NPT RevCon: view/download PDF



The US detonated 67 nuclear bombs on the Marshall Islands between 1946 and 1953
Recommended:
Robert Alvarez writing in The Bulletin: The Marshall Islands and the NPT
Six months after the Japanese surrender in World War 2, the American military dropped a nuclear bomb on the Marshall Islands' Bikini Atoll, which had just become a "protectorate" of the US. It was the first nuclear detonation since Nagasaki. There followed many more, and by 1956, the United States Atomic Energy Commission regarded the Marshall Islands as "by far the most contaminated place in the world". Castle Bravo, dropped on the Marshalls in 1954 was the largest bomb the US has ever detonated. Alvarez notes that "The Bravo bomb cloud dwarfed the radioactive releases of the Fukushima and Chernobyl accidents, containing nearly 30 times more radioactive iodine than the two reactor accidents combined."
Excerpts:
"Through its lawsuits, the Republic of the Marshall Islands has exposed a huge loophole, carved out by the original five recognized nuclear weapons states at the Non-Proliferation Treaty's inception during the Cold War. Article VI requires the nuclear weapons states to engage in good-faith negotiation on disarmament, but does not actually require disarmament or set a timeline on which it should occur. By seeking a binding legal requirement for weapons states to engage in nuclear disarmament, the Marshall Islands and numerous nations are hoping to plug this loophole, which undermines the NPT."
"Land mines are banned by international convention because they have proven to be 'excessively injurious' weapons that are indiscriminate and grossly violate international humanitarian law on the conduct of war. There's little doubt that nuclear weapons are far more excessive and indiscriminate in the injuries they cause. Marshallese Foreign Minister DeBrum makes a strong case that nuclear weapons development, in and of itself, violates basic humanitarian principles and therefore fits the criteria for banning. DeBrum and the Marshallese people are far from alone in arguing for an outright nuclear weapons ban: "Support is building worldwide for nuclear weapons to be recognized- under binding international law- as unacceptable instruments of war that belong in the dustbin of history."
(Read the full article online at the Bulletin)
See also: Marshall Islands Dossier
---
Nuclear Weapons: 70 Years On and Riskier Than Ever
When on the early morning of July 16, 1945, the first nuclear bomb was detonated in southern New Mexico, observers spoke of their feelings of awe and dread. 3 weeks later, when further nuclear bombs were detonated above the cities of Hiroshima and Nagasaki, the appalling results could only elicit horror; the only documentary footage immediately following the attack was suppressed for decades. In the aftermath, many scientists called for the abolition of the bomb; statesmen called for its control by an international agency. But the Cold War confrontation saw a staggering proliferation of nuclear weapons between the two superpowers; finally the sense of dread grew so great that the leaders of both sides sought ways to jointly reduce their arsenals, and even, in the case of Reagan and Gorbachev, dreamt of abolishing these weapons. When in the early nineties the Cold War ended without a shot, many assumed we might finally move rapidly on nuclear disarmament, in keeping with the pledges made when we signed the Non-Proliferation Treaty.
And indeed, the insane arsenals of the US and Russia were cut back significantly. But ultimately, instead of seizing the chance to be rid of nuclear weapons for good, the prevailing attitude seemed to become 'might as well keep some around, you know, just in case, you never know.' A quarter century after the end of the Cold War, there are still 15,700 nuclear weapons in the world, and the US and Russia together account for 14,700 of them. (ref) These numbers are still plenty insane, but the weapons are indeed there, and they are deployed, and many are still on hair-trigger. And vast funds are being budgeted for across-the-board "modernizations".
And as it happens, tensions in Eastern Europe have flared with Russia's annexation of Crimea and President Putin's warning to NATO, more or less, 'You've gone too far- back off'; now both sides are conducting military maneuvers on each other's borders. The destabilization of the post Cold War status quo has provided fuel for the "Second Nuclear Age" constituency, those advocating a deep review of our nuclear doctrine and a re-commitment to our nuclear arsenal, and those eager to give our bombs faster delivery with greater accuracy; and smaller ones too, to give decision makers more 'options', to be more 'usable'.
We've heard a lot about Russia's aggressive behavior toward her neighbors; on the Russian side it's the reverse; see for example this infographic from sputniknews.com titled "NATO exercises and deployments near Russia since 2014"; with the text caption, "NATO has repeatedly blamed Russia for its aggressive behavior, but it looks like the alliance forgot about its own military maneuvers along the Russian border."
Another example: the western press was abuzz with Putin's announcement that 40 new ICBMs would be added to the Russian arsenal, and condemnations of Putin's "threatening behavior" were widespread, while at the same time little attention was paid to the US Air Force proposal to procure 642 new ICBMs to replace the Minuteman III fleet.
"In a development that has attracted remarkably little attention, the world has arrived at a perilous crossroads in the effort to reduce the dangers of nuclear weapons. Much recent progress stands to be lost in a hazardous wave of brinkmanship and arms races. Before it becomes too late, the United States should design and lead a new campaign to control nuclear risk."- Michael J. Mazarr, senior political scientist at the Rand Corporation writing in Newsweek, July 15, 2015.

Recommended:
- How World War III became possible- A nuclear conflict with Russia is likelier than you think- Max Fisher on Vox.com.
- Russia and America: Stumbling to War by Graham Allison and Dimitri K. Simes on The National Interest.
- Who is the bully? The U.S. has treated Russia like a loser since the end of the Cold War by Jack Matlock, last Ambassador to the Soviet Union, 1987-1991
---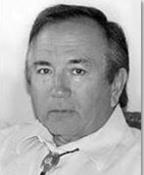 Public kept in dark over LANL
Chuck Montano, ABQ Journal OpEd, June 12:
"Last April, I published a book about this club of well-moneyed interests titled "Los Alamos: Secret Colony, Hidden Truths" and, to my dismay, few news outlets are willing to report about it. The book exposes a procurement fraud investigation gone awry at Los Alamos National Laboratory (LANL) in 2003, where two highly qualified criminal investigators were terminated in the middle of that effort, 11 months into their tenure as LANL employees..."
"In May, I hand-delivered a letter to Washington, D.C., officials, including Rep. Ben Ray Lujan, and Sens. Martin Heinrich and Tom Udall, jointly signed by the two fired criminal investigators and myself. In the letter we request intervention by the U.S. Justice Department, not only because taxpayers pay dearly for the fraud, waste and abuse so prevalent in government contracting with corporate members of the military-industrial community, but also because Los Alamos is responsible for the processing, storage and disposal of plutonium, arguably the most toxic substance known."
(Read the full OpEd piece in the June 12 ABQ Journal online)



A Petition: US Justice Dept. Needs To Investigate Los Alamos Cover-Up
Requiring officials to stop ignoring retribution against whistleblowers that is standard practice at Los Alamos National Laboratory. View petition
Los Alamos: A Whistleblower's Diary, by Chuck Montano, 2015. (More info)
Chuck Montano serves on Nuclear Watch New Mexico's Steering Committee.
---
Every little bit helps!
Remember: contributions are tax-deductible!
*Go to donations page* Thanks for your support!


Critical Events
---
Sept 23- Oct 23, 2015:
Public Comment Period on Chromium Contamination Assessment
Public Comment is invited on DOE's Environmental Assessment proposing to address chromium groundwater contamination at Los Alamos National Laboratory (See draft Environmental Assessment here)
More info: email: CRProjectEA@em.doe.gov, Phone: (800) 342-5363
More info and docs on our Watchblog post: Public Meeting to Discuss Chromium From Los Alamos That Has Reached Our Aquifer
---
Aug 28- Oct 15, California coast:
The Golden Rule Sails Again For a Nuclear-Free World
Golden Rule, the boat whose crew tried to sail to the Marshall Islands to interfere with atmospheric nuclear testing in 1958, has been lovingly restored by Veterans For Peace and other supporters. She is now in San Diego sailing for a nuclear free world. Golden Rule has a schedule for southern California ports of call - Long Beach, Santa Monica and Marina del Rey events are planned, with Santa Barbara events soon to come. See events schedule
---
For an extensive weekly listing of nuclear-related events worldwide, subscribe to the Nuclear Calendar
---
---
---
Nuclear News
---
---
LANL's Central Mission
Los Alamos Lab officials have recently claimed that LANL has moved away from primarily nuclear weapons to "national security", but what truly remains as the Labs central mission? Here's the answer from one of its own documents: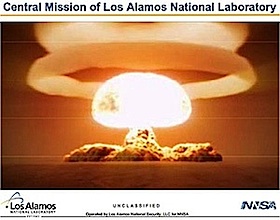 LANL's "Central Mission"- Presented at: RPI Nuclear Data 2011 Symposium for Criticality Safety and Reactor Applications
(PDF) 4/27/11
---
Nuclear Weapons, Los Alamos and Nonviolence
Panel discussion on the 70th anniversary of the U.S. atomic bombings of Hiroshima and Nagasaki with Bud Ryan, Jay Coghlan, Rev. Jim Lawson, Marian Naranjo, and Beata Tsosie-Pena.
---
Are US nuclear weapons engineers really shooting rats off their lunches?


That's what Rep. Mac Thornberry (R-Texas) said, in a talk at the Atlantic Council on June 23, and he might know, being the chairman of the House Armed Services Committee and privy to all manner of top secret information. But he's also a booster for more spending on the nuclear arsenal. So is it true? And if it is, are we talking about guns inside the labs? Who carries the guns? Well, Nukewatch and Peace Farm have filed a Freedom of Information Request to find out.
FOIA request / letter to Rep. Thornberry / press release
---

Meet Darlene Keju,
"Environmental Godmother" of the Marshall Islands, who revealed the stories of the 67 US nuclear weapons tests at Bikini and Enewetak, and worked tirelessly to protect the safety and health of Marshall Islanders. Keju died of cancer in 1996 but her work goes on. Her husband Giff Johnson published a biography of Keju in 2013 titled "Don't Ever Whisper" Read more about Darlene and the book in our Marshall Islands Dossier
---
The War That Must Never Be Fought
George P. Shultz, Former U.S. Secretary of State and James Goodby, Former Vice Chairman, U.S. Delegation to the Strategic Arms Reduction Talks; Co-editors of "The War That Must Never Be Fought" at the Commonwealth Club, June 17, 2015. Moderator: Terry Gamble Boyer, Board of Directors, Ploughshares Fund.
---
A brief, terrifying history of US nuclear mishaps
Eric Schlosser recounts the United States' clumsy history with nuclear weapons. And it's terrifying.
---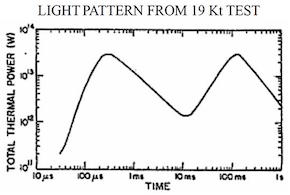 The Vela Incident:
Flash from the past: Why an apparent Israeli nuclear test in 1979 matters today
Bulletin of the Atomic Scientists, Sept 8, 2015
---
The Man Who Saved the World (2015)
An award-winning documentary about Stanislav Petrov, one of the unsung heroes of the nuclear age. "Few people know of him... Yet hundreds of millions of people are alive because of him. The actions of Stanislav Petrov, a retired Soviet military officer, prevented the start of a worldwide nuclear war and the devastation of much of the Earth."
Opening now in theaters in the USA.
- Film review in The Spectator (UK)
- IMDB listing
"I was only 50/50": Russian who saved world from nuclear war
---
Radioactive Quotes

---
"If Germany wants to sign itself into the nuclear club with the help of American nuclear bombs, then it will make itself a hostage by means of this decision in the event of a conflict arising. In the existing balance of strategic nuclear forces, no state possessing nuclear weapons can guarantee itself (safe) from a nuclear strike."

- Russian Federation Council Defense and Security Committee Chairman Viktor Ozerov, regarding a report that the US was preparing to deploy the modernized B61-12 nuclear bomb to a NATO base in Germany

[link]
"What is the only provocation that could bring about the use of nuclear weapons? Nuclear weapons. What is the priority target for nuclear weapons? Nuclear weapons. What is the only established defense against nuclear weapons? Nuclear weapons. How do we prevent the use of nuclear weapons? By threatening the use of nuclear weapons. And we can't get rid of nuclear weapons, because of nuclear weapons. The intransigence, it seems, is a function of the weapons themselves."

Martin Amis, "Einstein's Monsters"

[link]
---
Nuclear weapons: Write 'em off!


Remember, contributions are tax-deductible!
*Go to donations page* Thanks for your support!
---
Help us boost public awareness of the reality and risks of nuclear weapons today. Please share Nukewatch.org with your friends using the buttons below: