Arsenal of Information
---
---
---
Dossiers:
Kirtland AFB Nuclear Weapons Complex
New Nuclear-Capable Cruise Missile
B61-12 Enhanced Nuclear Bomb
Marshall Islands Lawsuit
Lockheed and Contractor Lobbying Abuses
MOX / Plutonium Disposition
CMRR-Nuclear Facility
Conference on the Humanitarian Impact
Nuclear Testing Since 1945
Fukushima Disaster and Updates
Atomic Histories
---
Nuclear Watch Interactive Map of the
Nuclear Weapons Complex
View full size
Facilities:
Kansas City Plant
Lawrence Livermore National Labs
Los Alamos National Laboratory
Nevada National Security Site
Pantex Plant
Sandia National Laboratories
Savannah River Site
Washington DC
Waste Isolation Pilot Plant (WIPP)
Y-12 National Security Complex
Facility Spotlight:
May 13: Pantex Plant Report Released
"Scathing" NNSA Performance Evaluation Report on the Pantex Plant: In one case, Pantex put the wrong tailkit assembly- the key element of the 'modernized' weapon- on a B61-12 nuclear bomb- and sent it on to the Dept. of Defense. Other issues plagued the plant, including the use of an incorrect O-ring on one of the B61 bombs and a duplicated serial number on W76-1 warhead parts. The NNSA criticized CNS' self-evaluation assessment of "Very Good" and gave an overall assessment of 57 percent. (read more)
---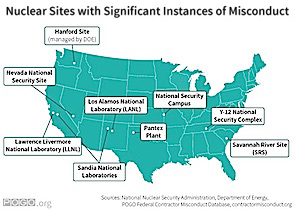 Nuclear Weapons Complex Misconduct
Dec. 3, 2015. POGO: Updated Federal Contractor Misconduct Database, focussing on Nuclear Complex (see report at POGO)
---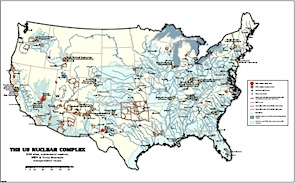 Click the image to download this large printable map of DOE sites, commercial reactors, nuclear waste dumps, nuclear transportation routes, surface waters near sites and transport routes, and underlying aquifers. This map was prepared by Deborah Reade for the Alliance for Nuclear Accountability.
Quote of the Week

---
"Several contract clauses that were bilaterally incorporated into prime contracts at all other NNSA sites, including clauses for whistleblower protection for Laboratory employees... were not accepted by the [Los Alamos] Laboratory, resulting in atypical unilateral modifications by NNSA."
- Page 44, NNSA Performance Evaluation Report: Los Alamos National Laboratory (ref)
---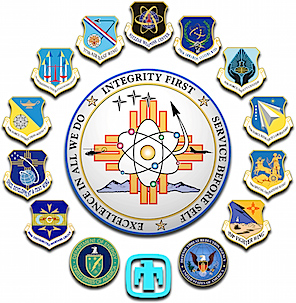 Dossier:
The Kirtland AFB Nuclear Weapons Complex
Kirtland Air Force Base, which abuts and shares some runways with the Albuquerque airport, has become a major nuclear weapons complex of it's own. It hosts the Air Force's Nuclear Weapons Center, Sandia National Laboratories, and what is probably the nation's (and perhaps the world's) largest repository of nuclear weapons, estimated at up to 2,500 warheads... (read more)
---
Follow the Money!

---
NNSA FY 2017 Budget Request
- Nuclear Watch Analysis/Compilation (PDF)
---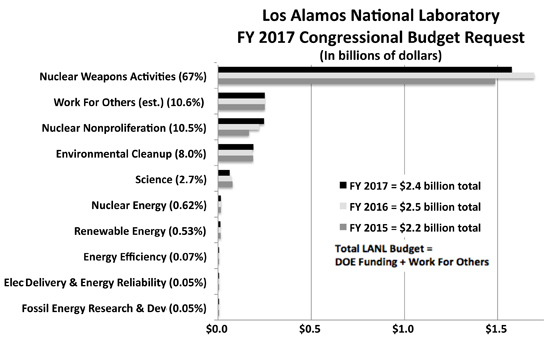 LANL FY 2017 Budget Request
Click to view full PDF incl. annotations
---
Lawrence Livermore FY 2017 Budget Request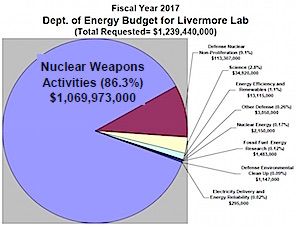 For Livermore Lab, Nuclear Weapons Activities still dominate the budget, increasing to over 86%.
Chart by Tri-Valley CARES
---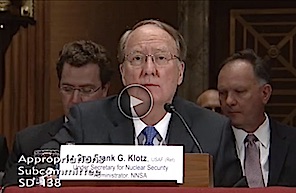 Video, Senate hearing March 16:
Review of FY 2017 NNSA Budget Request
Testifying: General Frank Klotz, Administrator, National Nuclear Security Administration, among others; questioning by Sens. Diane Feinstein, Lamar Alexander, Stewart Udall, and Lindsay Graham regarding the new nuclear cruise missile, dropping of the MOX facility in favor of "dilute and dispose" at WIPP, weapons-related v. non-proliferation funding, the modernization of nuclear forces and upgrades to the nuclear weapons labs. (Senate Committee on Appropriations- Energy and Water Development Subcommittee; Wednesday, March 16, 2016)
---
Congressional Budget Office report:
Projected Costs of Nuclear Forces 2014-2023

CBO presentation based on the report: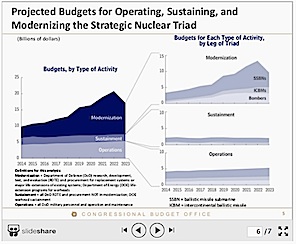 Click to view presentation
---
Stockpile Stewardship and Management Plan
- View/Download FY 2017 SSMP (PDF)
-SSMP Analysis of Hans Kristensen, FAS: Nuclear Transparency and the Stockpile Stewardship and Management Plan
- View/Download FY 2015 SSMP (PDF)
- NWNM Analysis (PDF) / Analysis Summary (PDF)
---
Nuclear Watch Media
---
Jay Coghlan, Nukewatch Director Interview
Earth Matters Radio re legacy of the US nuclear weapons program on the 70th anniversary of the Hiroshima/Nagasaki bombings. Thursday Aug 6 at 10 am and 8 pm on 89.1FM. Archived podcast here
---
NukeWatch YouTube Channel
See our playlists of key video clips.
---
Chuck Montaño
---

June 12 OpEd, ABQ Journal:
- Public kept in dark over LANL

- Letter to House Subcommittee on Oversight requesting resumption of its investigation into sudden terminations of LANL fraud investigators in view of new evidence and testimony: view/download PDF

- US Justice Dept. Needs To Investigate Los Alamos Cover-Up: A petition requiring officials to stop ignoring retribution against whistleblowers that is standard practice at Los Alamos National Laboratory.



POGO Book Review:
- Once Upon a Time in Los Alamos

Los Alamos: A Whistleblower's Diary, by Chuck Montaño, 2015. (More info)

April 21, Los Alamos Daily:
Chuck Montaño was given the ANA Whistleblower award in Washington DC: (story)

Chuck Montaño serves on Nuclear Watch New Mexico's Steering Committee.
---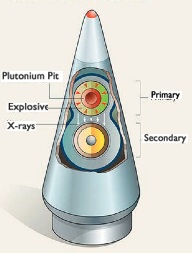 Successful Citizen Activism Against
Expanded U.S. Plutonium Pit Production
This is the unsung story of successful citizen activism against repeated government attempts to expand the production of plutonium pit cores, which has always been the choke point of resumed U.S. nuclear weapons production. This history is a critical part of the march toward a future world free of nuclear weapons. We gratefully dedicate it to Leroy Moore, longtime activist with the Rocky Mountain Peace and Justice Center, and J. Carson Mark, retired director of the Los Alamos Lab's Theoretical Division and ardent arms control advocate.
(View/download full report- PDF)
Updates: Plutonium Pit Production
April 23, 2015: NukeWatch Fact Sheet
(View/download "Plutonium Pit Production at LANL")
---
Dr. Perry's Nuclear Nightmare
Dr. William J. Perry, the 19th Secretary of Defense, shares his nuclear nightmare in this video produced by the William J. Perry Project.
---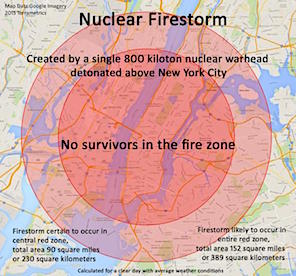 What would happen if an 800-kiloton nuclear warhead detonated above midtown Manhattan?
You should read this.
---

ANA 2015: The Growing U.S. Nuclear Threat
Spending on "modernization" increases the nuclear danger. Lack of accountability wastes billions and puts the public at risk.
Alliance For Nuclear Accountability Report 5/2015

---
Brief terrifying history of US nuclear mishaps
Eric Schlosser recounts the United States' clumsy history with nuclear weapons. And it's terrifying.
---
Jan 26, 2016
Doomsday Clock: Three Minutes to Midnight
"In keeping the hands of the Doomsday Clock at three minutes to midnight, the members of the Bulletin of the Atomic Scientists Science and Security Board mean to make a clear statement:
"The world situation remains highly threatening to humanity, and decisive action to reduce the danger posed by nuclear weapons and climate change is urgently required." (The Bulletin, Jan 26, 2016)
---
Who Will Claim Ronald Reagan's Mantle On

Nuclear Disarmament Today?
"A nuclear war cannot be won and must never be fought. The only value in our two nations possessing nuclear weapons is to make sure they will never be used. But then would it not be better to do away with them entirely?" -1984 State of the Union
"We seek the total elimination one day of nuclear weapons from the face of the Earth."
-Inaugural Address, 1985
"My dream is to see the day when nuclear weapons will be banished from the face of the Earth."
-from "Ronald Reagan and His Quest to Abolish Nuclear Weapons" by Paul Lettow (Read more of "Ronald Reagan, Republicans, and Nuclear Weapons" by Jonathan Granhoff, President, Global Security Institute)
---
The nuclear threat has changed. Former U.S. Secretary of Defense Bill Perry tells a harrowing story of a false alarm that almost set off nuclear Armageddon. Former U.S. Senator Sam Nunn explains why we can't rely on technology to work perfectly in an age of cyber attack and terror.
---

Recent visitors - click to enlarge
---

"If you really want a future world free of nuclear weapons, you can hardly make a better investment than to give to Nuclear Watch New Mexico. They need and deserve your support so that they can carry on their groundbreaking work. I urge you to be generous with them!" - Danielle Brian, Executive Director, Project on Government Oversight.
Please support our work! Donations are tax-deductible

---
Help us boost public awareness of the reality and risks of nuclear weapons today. Please share Nukewatch.org with your friends using the buttons below:
New & Updated

---
President Obama Gives an Historic Speech at the Hiroshima Peace Memorial
Excerpts:
"Science allows us to communicate across the seas and fly above the clouds, to cure disease and understand the cosmos. But those same discoveries can be turned into ever more efficient killing machines.
"The wars of the modern age teach us this truth. Hiroshima teaches this truth. Technological progress without an equivalent progress in human institutions can doom us. The scientific revolution that led to the splitting of an atom requires a moral revolution as well.
"That is why we come to this place."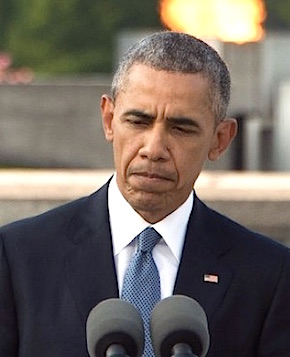 "Among those nations like my own that hold nuclear stockpiles, we must have the courage to escape the logic of fear and pursue a world without them.
"We may not realize this goal in my lifetime, but persistent effort can roll back the possibility of catastrophe. We can chart a course that leads to the destruction of these stockpiles. We can stop the spread to new nations and secure deadly material from fanatics."
"Those who died, they are like us. Ordinary people understand this, I think. They do not want more war. They would rather that the wonders of science be focused on improving life and not eliminating it. When the choices made by nations- when the choices made by leaders- reflect this simple wisdom, then the lesson of Hiroshima is done.
"That is a future we can choose: a future in which Hiroshima and Nagasaki are known not as the dawn of atomic warfare, but as the start of our own moral awakening."
(full text of speech here)
---
Action Alert: Sign the petition: "No Loopholes, No Excuses - Full Cleanup at LANL!"
We urge you to also send in comments on the revised Consent Order, due by 5pm May 31.
See this blog post for more info.
---
For immediate release May 17, 2016:
Nuclear Watch NM Files Lawsuit Over Lack of Cleanup at the Los Alamos Lab Santa Fe, NM. Nuclear Watch New Mexico has filed a lawsuit in federal court against the Department of Energy and Los Alamos National Security LLC (LANS), the for-profit operator of the Los Alamos National Laboratory, over their failure to meet cleanup milestones under a 2005 "Consent Order" they agreed to with the New Mexico Environment Department. The New Mexico Environmental Law Center is representing NukeWatch in this legal action to enforce cleanup at LANL.
The suit claims twelve violations, each ranging up to 675 days, with a civil penalty up to $37,500 for each day of violation. Our current cost estimate of the alleged violations approaches 300 million dollars and counting.
Jay Coghlan, NukeWatch Executive Director, commented, "The federal government plans to spend a trillion dollars over the next 30 years completely rebuilding U.S. nuclear forces. Meanwhile, cleanup at the Los Alamos Lab, the birthplace of nuclear weapons, continues to be delayed, delayed, delayed. We seek to make the for-profit nuclear weaponeers cleanup their radioactive and toxic mess first before making another one for a nuclear weapons stockpile that is already bloated far beyond what we need. Real cleanup would be a win-win for New Mexicans, permanently protecting our water and environment while creating hundreds of high paying jobs." (view/download full press release PDF)
---

President Obama Will Go To Hiroshima
Ben Rhodes, deputy national security adviser, posted:
"He will not revisit the decision to use the atomic bomb at the end of World War II. Instead, he will offer a forward-looking vision focused on our shared future..."
"The President's time in Hiroshima also will reaffirm America's longstanding commitment- and the President's personal commitment- to pursue the peace and security of a world without nuclear weapons."
---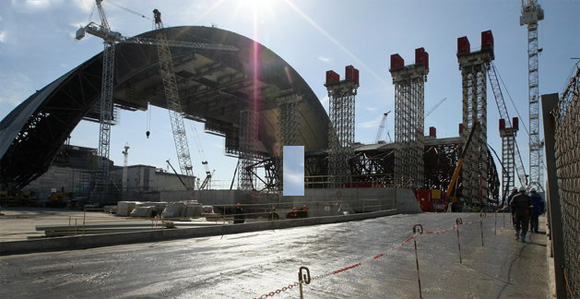 A new steel-clad arch, costing 1.5 billion euros, has just been completed. It is designed to prevent further leaks for... 100 years.

April 26, 2016: Chernobyl 30 Years On
The biggest man-made disaster of all time... (so far)
The Chernobyl disaster released approximately 100 times more radiation than the atomic bombs dropped on Hiroshima and Nagasaki. 800,000 men risked their lives by exposing themselves to radiation in order to contain the situation. 25,000 of these have died (20% of the deaths were suicides) and 70,000 are disabled.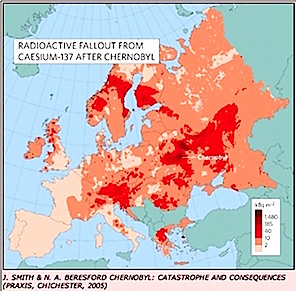 'Most radioactive materials from an atomic [bomb] blast have a maximum half-life of 50 years. However, in the Chernobyl meltdown, most of the actual exploding was due to containment failure and explosions from steam build-up. Chunks of fuel rods and irradiated graphite rods remained intact. Furthermore, the reaction has, both initially and over its life, produced a far higher amount of radioactive materials. This is partly due to the nature of the reaction, the existence of intact fuel to this date, and that the explosion happened at ground level. A fission explosion at ground level creates more radioactive isotopes due to neutron activation in soil. Furthermore, the half-lives of the isotopes made in the Chernobyl accident (because of the nature of the process) are considerably longer. It is estimated that the area will not be habitable for humans for another 20 000 years (Edit: to prevent further debate I rechecked this number. That is the time before the area within the cement sarcophagus - the exact location of the blast - becomes safe. The surrounding area varies between 20 years and several hundred years due to uneven contamination)..."
(ref: Physics discussion: Why can Hiroshima be inhabited when Chernobyl cannot?)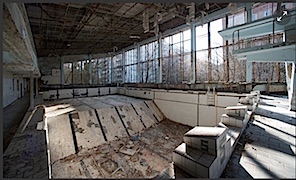 A City Irradiated and Abandoned
Pripyat, 30 years after Chernobyl
Photo essay by Lynn Hilton, The Guardian
Washington Post: Chernobyl disaster survivors skeptical of plans to contain nuclear radiation
New York Times: 30 Years After Chernobyl Disaster, Shelter Nears Completion
The Bulletin: Chernobyl, Fukushima, and preparedness for a "next one"
PBS Frontline: Return to Chernobyl
Federation of American Scientists: Chernobyl After 30: The Vesuvius of our Time
The Guardian: 'It was anarchy': a family reflects on the Chernobyl disaster, 30 years on
Science Daily: Chernobyl, three decades on
HuffingtonPost: Ukraine Remembers Chernobyl Disaster Victims 30 Years On
McClatchy DC: Ruined Chernobyl nuclear plant will remain a threat for 3,000 years
USA Today: Voices: The endless heartbreak of Chernobyl

Special limited edition:
Hard Duty- A Woman's Experience at Chernobyl
by Natlalia Manzurova and Cathie Sullivan.
Hard Duty is the story of a young Russian radiobiologist, Natalia Manzurova, and the four and a half years she spent as part of the cleanup of the 1986 Chernobyl nuclear power plant disaster. Hard Duty introduces the reader to both the causes and history of the accident and provides a first-hand account of a courageous young woman who shared the tragedy of Chernobyl for over 4 years. Illustrated with Manzurova's photos.
60 pages, paperback (self-published). $6.00 plus $1.00 postage.
Only available through NukeWatch: Use this email contact for more details and to order the book. Proceeds from the sale of Hard Duty go to a Chernobyl Survivors group headed by Natalia.
---
Alliance for Nuclear Acountability's Marylia Kelley on Democracy Now, April 13


With Amy Goodman to discuss Kerry's Hiroshima visit and ANA's just-released report on the sweeping modernization planned for our nuclear forces, titled "The Trillion-Dollar Train Wreck".
- Amy Goodman: What's the alternative, in this last minute?
- Marylia Kelley: The alternative is to cancel this aggressive new nuclear weapons program. And we can curate the United States nuclear weapons stockpile, maintaining the existing safety and reliability until such time as the nuclear weapons are dismantled, pursuant to U.S. obligations under the Non-Proliferation Treaty. And the world is gathering in May, next month, May 2nd, in Geneva at the United Nations to discuss the steps to doing this and to discuss the legal requirements of global disarmament. And the United States is boycotting. So we need-
- Amy Goodman: Boycotting why?
- Marylia Kelley: The United States is boycotting it because it doesn't believe these discussions are useful or productive. But, of course, they are the most important discussions on the planet. (full transcript here)
View/download ANA Report (PDF)

---
For immediate release: April 7, 2016:
NukeWatch Files a Second FOIA Request for FY 2015
Los Alamos and Sandia Labs Performance Evaluation Reports
- Demands Expedited Release to E-FOIA Reading Room
Santa Fe, NM. Nuclear Watch New Mexico has filed a second request under the Freedom of Information Act (FOIA) for the National Nuclear Security Administration's FY 2015 Performance Evaluation Reports for the Los Alamos and Sandia National Laboratories. Nuclear Watch filed its first request on December 22, 2015, which has still not been fulfilled despite the law's statutory requirement that FOIA requests be honored within 20 working days. Because of that, Nuclear Watch is demanding expedited processing and posting of these reports to an electronic FOIA reading room, as required by the 1996 E-FOIA amendments.
Jay Coghlan, Nuclear Watch New Mexico director, commented, "It is unconscionable that the National Nuclear Security Administration withholds information from the American taxpayer on how fat contractors who constantly bust budgets are paid, especially when these same contractors always have their hands out for yet more taxpayer money for nuclear weapons, forever. The question is, what do NNSA and its contractors have to hide? To answer that, Nuclear Watch will not only demand that the Performance Evaluation Report be publicly released, but that from this point on the reports be automatically posted to an electronic FOIA reading room as the law requires. The American taxpayer should not have to fight this battle year after year just to keep greedy nuclear weapons contractors accountable."
(view/download full press release PDF)
---
NukeWatch Denounces New Consent Order on Los Alamos Lab Cleanup
For immediate release: March 30, 2016:
Santa Fe, NM. Today, the New Mexico Environment Department (NMED) issued a new draft Consent Order that in theory will govern cleanup at the Los Alamos National Laboratory (LANL). Instead, the new Consent Order is a giveaway to the Department of Energy and the Lab who are intent on creating yet more radioactive waste from expanded nuclear weapons production.
(view/download full press release PDF)
---
2016 Nuclear Security Summit
March 31, 2016. Today, heads of state and representatives of 50+ countries will converge on Washington for the 4th and possible last Nuclear Security Summit, most of which will take place April 1. Some readings:
- Brookings: Everything you need to know about the 2016 Nuclear Security Summit
- About the Summit and its achievements
- Nuclear Security Summit: NTI's Insider Guide
- Summit briefing: Bulletin of the Atomic Scientists
- White House Fact Sheet on the Nuclear Security Summits
. . .
In an article titled Belgium's Failed State Is Guarding America's Nuclear Weapons, Jeffrey Lewis of the James Martin Center writes, "Washington's traditional nuclear strategy isn't keeping Europe safe- it's putting everyone at risk of apocalyptic terrorism."
"The backdrop to the summit will be the revelations over the past few days that the terrorist network that carried out last week's attacks [in Brussels] may also have been targeting Belgian nuclear power plants... And yet this conversation seems to be occurring without mentioning what, to me, seems like a much larger concern. If you were a Belgian terrorist, why settle for a dirty bomb, when you have the option of stealing an honest-to-goodness nuclear bomb? The United States "forward deploys" about 180 B61 nuclear bombs at bases in Europe- including a small number at a Belgian air base known as Kleine Brogel, about an hour outside of Brussels.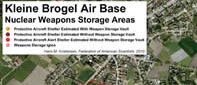 "These weapons are the sole remaining tactical nuclear weapon systems that the United States deploys abroad. They are the last link to the era when the United States deployed thousands of nuclear weapons in Europe (and elsewhere) to stop a thrust by the Red Army into the heart of Western Europe. The theory was that, in a conflict with the Soviet Union, the United States would hand over nuclear weapons, guarded by American soldiers, to foreign fighter pilots, who would then drop them on the Russians.
"Skeptical that, even in this era of Vladimir Putin, the United States should still be planning on putting a U.S. nuclear weapon on the wing of a Belgian F-16 to start a nuclear war with the Russians? Fair enough. But the ongoing existence of this mission is, for the moment, less important than another fact: The security of these nuclear weapons is terrible." (more- read just how terrible...)
More related:
- NY Times: Nuclear Materials Remain Vulnerable to Theft, Despite U.S.-Led Effort
- Nuclear Security: A vital goal but a distant prospect
Seven years of U.S. pressure has produced only modest progress in locking down nuclear explosives to block their use by a terrorist
- Brussels attacks: 'Nuclear terrorism' is real threat, says UN watchdog
A chilling warning amid claims the Brussels suicide bombers had considered making a radioactive 'dirty bomb'.
- Belgium Attacks Loom Over Final Nuclear Security Summit
- Belgian Nuclear Plant Guard Murdered, Security Badge Stolen Days After Attack
---
Los Alamos Cleanup At the Crossroads
March 18, Santa Fe:
Following protracted negotiations, threatened litigation, and claims of imminent and substantial endangerment, the New Mexican Environment Department (NMED), the Department of Energy (DOE) and the Los Alamos National Laboratory contractor agreed to sign the original Consent Order in March 2005. Its promise was fence-to-fence cleanup of Cold War legacy waste at Los Alamos. The 2005 Consent Order was designed as a plan-to-make-a-plan, with investigations followed by cleanup and with hundreds of specific milestones. The intent was to convince DOE to increase funding for LANL cleanup by making a complete cleanup schedule subject to enforcement. The Consent Order had a "final compliance date" scheduled for December 6, 2015.
However, in 2012 NMED signed a "Framework Agreement" with DOE that prioritized the transfer of 3,706 cubic meters of above-ground, "transuranic" nuclear bomb production wastes from LANL to the Waste Isolation Pilot Plant in southern New Mexico. This put Consent Order cleanup on the back burner, and approximately 150 milestone extensions of the 2005 Consent Order were granted to LANL by NMED. Then, in February 2014, WIPP was shut down by the rupturing of a drum of this waste, improperly packaged at LANL. Now, dealing with the remaining "suspect" drums (packaged in the same manner) stored at LANL is a major priority, and the Consent Order cleanup remains on the back burner. (more)
See this series of reports on the Watchblog:
New Cleanup Agreement Requires New Schedule and That Is About All
Treat All Los Alamos Lab Radioactive Wastes Consistently
Stand Against The Rush To Re-Open An Unsafe WIPP
Action Alert - Release of Revised Los Alamos Cleanup Agreement
---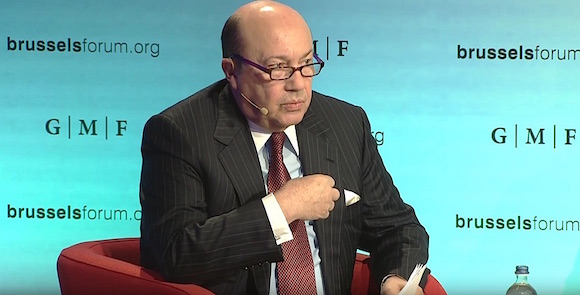 "Russia is no longer the Eastern flank of the failed 'Greater Europe'; it is... the Western flank of the emerging 'Greater Eurasia'."

At the Brussels Forum, March 19: Russia, Ukraine, and the Future of Europe
Ivanov: risk of use of nuclear weapons today in Europe is higher than in the 80s
Igor Ivanov, Russian Foreign Minister from 1998 to 2004, speaking at the Brussels Forum March 19: "Russia and the West seem to have entered a new phase of the arms race, in which Europe has become the center stage. It can be assured that once U.S. deploys its missile defense system in Poland, Russia would respond by deploying its own missile defense system in Kaliningrad. If developments take this direction, we may face a situation like the missile crisis in Europe in the mid eighties.
"But the big difference is at that moment, in the eighties, we had the full scale of mechanisms of dialog, of negotiations, of contacts on the highest levels, on the level of military people, and with all problems, we managed the crises. Today all those mechanisms are blocked or destroyed; and the risk of confrontation with the use of nuclear weapons today in Europe is higher than in the eighties. And this is the paradox: today we have less nuclear warheads but the risk of them being used is growing.


"Where should we go from here? First we have to admit that the paths of Europe and Russia are seriously diverging and will remain so for a long time ... probably for decades to come. This continental shift, the drifting apart of the two European geopolitical plates, will have a huge and lasting impact on both Europe and the World. There will be no return to the autumn of 2013, even if the situation in Ukraine is, by some miracle, brought back to normal.
"The changes taking place before our eyes are not only radical, but also irreversible, putting an end to some political projects, and opening an opportunity for other projects. When I say about previous projects, as you remember, many of us, we were speaking about "Greater Europe", about common Euro-Atlantic security space, about common humanitarian and economic space from Vladivostok to Lisbon. Beautiful plans- but I think those beautiful plans we have to forget. We are in a new reality, and we have to start to think in that new reality.
"In the imagined new geo-political reality, Russia is no longer the Eastern flank of the failed 'Greater Europe', it is becoming the Western flank of the emerging 'Greater Eurasia'."
---
PSR Action Alert
President Obama: Please restore critical military-to-military communications between the U.S. and Russia!
Ask President Obama to restore vital military-to-military communication channels with Russia. These channels were established during the Cold War to avoid an accidental nuclear war. We need them now more than ever!
---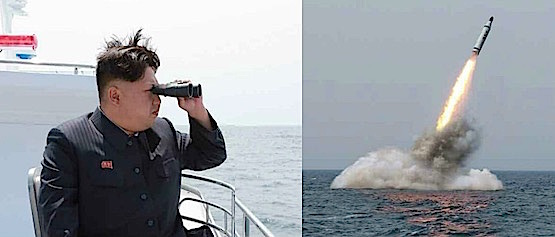 North Korea Increases Pace of Missile, Nuke Testing... What's Next?
For years whenever the North Korean dictator set off an atom bomb, or tested a missile, or threatened a nuclear attack on the US, the narrative was that he was just trying to get the world's attention, maybe get a foreign aide deal. By now though it is clear that whatever the motivations were a decade ago, the North Korean regime under Kim Jong-Un is going for a nuclear force capable of striking the United States. Recent DPRK claims, though perhaps exaggerated, point the direction ahead: thermonuclear weapons, miniaturization of weapons for long-range missile delivery, the development of a strategic submarine fleet. Once DPRK has the military capability to launch a nuclear missile attack on the US from submarine platforms, the empty threats are not so empty anymore, and it might be assumed that the US would have to take action. One might also assume that China, desiring to be the arbiter and dominant power in East Asia, would rather be the one to deal with the North Korea problem- better than sitting back and letting the US demonstrate a continuing pre-eminence in the region.
While the US cannot afford to ignore Mr Kim's threats once he has obtained the ability to carry them out, Kim's game vis-a-vis the US is likely deterrence, rather than the pre-emptive attack he has sometimes threatened. Kim may not be quite that crazy. Instead, he may be imagining that the DPRK could invade the South, gloriously expelling the foreigners and uniting the Korean homeland- so long as he can deter the US from intervening by holding US and Japanese cities under nuclear threat.
This year's US-South Korean military exercises currently underway for the first time include practice in hitting the nuclear sites and command and control centers in the North. This is serious planning, not 'sending a message', though it is likely we'd want the Chinese to take note and redouble their efforts to 'solve' the North Korea problem from their side. Time is running out.
- Toronto Star, March 9: Kim claims North Korea can put miniaturized atomic bombs on missiles
- FPIF, April 15: North Korea's New Rocket Technology Looks Like It's for Real: New missiles
could reach US East Coast by 2020.
- WaPo April 23: North's Successful Test of Submarine Launched Missile Confirmed by Seoul
- NYTimes May 7: As North Korea's Nuclear Program Advances, U.S. Strategy Is Tested
"After years of trying to separate fact from propaganda about North Korea's nuclear program, American and South Korean intelligence officials say they have concluded that the country can now mount a small nuclear warhead on short and medium-range missiles capable of hitting much of Japan and South Korea..." (story, NYTimes)
- May 2016, Mr. Kim at the Party Congress: "As a responsible nuclear weapons state, our Republic will not use a nuclear weapon unless its sovereignty is encroached upon by any aggressive hostile forces with nukes." (That is the quote Reuters and other sources are using; is there an equivalent of "nukes" in the Korean language?)
---
Is Bernie Sanders' Foreign Policy Brain Trust Taking Shape?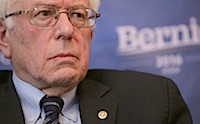 This week, CNN reported that a Sanders campaign spokesman told their reporter, unofficially, that Bill French, of the National Security Policy Network, Larry Korb, at the Center for American Progress, Gordon Adams, Stimson Center Fellow, and Joe Cirincione of Ploughshares Fund were advising candidate Sanders on Foreign Policy.
In addition, CNN reported that Jeffrey Sachs, Professor of International Affairs at Columbia, said Sanders recently asked him to advise on foreign policy matters and Sachs agreed.
Sachs serves as special adviser to UN Secretary General Ban Ki-moon on the Millennium Development Goals. 'I think we needed a very different approach in foreign policy so I wanted to share my thoughts on that and believe that (Sanders) has been expressing a more accurate way to go forward.' Sachs told CNN. Sachs said of Hillary Clinton that the former secretary of state has been part of a foreign policy stance that 'engaged in war adventures that have left us much less safe than we were before, that have been trapping us in an expanded war zone that now stretches several thousands miles.' He says Sanders, not Clinton, is better positioned to lead the democratic world." (ref)
Earlier, during the debates, Sanders had said: "The truth is there is enormous waste within the 600 billion dollar a year Defense Department... We are right now maintaining, I think, I won't swear to you, 5,000 nuclear weapons. I don't know what the world looks like at the end of 2,000 nuclear weapons going off. I don't know that you'll need another 3,000. You know what we could do for education with 30 billion dollars a year? [...] There are a lot higher priorities than maintaining that type of nuclear arsenal." (ref)
Sanders is a co-sponsor, along with Rep. Ed Markey and 34 other members of Congress, of the SANE Act, calling for measured reductions in the US nuclear arsenal.
---

Every little bit helps!
Remember: contributions are tax-deductible!
*Go to donations page* Thanks for your support!
---


Alliance For Nuclear Accountability Report
Out-of-control U.S. nuclear weapons programs accelerate spending, proliferation, health and safety risks: The Trillion Dollar Trainwreck (PDF)

---
Critical Events
---
Action Alert- Extension- to May 31:
LANL Cleanup: Revised Consent Order
New Mexico Environment Department has extended the Public comment period through May 31. Thanks to all of you who sent in requests for this extension. It's important members of the public speak up on this issue. Read more about it on our Watchblog post; there you can also find suggested comments which you can use.
June 6, Wash. DC:
Global Nuclear Challenges and Solutions for the Next U.S. President
Annual Meeting of the Arms Control Association
Monday, June 6, 9am - 2:30pm
Carnegie Endowment for Int'l Peace, Root Room
1779 Massachusetts Ave. NW, Washington, D.C.
Evening reception at 5:00 p.m. at an off-site location
(more info / make reservations)
Public Comment period, April through summer:
Finding Long-Term Solutions for Nuclear Waste
DOE call for public comment as part of "consent-based siting" initiative. "We are requesting feedback from communities, states, Tribal Nations, and interested stakeholders on important considerations in designing a fair and effective process."
April 11: Atlanta; April 26: Sacramento; May 24: Denver; June 2: Boston (more dates and details)
---
- Nuclear Calendar: Free subscription to this extensive email listing of all nuclear-related events, from the Friends Committee on National Legislation.

- National Security Legislative Calendar
From the Council for a Livable World: ref
---
---
NukeWatch YouTube Channel
See our playlists of key video clips.
---
Nobel Obama's Nuke Pledge Reversed
From the same president who in 2009 called for a world free of nuclear weapons and promised to reduce their role in U.S. national security strategy:
A plan to spend a trillion dollars over the next 30 years on nuclear weapons.
Specifically, on 12 new nuclear-armed submarines, 100 new strategic bombers, 400 new intercontinental nuclear missiles, 1000 new nuclear-capable cruise missiles, hundreds of upgraded and improved nuclear bombs and warheads, and major additions and upgrades to all parts of the US nuclear weapons complex. See our nuclear modernization page for more on this.
---
---
---
---
Nuclear News
---
---
Why You Should Care About Nukes
"Thanks to the Future of Life Institute for helping support this video and to Max Tegmark for guest narrating. For info about divesting from nuclear weapons companies, go to FLI Responsible Investing."
---
Dr. James Doyle
---
The Full Price of Nuclear Deterrence
- The Bulletin, Feb. 29, 2016

DOE's Disinformation Undercuts US Credibility,
Nonproliferation Efforts
- The Hill, Dec. 11, 2015

Keeping Russia's Missiles Away from Europe
- National Interest, Oct 1, 2015

Beware the Nuclear Experts
- Defense News, Aug. 20, 2015

The Material World of Nuclear Weapons
- Arms Control Today, March, 2015


---
LANL's Central Mission
Los Alamos Lab officials have recently claimed that LANL has moved away from primarily nuclear weapons to "national security", but what truly remains as the Labs central mission? Here's the answer from one of its own documents: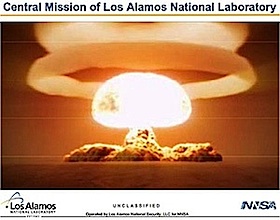 LANL's "Central Mission"- Presented at: RPI Nuclear Data 2011 Symposium for Criticality Safety and Reactor Applications
(PDF) 4/27/11
---
Current nuclear stockpiles- for country reports and other details see original annotated infographic at Ploughshares.org.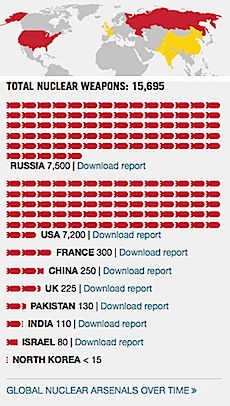 ---
Beyond the Summit:
New Approaches to Nuclear Security
William Perry: "Danger of a nuclear catastrophe is greater than during the Cold War. Our public is blissfully unaware. Consequently, the policies that this country follows are in no way commensurate to the danger."
---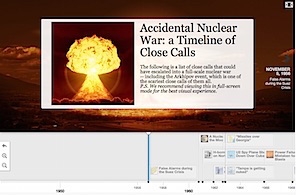 Accidental nuclear war- think it can't happen?
It almost did, quite a few times. See this timeline of nuclear close calls, presented by The Future of Life Institute.
---
Union of Concerned Scientists: Act now
---
Planned Eurasian Apocalypse, c. 1956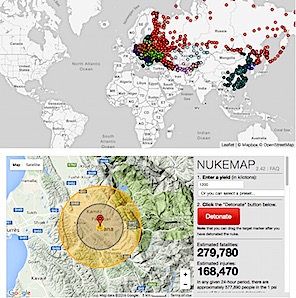 Here are the 1100 [declassified] nuclear targets in the 1956 US target list for the Eurasian communist nations. Click image above to see the interactive infographic at the Future of Life site- clicking on any target dot will bring up a satellite map of the target area with the blast zone, variable depending on the yield you choose, fallout paths, and other info.
---
Don't Bank on the Bomb 2015
In a 50% increase over last year's totals, 53 financial institutions prohibit or limit investments in nuclear weapon producers, according to Don't Bank on the Bomb (2015), published in November by Dutch peace organization PAX. The increase illustrates the growing stigmatization of nuclear weapons due to the renewed focus on their humanitarian consequences. The report also identifies 382 banks, insurance companies, and pension funds which have made USD 493 billion available to nuclear weapons producers since January 2012. View/download PDF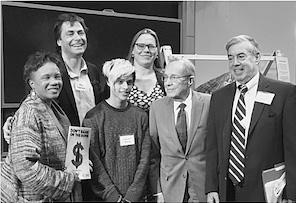 April 11, 2016:
Cambridge Divests $1 Billion From Nukes Following Grassroots Campaign
Above: Cambridge Mayor Denise Simmons, MIT's Max Tegmark, Lucas Perry, Susi Snyder, Former Secretary of Defense William Perry, and Dr. Jonathan King after the public announcement of the Cambridge nuclear divestment plan. (ref)
---
---


R.I.P. Michael Mariotte, d. May 16, 2016. Michael was President of the Nuclear Information and Resource Service; he had worked with NIRS since 1985. (see NYTimes obit)
---
Radioactive Quotes

---
"War is death. Nowhere do these truths impose themselves upon us more forcefully than in this city [Hiroshima]... The final balance of human suffering that began here has not been fully drawn up, nor has the total human cost been tallied, especially when one sees what nuclear war has done- and could still do- to our ideas, our attitudes, and our civilization."

Pope John Paul II speaking in Hiroshima, February 25, 1981

[link]
"We see no reason why the pathway adopted for the elimination of other weapon systems, including for the elimination of both other types of WMD- that of a legally-binding prohibition- should not equally be applicable as a pathway for the elimination of nuclear weapons. There is no need to reinvent the wheel in order for the international community to move forward: the standard route used in relation to the abolition of other weapon systems... should again be followed."

Statement by the New Zealand delegation to the UN Open Ended Working Group on Nuclear Disarmament, 23 February, 2016

[link]
---
Nuclear weapons: Write 'em off!


Remember, contributions are tax-deductible!
*Go to donations page* Thanks for your support!