Arsenal of Information
---
---
---
Dossiers:
New Nuclear-Capable Cruise Missile
B61-12 Enhanced Nuclear Bomb
Marshall Islands Lawsuit
Lockheed and Contractor Lobbying Abuses
MOX / Plutonium Disposition
CMRR-Nuclear Facility
Conference on the Humanitarian Impact
Nuclear Testing Since 1945
Fukushima Disaster and Updates
Atomic Histories
---
Nuclear Watch Interactive Map of the
Nuclear Weapons Complex
View full size
Facilities:
Kansas City Plant
Lawrence Livermore National Labs
Los Alamos National Laboratory
Nevada National Security Site
Pantex Plant
Sandia National Laboratories
Savannah River Site
Washington DC
Waste Isolation Pilot Plant (WIPP)
Y-12 National Security Complex
Facility Spotlight:
Dec. 12, 2015. Kansas City Plant: Scores of workers have died after making nuclear weapons at the Bannister Road plant. A government review finds more radioactive materials used at the plant than was previously known. The federal government has paid $55 million to sickened workers, but a vast majority are still frustrated that they have not been compensated. (read more)
At Y-12, the cost of designing the Uranium Processing Facility keeps spiraling: $92 million in '06, $2 billion by '16. (How do you spend 2 billion dollars designing anything?) - See OREPA's June '15 UPF update

- NNSA Cuts Los Alamos Lab's Award Fees by 90%
- DOE IG Report: Sandia Labs Misused Federal Funds
- Y-12: Poster Child For A Dysfunctional Nuclear
Weapons Complex
---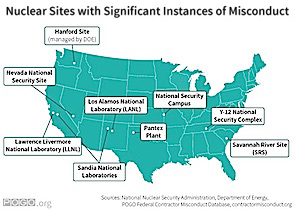 Nuclear Weapons Complex Misconduct
Dec. 3, 2015. POGO: Updated Federal Contractor Misconduct Database, focussing on Nuclear Complex (see report at POGO)
---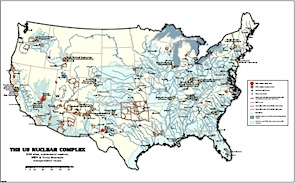 Click the image to download this large printable map of DOE sites, commercial reactors, nuclear waste dumps, nuclear transportation routes, surface waters near sites and transport routes, and underlying aquifers. This map was prepared by Deborah Reade for the Alliance for Nuclear Accountability.
Quote of the Week

---
"The United States can deter any country from using nuclear weapons against America and its treaty allies with a nuclear force that is far smaller, less destabilizing, and less expensive than the one the Pentagon is planning to build.
This White House has caved to the nuclear priesthood in the bureaucracy. Instead of staying on nuclear autopilot, the next administration needs to fundamentally rethink the role of nuclear weapons in U.S. national security strategy, the costs of implementing the current strategic force modernization program, and the alternatives that could provide greater stability and less risk of nuclear conflict at a much lower cost."
-Richard Sokolsky; Senior Associate, Carnegie Endowment, writing in Defense One (ref)
---
Jan 26, 2016
Doomsday Clock: Three Minutes to Midnight
"In keeping the hands of the Doomsday Clock at three minutes to midnight, the members of the Bulletin of the Atomic Scientists Science and Security Board mean to make a clear statement:
"The world situation remains highly threatening to humanity, and decisive action to reduce the danger posed by nuclear weapons and climate change is urgently required." (The Bulletin, Jan 26, 2016)
---
Follow the Money!

---
NNSA FY 2016 Budget Request
- Nuclear Watch Analysis/Compilation (PDF)
---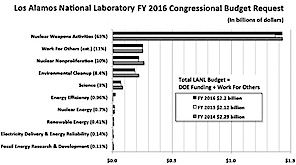 LANL FY 2016 Budget Request
Click to view full PDF incl. annotations
---
Lawrence Livermore FY 2016 Budget Request


View full PDF incl. annotations
Chart by Tri-Valley CARES
---
Congressional Budget Office report:
Projected Costs of Nuclear Forces 2014-2023

CBO presentation based on the report: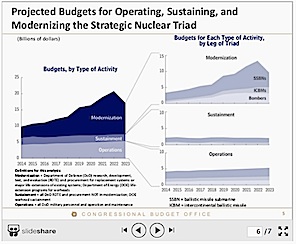 Click to view presentation
---
Stockpile Stewardship and Management Plan
View/Download FY 2015 SSMP (PDF)
NWNM Analysis (PDF) / Analysis Summary (PDF)
---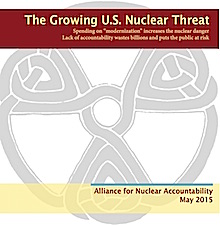 The Growing U.S. Nuclear Threat
Spending on "modernization" increases the nuclear danger. Lack of accountability wastes billions and puts the public at risk.
Alliance For Nuclear Accountability Report 5/2015

---
Nuclear Watch Media
---
Podcast:
Alliance for Nuclear Accountability Conference November 2015
The Alliance for Nuclear Accountability held their National Conference in Liberty, Missouri on the first weekend in November. Ann Suellentrop and Maurice Copeland spoke about health and cleanup issues at the old Kansas City weapons plant at the Bannister Federal Complex. There were also people on hand to discuss the nuclear dump in the St. Louis area and its proximity to an underground landfill fire.
Play audio podcast in a new window
---
Jay Coghlan, Nukewatch Director Interview
Earth Matters Radio re legacy of the US nuclear weapons program on the 70th anniversary of the Hiroshima/Nagasaki bombings. Thursday Aug 6 at 10 am and 8 pm on 89.1FM. Archived podcast here
---
NukeWatch YouTube Channel
See our playlists of key video clips.
---
Chuck Montaño
June 12 OpEd: Public kept in dark over LANL


- See also Montaño's letter to House Subcommittee on Oversight and Investigations requesting resumption of its investigation into sudden terminations of LANL fraud investigators in view of new evidence and testimony: view/download PDF
US Justice Dept. Needs To Investigate Los Alamos Cover-Up: A petition requiring officials to stop ignoring retribution against whistleblowers that is standard practice at Los Alamos National Laboratory.
Los Alamos: A Whistleblower's Diary, by Chuck Montaño, 2015. (More info)
Chuck Montaño serves on Nuclear Watch New Mexico's Steering Committee.
---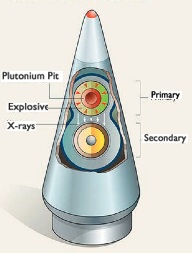 Successful Citizen Activism Against
Expanded U.S. Plutonium Pit Production
This is the unsung story of successful citizen activism against repeated government attempts to expand the production of plutonium pit cores, which has always been the choke point of resumed U.S. nuclear weapons production. This history is a critical part of the march toward a future world free of nuclear weapons. We gratefully dedicate it to Leroy Moore, longtime activist with the Rocky Mountain Peace and Justice Center, and J. Carson Mark, retired director of the Los Alamos Lab's Theoretical Division and ardent arms control advocate.
(View/download full report- PDF)
---
March 27: NukeWatch Fact Sheet
Plutonium Pit Production
In 1989, an FBI raid investigating environmental crimes abruptly stopped the annual production of hundreds of plutonium pits at the Rocky Flats Plant near Denver.
In 1997 the Department of Energy reestablished limited production of up to 20 pits per year at the Los Alamos National Laboratory (LANL).
Since the turn of the century citizen activists have stopped the National Nuclear Security Administration in each of its four attempts to expand production far beyond the 20 plutonium pits per year.
Plutonium pit production has always been the choke point for resumed U.S. production of new nuclear weapons. See the NukeWatch fact sheet including a timeline of pit production restart attempts:
(View/download "Plutonium Pit Production at LANL")
---

Recent visitors - click to enlarge
---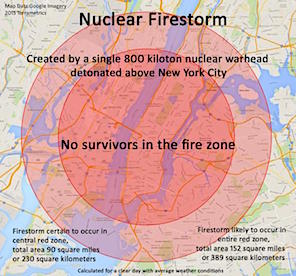 What would happen if an 800-kiloton nuclear warhead detonated above midtown Manhattan?
You should read this.
---
Who Will Claim Ronald Reagan's Mantle On

Nuclear Disarmament Today?
"A nuclear war cannot be won and must never be fought. The only value in our two nations possessing nuclear weapons is to make sure they will never be used. But then would it not be better to do away with them entirely?" -1984 State of the Union
"We seek the total elimination one day of nuclear weapons from the face of the Earth."
-Inaugural Address, 1985
"My dream is to see the day when nuclear weapons will be banished from the face of the Earth."
-from "Ronald Reagan and His Quest to Abolish Nuclear Weapons" by Paul Lettow
"It is my fervent goal and hope... that we will someday no longer have to rely on nuclear weapons to deter aggression and assure world peace. To that end the United States is now engaged in a serious and sustained effort to negotiate major reductions in levels of offensive nuclear weapons with the ultimate goal of eliminating these weapons from the face of the earth." -Speech, Oct. 20, 1986 (Read more of "Ronald Reagan, Republicans, and Nuclear Weapons" by Jonathan Granhoff, President, Global Security Institute)
---

"If you really want a future world free of nuclear weapons, you can hardly make a better investment than to give to Nuclear Watch New Mexico. They need and deserve your support so that they can carry on their groundbreaking work. I urge you to be generous with them!" - Danielle Brian, Executive Director, Project on Government Oversight.
Please support our work! Donations are tax-deductible

---
Help us boost public awareness of the reality and risks of nuclear weapons today. Please share Nukewatch.org with your friends using the buttons below:
New & Updated
---
For immediate release, Feb 2, 2016:
Watchdogs Call for Renewed Investigation of Corruption at Los Alamos Lab and Questionable Suicide of Former Deputy Director
Excerpts:
Santa Fe, Feb. 2. Today three well-known whistleblowers sent a certified letter to Damon Martinez, the US Attorney for the District of New Mexico, asking him to reopen an investigation into fraud and corruption at the Los Alamos National Laboratory (LANL) and the questionable suicide in 2002 of the then-recently retired Deputy Director.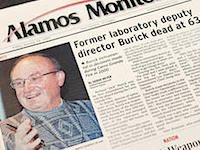 In their letter to Mr. Martinez, the three whistleblowers state that their main concern is the need for law enforcement to fully investigate the alleged suicide in 2002 of LANL's second-in-command, former Deputy Director of Operations Richard Burick.
In the same period of time as Burick's claimed suicide, the criminal investigation of major procurement fraud at LANL was derailed by the Lab's hasty firing of Glenn Walp and Steve Doran. This, in turn, prevented a congressional committee from learning the full scope of potential criminal activity. Since then, new information has emerged that possibly links the corruption to Burick's alleged suicide, which the three whistleblowers assert deserves serious investigation by federal law enforcement.
The third whistleblower, Chuck Montaño, whose new book has renewed interest in the case, is a multi-credentialed auditor and investigator who worked at LANL for 32 years. He became a federally protected whistleblower after reporting accounting malpractice and abuses that he had witnessed for years, and for which Lab management retaliated against him.
The whistleblowers are coming forth now with their letter to the US Attorney for New Mexico prompted in part by a recent article by the Project on Government Oversight (POGO), a respected national organization that investigates and publicizes government waste, fraud and abuse. The POGO article concluded that if there were ever to be full accountability at LANL, "a new investigation into Richard Burick's alleged suicide would be a good place to start."
Federally protected whistleblower Chuck Montaño added, "The Los Alamos Lab is a cash cow for the military-industrial complex, and because politicians are so beholden to these corporations, there's zero accountability for the fraud, waste and abuse that keeps occurring in Los Alamos. We are seeking to end that by asking the US Attorney for New Mexico to intervene and go wherever the facts may take him." (View full press release PDF)




In July 2011, Jay Coghlan, Executive Director of Nuclear Watch New Mexico, interviewed Glenn Walp about his book, "Implosion At Los Alamos: How Crime, Corruption And Cover-Ups Jeopardize Americas Nuclear Weapons Secrets" (Langdon Press, 2010).

- The Walp/Doran/Montaño letter to Mr. Damon Martinez, US Attorney for New Mexico: (view/download PDF)
- 2015 Letter from Walp/Doran/Montaño to House Committee and New Mexico Congressional delegation requesting resumption of investigation.(view/download PDF)
- 2012 Letter from Senator Robert Casey to Assistant Attorney General Weich requesting a meeting for Walp with NM AG and FBI agent in charge for ABQ regarding federal investigations and the death of Deputy Director Burick. (view/download PDF)
- Glenn Walp's "Implosion at Los Alamos" describes his hiring and firing while investigating corruption and fraud at the Los Alamos Lab.
- Chuck Montaño's "Los Alamos: Secret Colony, Hidden Truths" chronicles his 32 years working at the Los Alamos Lab and becoming a federally protected whistleblower.
- The Project on Government Oversight's article: "Once Upon a Time in Los Alamos"
- Albuquerque Journal: Whistleblowers ask U.S. attorney for new probe of LANL fraud, former lab official's death
- POGO blog Feb 2: Whistleblowers Call for Inquiry into LANL Employee's Death
"It is imperative that decision makers know the full extent of what transpired in order to know how best to proceed with the award of the new contract," writes Montaño in the letter to the U.S. District Attorney, and urging a quick reopening of the case.
"Corruption at Los Alamos must be taken out at the roots and those responsible brought to justice. This will build a strong national laboratory system that can be both trusted and productive," Doran said in the Nuclear Watch press release.
---
A call to re-open the aborted 2003 investigation into LANL fraud, theft and a mysterious death.
Once Upon a Time in Los Alamos
Book Review, Project on Government Oversight:
"On January 24, 2003, the recently retired Deputy Director for Operations at LANL, Richard James Burick, was found lying part way under his truck, dead from a bullet to the head. A .44 caliber revolver lay a few feet away, which according to some experts, was further than it should have been if Burick himself had pulled the trigger. That afternoon, before an autopsy or full forensic investigation was even started, the Los Alamos Police Department declared Burick's death a suicide.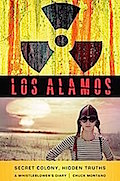 "In a new book, Los Alamos: A Whistleblower's Diary: Secret Colony, Hidden Truths, Chuck Montaño, a former auditor at Los Alamos National Lab (LANL), raises a number of questions about Burick's death. Drawing on 30 years of experience as an employee at the Lab, interviews with friends and colleagues, and the Lab's record of waste, fraud, and abuse, Montaño makes the case that Los Alamos was more troubled than most dared to think. Why, asks Montaño, was there never a full investigation into Burick's alleged suicide?"
There's much more to this story- read on at POGO
Los Alamos: A Whistleblower's Diary, by Chuck Montaño, 2015. (More info)
Further coverage:
Albuquerque Journal: LANL theft, fraud scandal back in focus
Santa Fe New Mexican: Book Review: "Los Alamos: Secret Colony, Hidden Truths" by Chuck Montaño
Chuck Montaño serves on Nuclear Watch New Mexico's Steering Committee.
---
For immediate release, Jan 20, 2016:
NukeWatch Gives Notice of Intent to Sue Over Lack of Cleanup at Los Alamos
Santa Fe, NM. Today, Nuclear Watch New Mexico notified the Department of Energy (DOE) and the Los Alamos National Laboratory (LANL) that it will file a lawsuit over their failure to meet cleanup milestones under a "Consent Order" governed by the New Mexico Environment Department. Formal notice is required before a lawsuit can actually be filed, which NukeWatch intends to do within 60 days or less. The New Mexico Environmental Law Center is representing NukeWatch in this legal action to enforce cleanup at LANL.
Jay Coghlan, NukeWatch Executive Director, commented,

"The nuclear weaponeers plan to spend a trillion dollars over the next 30 years completely rebuilding U.S. nuclear forces. Meanwhile, cleanup at the Los Alamos Lab, the birthplace of nuclear weapons, continues to be delayed, delayed, delayed. We are putting the weaponeers on notice that they have to cleanup their radioactive and toxic mess first before making another one for a nuclear weapons stockpile that is already bloated far beyond what we need. Real cleanup would be a win-win for New Mexicans, permanently protecting our water and environment while creating hundreds of high paying jobs." (Read more- see full press release PDF)
(see Notice of Intent letter PDF)
Albuquerque Journal North: Nuclear Watch to sue over LANL cleanup problems

---
For immediate release, Jan 15, 2016:
National Nuclear Security Administration Gives Green Light
For Expanded Plutonium Pit Production at Los Alamos
Santa Fe, NM.
Today the Defense Nuclear Facilities Safety Board, an independent agency commissioned by Congress, posted a weekly report that makes explicit a decision by the National Nuclear Security Administration (NNSA) to expand plutonium pit production at the Los Alamos National Laboratory (LANL). Plutonium pits are the fissile cores or "triggers" of modern two-stage thermonuclear weapons, but they are also atomic weapons in their own right (a plutonium bomb incinerated Nagasaki in August 1945). Plutonium pit production has always been the choke point preventing industrial-scale U.S. nuclear weapons production ever since an FBI raid investigating environmental crimes shut down the notorious Rocky Flats Plant near Denver in 1989.
NNSA now seeks- for the fifth time- to expand plutonium pit production at LANL, despite the fact that major operations at LANL's main plutonium facility have been suspended since June 2013 because of nuclear criticality safety concerns, or that the Lab has no place to send its radioactive plutonium pit production wastes since it sent a badly prepared drum that ruptured and closed down the multi-billion dollar Waste Isolation Pilot Plant, or that funding for cleanup of already accumulated dangerous radioactive waste is being cut.
Jay Coghlan, Nuclear Watch Director, commented, "Expanded plutonium pit production at the Los Alamos Lab is really all about future new-design nuclear weapons with new military capabilities produced through so-called Life Extension Programs for existing nuclear weapons." (details: see full press release)
---
Jan. 2, 2016, Santa Fe New Mexican:
A History of Innovation and Dysfunction at Los Alamos National Laboratory
"...The electrical accident was the latest in a string of problems for LANS that include injured workers, improperly handled hazardous waste, missing enriched uranium, stolen tools and the public release of classified documents. The most costly incident occurred in 2014, when a container of radioactive waste repackaged at the lab later ruptured in the nation's only underground nuclear waste repository, contaminating workers and costing hundreds of millions of taxpayer dollars to clean up.
"Investigators say the problems stem from repeated management weaknesses, the kind that were supposed to get fixed when the Department of Energy turned to private industry in 2006 to oversee the lab...." (read more)
---
Dec. 18, 2015:
LANL Management Contract Up For Bid After 2017
LANS failed to get the award term, a condition DOE had set for continuation of the LANL management contract beyond 2017.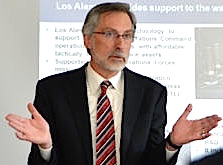 Director McMillan: "deeply disappointed"

The 2006 contract with LANS provides for vacating the contract if the consortium doesn't earn a series of one-year term awards. A year ago the DOE had said, "Having failed to earn contract term extensions for fiscal years 2013 and 2014, and with the revocation of a previous extension, LANS must earn an award term in every future performance period to keep the contract in force beyond fiscal year 2017." This year, low marks in the Operations and Infrastructure category sunk LANS chances for the award term. (more: ABQJournal.com)
- On the Watchblog: Four Strikes and You're Out
- ABQJournal Dec 21: Accidents contribute to loss of contract for LANL operator
- Director McMillan's letter to LANL employees
- Backgrounder: Dec 31, 2014:
Feds slash WIPP contractor performance pay; LANS must improve to avoid loss of lab contract
---
For immediate release December 7, 2015:
Deadline for Last Cleanup Milestone of LANL Consent Order Passes;
NukeWatch Calls for Public Seats at the Table in Negotiations
Santa Fe, NM. Yesterday, December 6, was the deadline for the last compliance milestone in the Consent Order between the New Mexico Environment Department and the US Department of Energy that governs cleanup at the Los Alamos National Laboratory. Ironically, that last milestone required the submittal of a report by the Lab on how it successfully completed cleanup of Area G, its largest waste dump. But real comprehensive cleanup is decades away at current funding levels..." (view press release PDF)
- Santa Fe Reporter coverage
- Santa Fe New Mexican coverage
---
Former Secretary of Defense Perry: "On the Brink of a New Nuclear Arms Race"
"We're now at the precipice, maybe I should say the brink, of a new nuclear arms race. This arms race will be at least as expensive as the arms race we had during the Cold War..."

Perry was speaking at a breakfast hosted by the Defense Writer's Group on December 3rd.
"Today, probably I would not have said this 10 years ago, but today we now face the kind of dangers of a nuclear event like we had during the Cold War, an accidental war."
Re Russia: "'If you look over a 20-year period and put the scoreboard together, there are at least as many American mistakes as there were Russian.' He cited the expansion of NATO and the decision to send U.S.-led NATO forces to Bosnia in 1996 as the start of the downfall of U.S.-Russia relations. Perry also criticized the United States and NATO program to install 'Aegis-ashore' ballistic missile defense (BMD) systems in Romania and Poland (which sparked some of Moscow's recent nuclear saber rattling). 'There is literally no justification for it. The reasons they give for it don't stand up.'"
Perry reiterated his opposition to the Air Force's plans to modernize the ICBM force and to field 1000 new air launched cruise missiles, calling both "uniquely destabilizing". (Perry supports modernization of the other two legs of the triad: replacement of the Ohio class strategic submarines and the long-range strategic bomber force.) (More at DefenseNews.com)
Stanford Univ. Press has just published Perry's new book entitled "My Journey at the Nuclear Brink"
---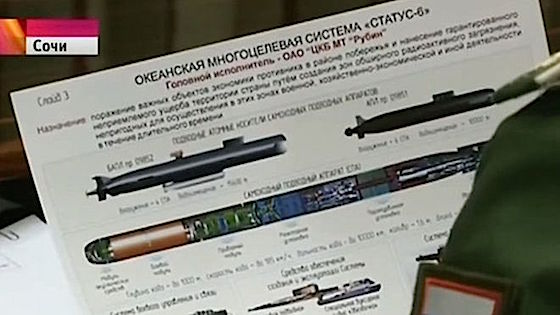 Nov. 12, BBC: Russia Reveals Giant Nuclear Torpedo In State TV 'Leak'
Do We Really Want This New Nuclear Arms Race?
The US pursues a new nuclear cruise missile (see below); Russia plans a nuclear super-torpedo

Excerpts and summaries from the BBC report:
"Just before the torpedo diagram came into view, Russian President Putin could be heard telling the generals that the US and its NATO allies were forging ahead with a global anti-missile defense system 'unfortunately ignoring our concerns and our offers of co-operation', and that the Western defense project was 'an attempt to undermine the existing parity in strategic nuclear weapons and essentially to upset the whole system of global and regional stability.' Putin continued: 'References to an Iranian or North Korean nuclear missile threat are just used to conceal the true plans- their real goal is to neutralize the strategic nuclear potential of other nuclear states... above all, of course, Russia.' Putin said Russia would continue developing strategic offensive systems capable of penetrating any anti-missile defense."
At that point, a viewer could see over the shoulder of a general studying a diagram of the 'devastating' new torpedo system. The document reads "oceanic multi-purpose Status-6 system", designed to "destroy important economic installations of the enemy in coastal areas and cause guaranteed devastating damage to the country's territory by creating wide areas of radioactive contamination, rendering them unusable for military, economic or other activity for a long time". The supertorpedo's range: up to 10,000 kilometers; cruising speed: 185 kilometers per hour at a depth of up to 1000 meters; to be carried by the Belgorod and Khabarovsk submarines.
State-run Rossiiskaya Gazeta noted that the destructive power attributed to the new torpedo's warhead would fit the description of a cobalt bomb, a thermonuclear warhead 'salted' with a layer of cobalt-59, which on detonation would be transmuted into highly radioactive cobalt-60 with a half-life longer than five years. Such a weapon would guarantee "that everything living will be killed", the paper said - there would not even be any survivors in bunkers. A cobalt bomb has never been tested because of the devastating radiation it would unleash.
Russian military experts told BBC Russian Service:
Pavel Felgenhauer, an independent military analyst: "The plan is to deliver a 100-megaton nuclear bomb to the U.S. shores," he said. "It would cause a highly radioactive tsunami."
Konstantin Sivkov, Russian Geopolitical Academy: A warhead of up to 100 megatons could produce a tsunami up to 500m (1,650ft) high, wiping out all living things 1,500km (930 miles) deep inside US territory.
"But it can be considered as a means of deterrence- like the Perimeter system, which is on combat readiness, which guarantees retaliation with all of Russia's nuclear forces even if command posts and the country's leadership have been annihilated".
- BBC: Russia reveals giant nuclear torpedo in state TV 'leak'
---
Former Secretary of Defense Perry, former Ass't Secretary of Defense Weber to Obama:
Mr. President, Kill the New Cruise Missile
Washington Post Op-Ed, October 15, 2015
Excerpts:
"Because they can be launched without warning and come in both nuclear and conventional variants, cruise missiles are a uniquely destabilizing type of weapon.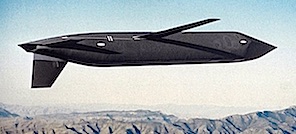 "One of us (William J. Perry) led the Defense Department's development and procurement of the current air-launched cruise missile and the B-2 stealth bomber in the late 1970s and early 1980s. At that time, the United States needed the cruise missile to keep the aging B-52, which is quite vulnerable to enemy air defense systems, in the nuclear mission until the more effective B-2 replaced it. The B-52 could safely launch the long-range cruise missile far from Soviet air defenses. We needed large numbers of air-launched nuclear cruise missiles to be able to overwhelm Soviet air defenses and thus help offset NATO's conventional-force inferiority in Europe, but such a posture no longer reflects the reality of today's U.S. conventional military dominance.
"With the updated B-2 and B61 expected to remain in service for many decades, and the planned deployment of new B-3 penetrating bombers with B61 bombs starting in 2025, there is scant justification for spending tens of billions of dollars on a new nuclear air-launched cruise missile and related warhead life-extension program.
"We therefore urge President Obama to cancel the current plan to develop and buy 1,000 to 1,100 new nuclear-capable air-launched cruise missiles. Such strong U.S. leadership, coupled with a challenge to the other major nuclear powers to eliminate or, in the cases of China and India, forgo deployment of this extremely destabilizing class of weapons, would reduce the risk of nuclear weapons use and be a historic practical step in the direction of a world without nuclear weapons." - William J. Perry and Andy Weber: Mr. President, Kill the New Cruise Missile
William J. Perry was U.S. secretary of defense from 1994 to 1997. Andy Weber was assistant secretary of defense for nuclear, chemical and biological defense programs from 2009 to 2014.


More on the Nuclear Cruise Missile:
- Russia is Proving Why Nuclear-Tipped Cruise Missiles Are a Very Bad Idea
"Those four cruise missiles that crashed in Iran could've been carrying nuclear warheads- which is why the US should ban them, not renew them."
"...inherently ambiguous... can add major risks to a crisis... In 2007, six nuclear-armed cruise missiles were mistakenly loaded onto a B-52 bomber and flown across the United States. Because nuclear-armed cruise missiles are virtually indistinguishable from conventional ones, the error went undetected for 36 hours.." -Tom Collina and William Saetren, Ploughshares Fund.

- Jan. 13: Just How New is the New, Nuclear-armed Cruise Missile?
"Deploying the planned new nuclear-armed cruise missile will actually make the United States less secure. Known as the Long-Range Standoff Weapon, or LRSO, it will be significantly more capable than the existing nuclear-armed air-launched cruise missile (ALCM). And for just that reason, by demonstrating that the United States sees this weapon as a valuable military tool, it will undermine higher priority U.S. security goals. Specifically, pursuing the LRSO ignores the reality that nuclear weapons are no longer a security asset for the United States, but a liability that should be constrained." -Stephen Young, Sr. Analyst, Union of Concerned Scientists

- Dec. 15: Eight Senate Democrats, including three members of the Senate Appropriations Committee, sent a letter to President Obama urging him to terminate the Air Force's plans for its next-generation air-launched cruise missile. (more)

- LRSO: The Nuclear Cruise Missile Mission
"It seems clear from many of these statements that the LRSO is not merely a retaliatory capability but very much seen as an offensive nuclear strike weapon that is intended for use in the early phases of a conflict even before long-range ballistic missiles are used." - Analysis by FAS/Hans Kristensen

- Who Needs a New Nuclear Air-Launched Cruise Missile Anyway?- Steven Pifer, Brookings
- Overkill: The Case Against a New Nuclear Air-Launched Cruise Missile- Kingston Reif/ACA
- You're NUTS: New Nuclear Cruise Missiles are Inherently Destabilizing
- New Nuclear Cruise Missile Won't Control Escalation, Will Erode Stability
---
US Deployment of New Nuclear Bombs To Bases in Europe Alarms Russia
In 1997 Ted Carpenter wrote for the Cato Institute, "Clinton administration officials and other supporters of NATO expansion profess to be baffled at Moscow's hostile reaction. But even the most peaceably inclined Russian leader would find it difficult to tolerate a U.S.-dominated military alliance perched on his country's western frontier."
Since then, Romania, Bulgaria, Czech Republic, Slovakia, Hungary, Albania, Croatia, Slovenia, Latvia, Lithuania, Estonia and Montenegro have all joined NATO. Georgia, Macedonia, and Bosnia-Herzegovina wait in the wings. (see graphic)
We can read on the NATO site that "Allied leaders agreed that Georgia and Ukraine- which were already engaged in an Intensified Dialogue with NATO- will become members of NATO." And yet the Russians couldn't be more clear: "Any political game concerning NATO expansion into Georgia and Ukraine is filled with the most serious, most profound geopolitical consequences for all of Europe" Russia's permanent representative to NATO, Alexander Grushko, told LifeNews television channel.



CNN 9/28: Pres. Putin on report of new U.S. nukes to Germany




Enter the B61-12


Against this backdrop, the US is reported to be preparing to replace some 20 nuclear weapons stationed in Germany with the updated version, the B61-12, which is in some ways a guided weapon; this is seen by Russia as constituting an aggressive escalation in her near-abroad. (See Kremlin Threatens Response to U.S. Nuclear Bomb Deployment in Germany) Russian spokesman Dmitry Peskov called the move a potential "violation of the strategic balance in Europe," that would demand a Russian response.
"This could alter the balance of power in Europe," Peskov told reporters at a press conference on Wednesday. "And without a doubt it would demand that Russia take necessary countermeasures to restore the strategic balance and parity." An unidentified "military-diplomatic" source told the Interfax news agency that among other options, that Iskander-M tactical missiles could be redeployed to Kaliningrad, the Russian Baltic enclave between Poland and Lithuania. And so it goes...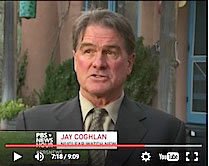 PBS News Hour Report: The B61-12 Deployment


Nov. 5, 2015; Jamie McIntyre with Hans Kristensen (F.A.S.) and NukeWatch Exec. Dir. Jay Coghlan. Watch this clip on our B61 page

- 60 Minutes interview with President Putin
- Kremlin Threatens Response to B61-12 Deployment
- U.S. set to back NATO invitation to Montenegro
- Are We Closer Than Ever To Nuclear War? ABC Australia

---

Every little bit helps!
Remember: contributions are tax-deductible!
*Go to donations page* Thanks for your support!
---
Critical Events
---
Feb. 9, 2016, Washington DC:
Federal Budget Request Release FY 2017
See Alliance for Nuclear Accountability's pre-release guide to the issues we'll be looking at: "Questions For The U.S. Department Of Energy FY 2017 Nuclear Weapons and Cleanup Budget Request
Watch this space for link to Nukewatch budget compilation when released.
March 1, 2016, Santa Fe:
Screening: "The Safe Side Of The Fence"
7pm Tuesday March 1 at the Screen in Santa Fe.
Award-winning documentary on the casualties of the US nuclear weapons industry.
"Devastating, disturbing, deeply poignant"
info and trailer / tickets online
April 17-20, 2016, Washington DC:
**DC Days 2016**
The Alliance for Nuclear Accountability's 27th Annual DC Days will take place from April 17-20, 2016. Over 50 activists, from newcomers to experienced hands, will hold nearly 100 meetings with congressional and executive branch offices. In addition to key Senate and House offices that ANA members, as constituents, can uniquely access, the Alliance targets the key Armed Services and Appropriations Committees and the congressionally-chartered Government Accountability Office and Defense Nuclear Facilities Safety Board. Executive branch meetings include the Department of Energy, the National Nuclear Security Administration, the State Department, the EPA, the Nuclear Regulatory Commission, and the Office of Management and Budget, often with their senior leadership.
Sunday, April 17 will be a training day for both old and newcomers, followed by three days of congressional and administration meetings.
Registration and more information is available here.
---
- Nuclear Calendar: Free subscription to this extensive email listing of all nuclear-related events, from the Friends Committee on National Legislation.
- 2016 Congressional Calendar (View PDF)
---
---
Nobel Obama's Nuke Pledge Reversed
From the same president who in 2009 called for world free of nuclear weapons and promised to reduce their role in U.S. national security strategy:
A plan to spend a trillion dollars over the next 30 years on nuclear weapons.
Specifically, on 12 new nuclear-armed submarines, 100 new strategic bombers, 400 new intercontinental nuclear missiles, 1000 new nuclear-capable cruise missiles, hundreds of upgraded and improved nuclear bombs and warheads, and major additions and upgrades to all parts of the US nuclear weapons complex.
See our nuclear modernization page for more on this.
---
3 Questions To Ask The Candidates

- Do you oppose plans to spend a trillion dollars on an entire new generation of nuclear weapons systems that will enrich military contractors and set off a new global arms race?

- Do you believe it's so important to invest in modernizing all three legs of the nuclear triad that you would do so at the expense of cybersecurity, conventional forces, diplomatic initiatives and domestic priorities?

- Do you support taking our ICBM nuclear missiles, which are susceptible to false alarms, equipment failure and cyber threats, off hair-trigger alert?

(suggested by Judy Elliott, Concord, NH)
---
---
---
---
Re: LANL Contract Not Renewed
Dec 22. Jay Coghlan, Director, Nukewatch:
"As the trillion dollar modernization moves forward, note how hollow the DOE infrastructure is because of contractor greed, incompetence and waste. I expect this to limit the scale and timing of "modernizing" the DOE nuclear weapons complex, including Life Extension Programs and new production facilities such as the Uranium Processing Facility at the Y-12 Plant and plutonium facilities at Los Alamos.
"There could also possibly be developments in the first quarter of next year related to Lockheed Martin's illegal lobbying activities that would shake up its grip on the Sandia Labs (the Sandia contract is also scheduled to be put up for bid). In short, 2016 could be a very fluid and unstable year for the DOE nuclear weapons complex, even as it seeks to put the B61-12 into production and move forward aggressively on the LRSO warhead."
---
The candidates on nuclear modernization


Bernie Sanders: "The truth is there is enormous waste within the 600 billion dollar a year Defense Department... We are right now maintaining, I think, I won't swear to you, 5,000 nuclear weapons. I don't know what the world looks like at the end of 2,000 nuclear weapons going off. I don't know that you'll need another 3,000. You know what we could do for education with 30 billion dollars a year? [...] There are a lot higher priorities than maintaining that type of nuclear arsenal." (ref)


Jeb Bush: "I think there should be a goal of- an aspirational goal- a Reagan-esque goal if you will- of elimination of all nuclear weapons in the world. I think that is not a naive aspiration. But it would be naive aspiration if it were done unilaterally. I think we should be engaged in the world to lessen the potential for a nuclear holocaust. [...] And that's what we need to focus on- is how do you create a world where there is a reduction across the board." (video)
More candidates' statements
Nuclear News
---
---
IRRADIATED: A McClatchy Special Report
- The hidden legacy of 70 years of atomic weaponry: At least 33,480 Americans dead.
- The U.S. government has compensated over 52,000 nuclear workers for illnesses related to radiation exposure.
A dozen related articles in this Special Report, including:
- Sparring for nuclear weapons workers takes South Carolina lawyer down little-used path
- How many 'Calutron Girls' worked at the Oak Ridge nuclear plant?
- Those who worked at Y-12 'deserve help'
- Irradiated: Cold War heroes turned victims
- For many workers, the nuke plant is the only game in town
- Ailing, angry nuclear-weapons workers fight for compensation (CPI)
- America's modernized nuclear arms roil diplomatic waters
---
Current nuclear stockpiles- for country reports and other details see original annotated infographic at Ploughshares.org.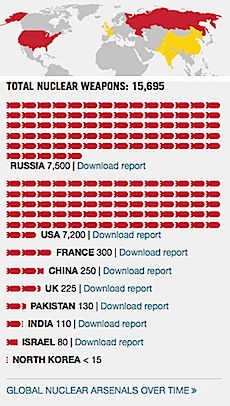 ---
LANL's Central Mission
Los Alamos Lab officials have recently claimed that LANL has moved away from primarily nuclear weapons to "national security", but what truly remains as the Labs central mission? Here's the answer from one of its own documents: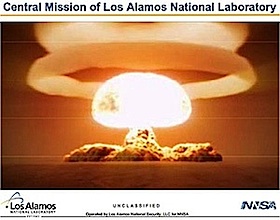 LANL's "Central Mission"- Presented at: RPI Nuclear Data 2011 Symposium for Criticality Safety and Reactor Applications
(PDF) 4/27/11
---
Don't Bank on the Bomb 2015
In a 50% increase over last year's totals, 53 financial institutions prohibit or limit investments in nuclear weapon producers, according to Don't Bank on the Bomb (2015), published in November by Dutch peace organization PAX. The increase illustrates the growing stigmatization of nuclear weapons due to the renewed focus on their humanitarian consequences. The report also identifies 382 banks, insurance companies, and pension funds which have made USD 493 billion available to nuclear weapons producers since January 2012. View/download PDF
---
---
Brief terrifying history of US nuclear mishaps
Eric Schlosser recounts the United States' clumsy history with nuclear weapons. And it's terrifying.
---
Radioactive Quotes

---
"A new danger has been rising... the possibility there might be a nuclear exchange between the US and Russia."

Former Defense Secretary William Perry

[link]
"Referring to the possibility of a nuclear exchange triggered by a military incident that spiraled out of control, a senior NATO official said: 'It is still remote, but it is no longer trivial.'"

The Guardian, 7 January 2015

[link]
---
Nuclear weapons: Write 'em off!


Remember, contributions are tax-deductible!
*Go to donations page* Thanks for your support!
---