Welcome to the NEW Nukewatch.org.
We are currently in the process of updating our website so that we can bring you the important nuclear news in the best way possible. Please check back as we continue to update our website with new content and designs.
Press Releases
It seems we can't find what you're looking for. Perhaps searching can help.
Nuclear News
Lockheed Martin gets slap on the wrist for lobbying violations in Sandia Labs contract extensions.
Nuclear Watch New Mexico denounces the $4.7 million settlement agreement as a slap on the wrist for the world's biggest defense contractor. Lockheed Martin clearly broke the law by engaging in illegal lobbying activities to extend its Sandia contract without competition, and engaged in deep and systemic corruption, including paying Congresswoman Heather Wilson $10,000 a month starting the day after she left office for so-called consulting services that had no written work requirements. There should be criminal prosecutions for clear violations of federal anti-lobbying laws, and Lockheed Marin should be barred from future competition for the Sandia Labs contract, expected next year.
View full press release (PDF)
View Department of Justice's settlement agreement (PDF)
View Rep. Heather Wilson's contract and invoices pursuant to our FOIA request (PDF)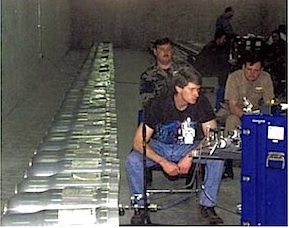 Russia is Proving Why Nuclear-Tipped Cruise Missiles Are a Very Bad Idea
"Those four cruise missiles that crashed in Iran could've been carrying nuclear warheads- which is why the US should ban them, not renew them."

…inherently ambiguous… can add major risks to a crisis… In 2007, six nuclear-armed cruise missiles were mistakenly loaded onto a B-52 bomber and flown across the United States. Because nuclear-armed cruise missiles are virtually indistinguishable from conventional ones, the error went undetected for 36 hours.."
-Tom Collina and William Saetren, Ploughshares Fund. 

Jan. 13: Just How New is the New, Nuclear-armed Cruise Missile?
"Deploying the planned new nuclear-armed cruise missile will actually make the United States less secure. Known as the Long-Range Standoff Weapon, or LRSO, it will be significantly more capable than the existing nuclear-armed air-launched cruise missile (ALCM). And for just that reason, by demonstrating that the United States sees this weapon as a valuable military tool, it will undermine higher priority U.S. security goals. Specifically, pursuing the LRSO ignores the reality that nuclear weapons are no longer a security asset for the United States, but a liability that should be constrained." –Stephen Young, Sr. Analyst, Union of Concerned Scientists 

Dec. 15: Eight Senate Democrats, including three members of the Senate Appropriations Committee, sent a letter to President Obama urging him to terminate the Air Force's plans for its next-generation air-launched cruise missile. Read More
LRSO: The Nuclear Cruise Missile Mission
"It seems clear from many of these statements that the LRSO is not merely a retaliatory capability but very much seen as an offensive nuclear strike weapon that is intended for use in the early phases of a conflict even before long-range ballistic missiles are used." – Analysis by FAS/Hans Kristensen
Action Alerts
It seems we can't find what you're looking for. Perhaps searching can help.
Must Reads
It seems we can't find what you're looking for. Perhaps searching can help.
Quotes
It seems we can't find what you're looking for. Perhaps searching can help.