Through comprehensive research, public education and effective citizen action, Nuclear Watch New Mexico seeks to promote safety and environmental protection at regional nuclear facilities; mission diversification away from nuclear weapons programs; greater accountability and cleanup in the nation-wide nuclear weapons complex; and consistent U.S. leadership toward a world free of nuclear weapons.
New & Updated
"No more waste. No more wasteland. No more sacrifice. No more sacrifice zone. No more suffering. We've done enough."
Santa Fe New Mexican, Tina Cordova | January 28, 2023 santafenewmexican.com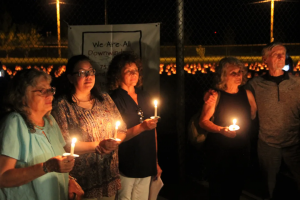 Many years ago, Jan. 27 was designated the National Day of Remembrance for Downwinders, a time to recognize the sacrifice and suffering so long experienced by those who were overexposed to radiation as part of our country's testing of nuclear weapons. The people of New Mexico were, after all, the first "Downwinders" any place in the world.
It would be monumental if our government would do more than set aside a day to remember us and actually take responsibility for the damage that was done to us. Holding the government to account is an ongoing fight that we wage every day with Congress — only to be told it's going to cost too much. This, while they pass an $857 billion defense budget.
This year, as the people of New Mexico reflect on what happened to us more than 77 years ago, we should also reflect on what is about to happen to us today. A proposal is making its way through the federal government that would allow private industry to store tens of thousands of tons of high-level nuclear waste in southeastern New Mexico.
We cannot accept the risk of this prospect and must fight this effort with all that we have.
ACTION ALERTS

As NNSA announced in the Federal Register (FR) on December 16, 2022 (87 FR 77096), NNSA is holding a 60-day public comment period on the Surplus Plutonium Disposition Program (SPDP) Environmental Impact Statement (EIS) (DOE/EIS-0549) from December 16, 2022 through February 14, 2023.  NNSA is making the Draft SPDP EIS available for public review and comment in compliance with the National Environmental Policy Act of 1969 (NEPA). NNSA has also announced three in-person public hearings and one online virtual meeting to receive comments on the Draft SPDP EIS.
It's Time to Speak Out at DOE's Surplus Plutonium Hearings in Carlsbad and Los Alamos
"Buckle up.  This is going to be a contentious discussion."  
On Tuesday, January 24th and Thursday, January 26th, the Department of Energy will hold in-person public hearings in Carlsbad and Los Alamos, respectively, about their plans to handle, treat and dispose of surplus plutonium in New Mexico.  On Monday, January 30th DOE will also hold a virtual public hearing about these plans to ship 34 metric tons of surplus plutonium in the form of plutonium pits, or the triggers, and non-pit plutonium for nuclear weapons to process at Los Alamos National Laboratory (LANL) and dispose at the Waste Isolation Pilot Plant (WIPP).
This is DOE's sixth attempt to address how to handle surplus plutonium so that it could no longer be used in nuclear weapons.  DOE's plan is found in the draft Surplus Plutonium Disposition Program environmental impact statement (EIS), which is open for public comment until February 14th.  https://www.energy.gov/nepa/doeeis-0549-surplus-plutonium-disposition-program
Previous DOE attempts did not include LANL and WIPP.  That has changed.  LANL and WIPP are now DOE's targets.
Since 1994, DOE has spent billions of dollars and held dozens of public meetings and hearings about how to prevent access to surplus plutonium.  Immobilization is one method.  But in 2002, DOE canceled the immobilization program "due to budgetary constraints," even though thousands of public comments supported immobilization of all the plutonium.

Keep up with the Stop Forever WIPP Coalition to learn how to take action against the Federal Government's Plan to Expand WIPP and keep it open indefinitely.
Visit the Stop Forever WIPP Coalition's website and social media: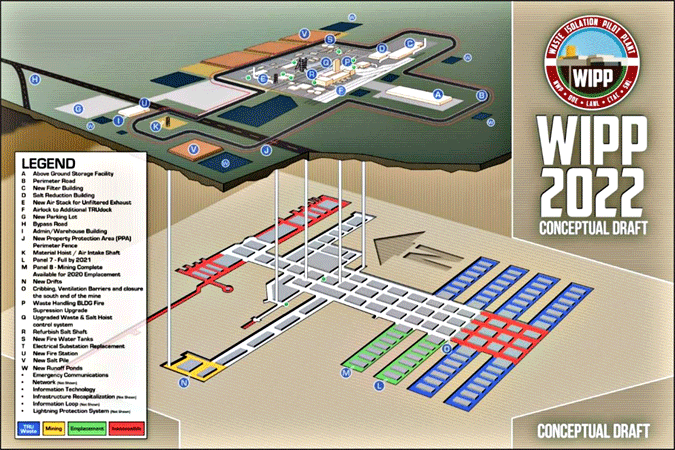 The New Mexico Environment Department maintains a Facility Mailing List to which you can add your name and address to get the latest information – just email Ricardo Maestas at the New Mexico Environment Department at ricardo.maestas@state.nm.us and ask to be added to the list.  Or mail your request with your mailing address to:
Ricardo Maestas
New Mexico Environment Department-Hazardous Waste Bureau
2905 Rodeo Park East, Bldg. 1
Santa Fe, NM 87505
WIPP also uses the facility mailing list to inform you about opportunities to provide public comments.  NMED provides their list to WIPP.
More Info and signup options:
Interfaith Panel Discussion on Nuclear Disarmament - August 9


The Department of Energy is seeking to modify the nuclear waste permit for southeastern New Mexico's Waste Isolation Pilot Plant. Dragging out WIPP's operations decades past the original 20-year agreement violates the social contract made with New Mexicans. WIPP is being equipped to take the waste that will be generated from production of plutonium pits for nuclear warheads, and it was never supposed to do that. An expansion of WIPP will impact the entire country, not just residents of southeastern New Mexico.
View the videos below for more information, and, if you live in an area that may be endangered by these nuclear waste transportation risks, please consider making your own "This is My Neighborhood" video!
---
Mixed Waste Landfill Facts
Posts Related to: NUCLEAR SAFETY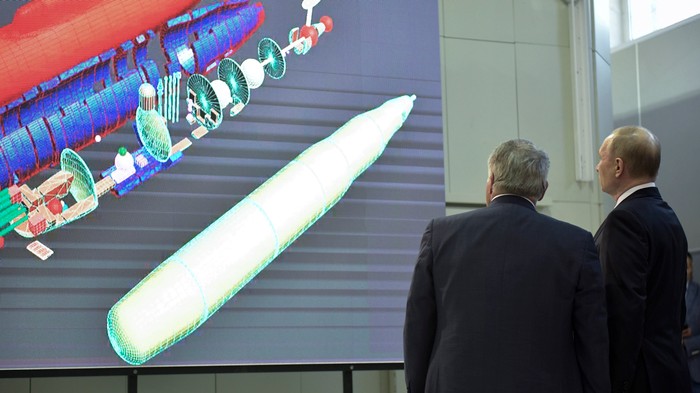 "Mutually Assured Destruction" has been the MO of the world's nuclear powers for decades. If Russia points a giant nuclear warhead toward the U.S., we would gear up to point an even more massive missile their way, and then, in theory, Russia shrugs its shoulders and says, "Eh, not worth it." They would be completely "deterred" from advancing a nuclear attack based on the reality that doing this would mean the entire country, continent, and, ultimately the entire world, would become obliterated as we know it; the cost and the risk greatly outweigh any benefit. Supposedly. According to this thesis, the existence of nuclear weapons makes the cost of war seem frighteningly high and thus "discourage[s] states from starting any wars that might lead to the use of such weapons" (Kenneth Waltz, "The Spread of Nuclear Weapons: More May Better,") The idea that nuclear weapons make conventional war safer is widely used as framing for why we need nukes at all, with one specific reason being spread wide and far that nuclear weapons can still be the equalizer against an adversary's superior conventional forces.
But a watchdog group argued Los Alamos lab adopting a higher radiation limit for workers than other labs is to create more leeway when it ramps up plutonium pit production.
By Scott Wyland swyland@sfnewmexican.com | May 6, 2022 santafenewmexican.com
"The collective worker doses would probably go up once they start actual manufacturing," said Scott Kovac, research and operations director for the nonprofit Nuclear Watch New Mexico.
…
Jay Coghlan, the executive director for Nuclear Watch New Mexico, said the agency in charge of nuclear security is pushing the lab to crank up pit production, yet it won't install what's known as a "safety class active confinement system" that would prevent a heavy radioactive release during an earthquake, catastrophic fire or a serious accident.
"This is a longstanding recommendation that Los Alamos [lab] and NNSA refuse to honor while continually downplaying the risk of expanded pit production," Coghlan said.
Los Alamos National Laboratory allows workers to have a higher yearly radiation exposure than other national labs do and has not followed a longtime recommendation by safety officials to install a ventilation system in its plutonium facility they say would better protect workers and the public during a serious radioactive breach, according to a recent government watchdog's recent report.
The report, some critics contend [see our quotes above], is of concern as the lab pursues production of nuclear bomb cores, or pits, at nearly triple the yearly amount it has ever made before.
Los Alamos National Laboratory (LANL) has given itself a Categorical Exclusion (CX) under National Environmental Policy Act (NEPA) for the removal, relocation, and examination of transuranic (TRU) waste drums at Waste Control Specialists (WCS). These drums are similar to the ones that forced WIPP to close in 2014. LANL officials decided that formal environmental assessments, with public input, of the movement of the possibly exploding waste drums are not needed.