Current Nuclear News Archives
"Currently no options have been able to demonstrate that waste will remain isolated from the environment over the tens to hundreds of thousands of years." – Nuclear waste expert Andrew Blowers, author of "The Legacy of Nuclear Power" and former member of the UK's Committee on Radioactive Waste Management.
BY: Opinion by Paul Hockenos © CNN | February 27, 2022 cnn.com
(CNN) A major Intergovernmental Panel on Climate Change report, to be released Monday, is expected to warn that humans are wrecking the planet so profoundly that we may run out of ways to survive the crisis. The report speaks of a "rapidly closing window of opportunity to secure a liveable and sustainable future for all."
This might make it tempting to rush to nuclear energy as a quick, low-carbon fix. But its faults are numerous, not least that there is still no answer to the 80-year-old question: Where to store the burgeoning tons of highly radioactive spent fuel? Propositions abound: from catapulting it into space, ditching it between tectonic plates, or burying it deep underground on remote islands.
But try as they have, scientists can't find a safe, long-term, cost-effective way to dispose of nuclear waste.
Nuclear News Archives – 2021
Joni Arends, of CCNS, said, "As early as November 2013, Nuclear Waste Partnership, LLC, began to physically expand the WIPP underground.  The fire and explosion shutdown that work.  It remains evident that NWP is more interested in doubling the size of the WIPP underground and keeping it open forever than doing preventive maintenance."

CONCERNED CITIZENS FOR NUCLEAR SAFETY October 23, 2021
Due to on-going maintenance problems in the underground disposal facility, the Waste Isolation Pilot Plant (WIPP) requested an extension of time from the New Mexico Environment Department to store waste in the Waste Handling Building.  https://wipp.energy.gov/
The request for a 45-day extension to store 13 shipments of plutonium- contaminated waste comes on the heels of on-going maintenance problems at WIPP [PDF]. On October 14th, 2021, the Environment Department approved the extension to November 30th, 2021 [PDF].  All waste shipments to WIPP had previously been stopped from August 25th until September 30th.
Maintenance problems include ventilation problems on the surface in the Waste Handling Building and managing the floors in the underground. The salt can heave and create uneven surfaces where waste is transported for disposal.
Land-based nuclear weapons are world-ending accident waiting to happen, and completely superfluous to a reliable deterrent.
"Getting trapped in an argument about the cheapest way to keep ICBMs operational in their silos is ultimately no-win. The history of nuclear weapons in this country tells us that people will spare no expense if they believe that spending the money will really make them and their loved ones safer—we must show them that ICBMs actually do the opposite."
By Daniel Ellsberg and Norman Solomon thenation.com October 22, 2021
The single best option for reducing the risk of nuclear war is hidden in plain sight. News outlets don't mention it. Pundits ignore it. Even progressive and peace-oriented members of Congress tiptoe around it. And yet, for many years, experts have been calling for this act of sanity that could save humanity: Shutting down all of the nation's intercontinental ballistic missiles.
Four hundred ICBMs dot the rural landscapes of Colorado, Montana, Nebraska, North Dakota, and Wyoming. Loaded in silos, these missiles are uniquely—and dangerously—on hair-trigger alert. Unlike the nuclear weapons on submarines or bombers, the land-based missiles are vulnerable to attack and could present the commander in chief with a sudden use-them-or-lose-them choice. "If our sensors indicate that enemy missiles are en route to the United States, the president would have to consider launching ICBMs before the enemy missiles could destroy them. Once they are launched, they cannot be recalled," former Defense Secretary William Perry warns. "The president would have less than 30 minutes to make that terrible decision."
The danger that a false alarm on either side—of the sort that has occurred repeatedly on both sides—would lead to a preemptive attack derives almost entirely from the existence on both sides of land-based missile forces, each vulnerable to attack by the other; each, therefore, is kept on a high state of alert, ready to launch within minutes of warning. The easiest and fastest way for the US to reduce that risk—and, indeed, the overall danger of nuclear war—is to dismantle entirely its Minuteman III missile force. Gen.
James E. Cartwright, a former vice chair of the Joint Chiefs of Staff, who had been commander of the Strategic Command, teamed up with former Minuteman launch officer Bruce G. Blair to write in a 2016 op-ed piece: "By scrapping the vulnerable land-based missile force, any need for launching on warning disappears."
Continue reading
"Santa Fe residents would see shipments of plutonium trucked through the city's southern edge if federal agencies carry out plans announced nearly a year ago."
By Scott Wyland • The Santa Fe New Mexican santafenewmexican.com
On March 11, 1958, the Gregg family was going about their business when a malfunction in a B-47 flying overhead caused the atomic bomb on board to drop on to their S.C. backyard.
By Allison McNearney | thedailybeast.com
Santa Fe County Nuclear Waste Emergency Response Town Hall
In response to community concerns about the proposed increased shipments of more dangerous forms of plutonium along New Mexico State Road 599, Santa Fe County District 2 Commissioner Anna Hansen will host a Nuclear Waste Emergency Response Town Hall on Tuesday, October 19th from 6 to 7:30 pm.  Town Hall Nuclear Waste Flyer 10-19-21 The Department of Energy (DOE) has made elaborate plans to transport plutonium nuclear weapons triggers to Los Alamos National Laboratory (LANL) for processing. 
The triggers are currently stored at the Pantex facility, north of Amarillo, Texas.  Questions and comments from the public are encouraged during the Town Hall. Town Hall Nuclear Waste Meeting Agenda 10-19-21
The proposed route is approximately 3,300 miles.  Interstate 40 at Clines Corners would be the primary route to U.S. Route 285.  The shipments would then head north to Interstate 25, past the Eldorado communities, before connecting with the 599 Bypass around Santa Fe.  Much of the bypass is located within Commissioner Hansen's district.  From the bypass, the shipments would travel north on 285 to Pojoaque, then west on 502 to LANL.  After processing, the shipments would follow the reverse route to Interstate 40 and east to the Savannah River Site in South Carolina for further processing.  The shipments would once more head west to the Waste Isolation Pilot Plant (WIPP), near Carlsbad, New Mexico.  Up to 47 metric tons of what is called "surplus" plutonium could be shipped, processed and disposed at WIPP.
In response to constituent concerns, Santa Fe County Commissioners Hank Hughes and Anna Hamilton held a similar Town Hall at the Arroyo Hondo Fire Station in August.  https://www.sfreporter.com/news/2021/08/10/waste-on-wheels/
During the October 19th Town Hall, Cynthia Weehler, citizen activist and former chemistry teacher, will present highlights of the DOE's proposal to expand the WIPP repository, including the transportation of additional weapons-grade plutonium throughout Santa Fe County.  www.kob.com/new-mexico-news , www.santafenewmexican.com/opinion/my_view/speak-out-on-the-future-of-wipp/
Santa Fe County Fire Chief Jackie L. Lindsey will give a presentation about Santa Fe County's emergency preparedness and response in the unlikely event of a toxic and radioactive waste incident.  https://www.santafecountynm.gov/fire/fire_chief_and_command_staff
New Mexico State Representative Tara Lujan will also be in attendance.  https://nmlegis.gov/Members/Legislator?SponCode=HLUTA
The Town Hall is being held at the Nancy Rodriguez Community Center, at One Prairie Dog Loop, in Santa Fe, which is off County Road 62 between the Agua Fria Fire Station and La Familia Medical Center.
For more information, please contact Anna Hansen, Santa Fe County Commissioner, at 505-986-6329, or ahansen@santafecountynm.gov.  https://www.santafecountynm.gov/county_commissioners/anna_hansen
The majority of samples found just "background" or normally occurring levels of radioactivity. But 11 samples showed significantly elevated levels of radioactive materials.

By Joel Grover and Josh Davis • abclosangeles.com
High levels of radioactive particles landed in neighborhoods from Thousand Oaks to Simi Valley during the massive 2018 Woolsey fire, which started at the contaminated Santa Susana Field Lab, according to a peer-reviewed study just published by a team of scientists known for studying environmental disasters.
What's stunning about the findings is that they run contrary to what California's Department of Toxic Substances Control (DTSC) said to calm public fears in the hours after the Woolsey Fire, "We do not believe the fire has caused any releases of hazardous materials… associated with contamination at the [SSFL] site."
"The DTSC lied. They said that contamination from hadn't migrated away from Santa Susana and the study proves that it has," said Jeni Knack, part of a group of volunteers who helped collect samples analyzed in the study.
Knack participated in the sample collection because she had a background doing data collection on archaeological sites, and because she's the mom of a 6-year old who lives in Simi Valley, just five miles from Santa Susana.
"I was afraid that radioactive and chemical contamination were being carried by wind and smoke during the fire," Knack told NBC4.
For decades, North St. Louis residents have lived in fallout from the Manhattan Project. Now, federal scientists are finally linking today's cancers to the nation's nuclear warfare legacy.

By AUSTIN PRICE • earthisland.org
n Bridgeton, on the northern edge of St. Louis County, Missouri, a fire burns underground in a vast landfill, creeping closer and closer to a pile of radioactive waste from the World War II era that was dumped there back in the 1970s. This "subsurface smoldering event," as these odorous, high-temperature chemical reactions are called, at the West Lake Landfill has burned continuously for almost a decade now, keeping nearby residents all too aware of the Superfund site in their backyard.
For years, many of these residents have filed lawsuits against Cotter Corporation and Mallinckrodt, the companies responsible for dumping the radioactive nuclear waste in the unlined landfill (a former limestone quarry) as well as in open piles on a field near what's now the Lambert-St. Louis International Airport. These residents say that this waste has contaminated their homes. Many have sparred in open forums with officials from the Environmental Protection Agency. Others have met personally with EPA Administrator Andrew Wheeler. All want answers to an unending list of questions.
As Dawn Chapman, co-founder of the grassroots advocacy group Just Moms STL and a mother of three who lives 2 miles from landfill, told me, "The battles at this site never end."
Meanwhile, the fire burns. Closer and closer to the radioactive waste, like a ticking time bomb. But for many North County residents, that bomb has already gone off, and it's fallen to members of the community to pressure local and federal officials to help pick up the pieces. Now, federal scientists at the Agency for Toxic Substances and Disease Registry are finally starting to admit the mistakes of the nation's toxic past.

By Devlin Barrett and Martin Weil | washingtonpost.com
The court papers say that in December 2020, an FBI official received a package that had been sent to the foreign country containing U.S. Navy documents, a letter and instructions for how to conduct encrypted communications with the person offering the information.
Starting from scratch in 1976, he acquired the technology and knowledge that allowed Pakistan to detonate its first nuclear device in 1998.
Abdul Qadeer Khan, a metallurgist who became known to Western intelligence services as the father of Pakistan's nuclear bomb and a worldwide dealer in weapons technology, died Sunday at a hospital in Islamabad, Pakistan. He was believed to be 85 years old.
Dr. Khan's death was reported by Pakistan's interior minister, Sheikh Rasheed Ahmad. The apparent cause was complications from Covid-19, he said.
Dr. Khan was the man who made Pakistan a nuclear power. For at least 25 years, starting from scratch in 1976, he built, bought, bartered and stole the makings of weapons of mass destruction.
To millions of Pakistanis, he was a national hero, the man who developed a nuclear program to match the country's rival, India. To the C.I.A., he was one of the more dangerous men on earth.
Pakistan's prime minister, Imran Khan, on Sunday said that he was "deeply saddened" by Dr. Khan's death, praising him for "his critical contribution in making us a nuclear weapon state."
"This has provided us security against an aggressive, much larger nuclear neighbor," Mr. Khan tweeted, referring to India. "For the people of Pakistan he was a national icon."
About 100 people gathered outside the gates of the military base despite a heavy rain and despite anti-Covid regulations that prevented a demonstration with the usual characteristics.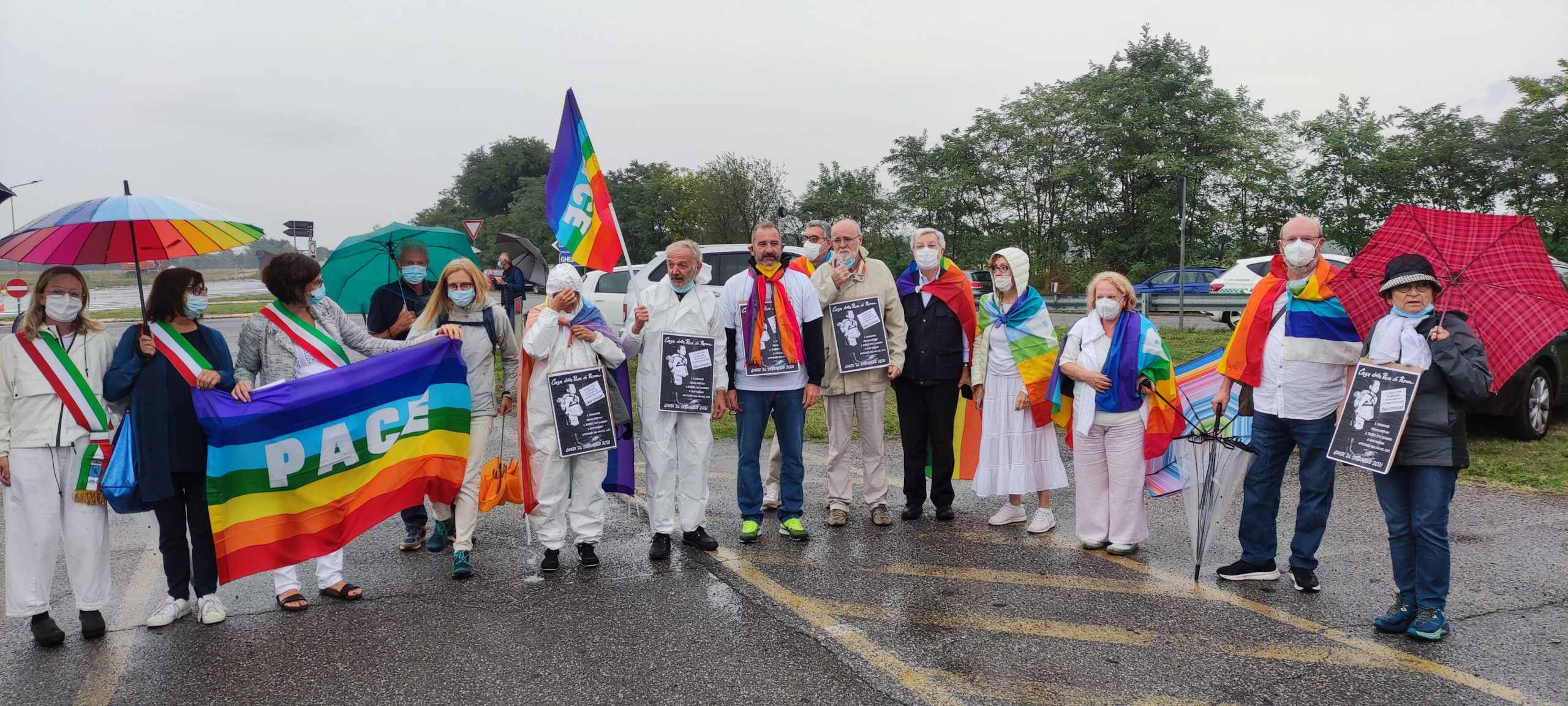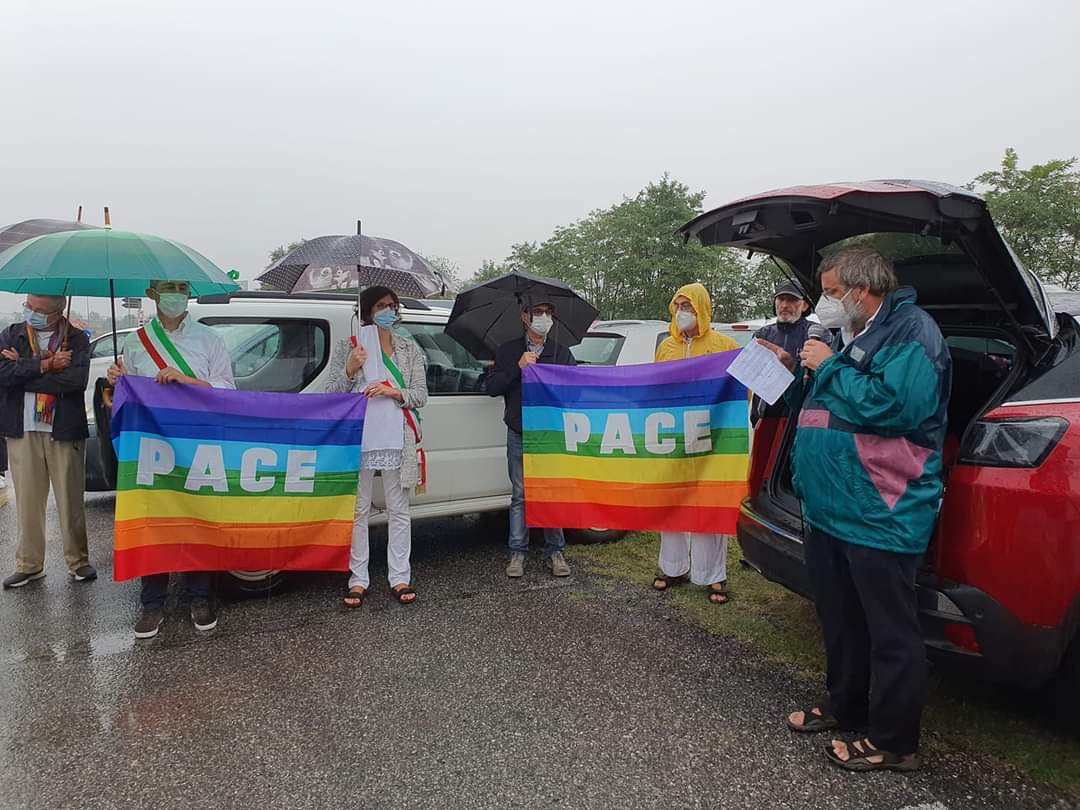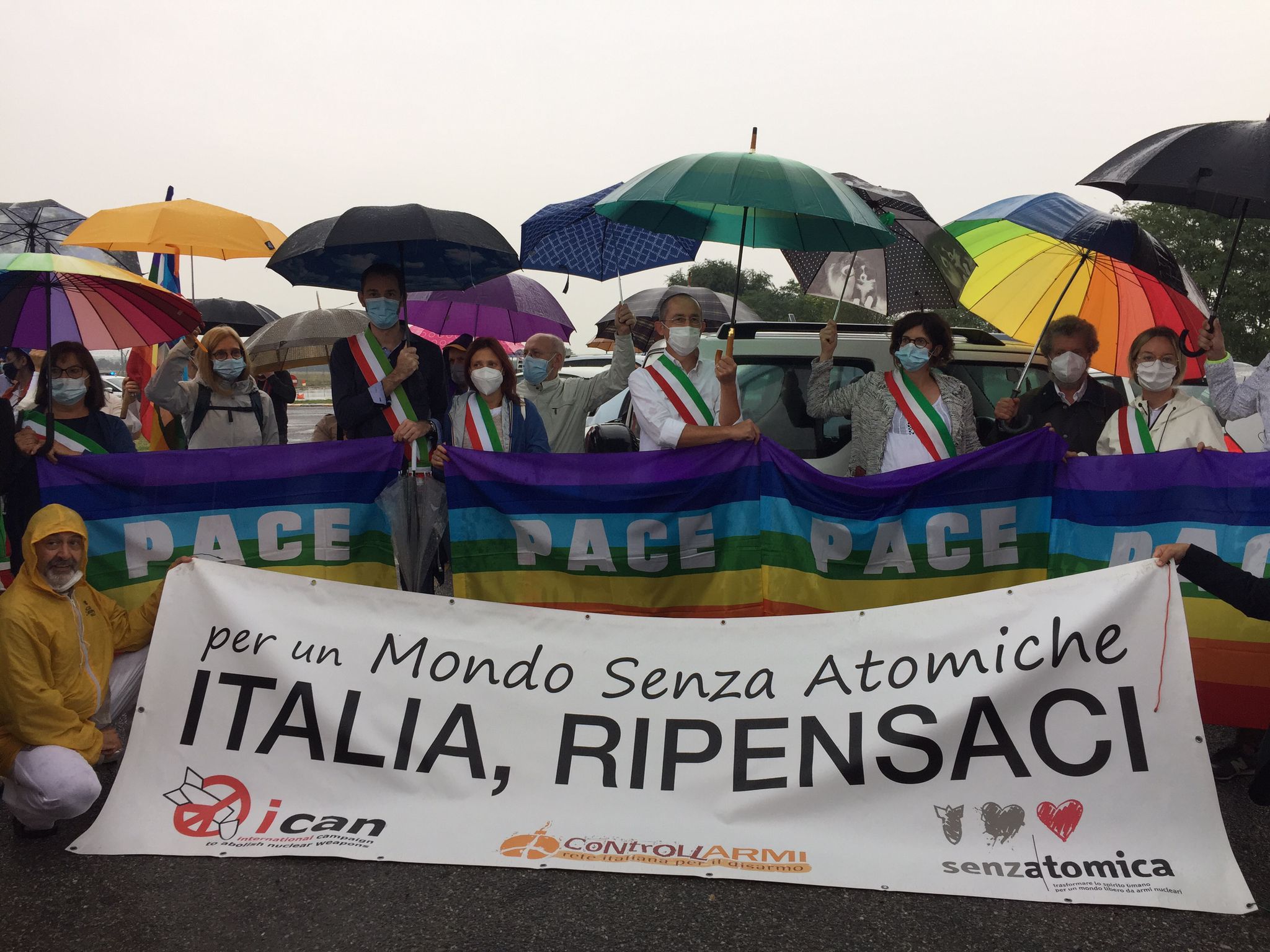 This stunning photo essay by Robert Del Tredici details the history of the atomic bomb through portraits of monuments, culture, and humans who co-exist with the bomb, from survivors to activists to nuclear scientists in At Work in the Fields of the Bomb. 
Photography and introduction by Robert Del Tredici. Captions by Robert Del Tredici and Gordon Edwards. | October 9, 2021 | The Bulletin thebulletin.org
From the moment the atomic bomb was invented, humanity has struggled to make sense of it. It is a weapon of war, an enforcer of peace, a talisman of sovereignty, a fountainhead of undying radioactivity, and a fateful burden for humans into the far future. Yet the bomb's physical presence—its deep grit and material magnitude of its mass production—has remained culturally invisible.
I wanted to take on this invisibility. I found out that the American bomb's home ground had 12 factories, each making different materials and parts. I learned that each factory had a public relations officer. And I found out that the airspace above each plant was unrestricted.
But before engaging with the US nuclear weapons complex, I went to Hiroshima. I needed to find the human meaning of the bomb. One Hiroshima survivor told me, "If you weren't there when it happened, you can have no idea what it was like." Another told me, "Nuclear weapons and human beings cannot coexist." I told them I wanted to photograph all of the American bomb-factories. An elderly survivor came over to me, put her hand on my arm and said, "Yes, you must do this." Five years later, I completed my book of photographs and field notes, At Work in the Fields of the Bomb.
Model of the Uranium Atom
American Museum of Science and Energy, Los Alamos, New Mexico
June 11, 1982
Of all the naturally occurring materials found on Earth, uranium is the only element whose atoms can be split in a process that releases energy and neutrons in a chain reaction. The neutrons go on to split more atoms, which release more energy and more neutrons, until an exponential increase in energy ignites an atomic fireball. In the photo, two boys play at shouldering the model of the atom, which is too big for them to handle.
The atomic bomb was conceived within living memory, and unless abolition ends it, the bomb will be passed on to our grandchildren's grandchildren—a burden weightier than Atlas could have imagined.
The US left the JCPOA in 2018, citing continued malign behavior by Iran in the region, and implementing a "maximum pressure" sanctions regime, but Biden seeks a return to the policy.
Iranian Foreign Minister Hossein Amirabdollahian on Wednesday said Iran would return to talks to reach a nuclear agreement "soon," but made no commitment to a specific date for resuming the stalled negotiations to revive the 2015 Joint Comprehensive Plan of Action with the world's leading powers.
Following a meeting with Russian Foreign Minister Sergei Lavrov in Moscow, Amirabdollahian said that "the process of reviewing Vienna talks is nearing completion and the talks will resume soon.
"Until Iran returns to the negotiating table, the other parties must also make new decisions and show their will and intention for the success of the talks and fulfilling their commitments," he added.
Earlier, Amirabdollahian told the head of Iranian foundations in Moscow that a return to the nuclear deal could bolster Iran's economy, "if we achieve tangible achievements in securing the rights of the Iranian people," Iranian Mehr News Agency reported.
An executive who lied to regulators about two South Carolina nuclear plants that never generated a watt of power has been sentenced to two years in prison
By JEFFREY COLLINS Associated Press abcnews.go.com October 7, 2021
COLUMBIA, S.C. — A utility executive who repeatedly lied to keep investors pumping money into South Carolina's $9 billion nuclear reactor debacle will spend two years in prison for fraud, a federal judge decided on Thursday.
Former SCANA Corp. CEO Kevin Marsh agreed with prosecutors that he should serve the sentence and the judge approved the deal, making him the first executive put behind bars for misleading the public on the project, which failed without ever generating a watt of power.
"The Biden administration's decision to declassify updated information on the number of nuclear warheads in the U.S. nuclear weapons arsenal is a welcome step that reverses an unwise decision by the Trump administration to classify this information," the Arms Control Association said in a statement Wednesday.
"It also puts pressure on other nuclear armed states that maintain excessive secrecy about their arsenals."
By Chandelis Duster and Nicole Gaouette, CNN, benningtonbanner.com October 7, 2021
(CNN) In a reversal from the Trump administration, the State Department revealed the number of nuclear weapons in the US stockpile for the first time in four years on Tuesday.
The US has 3,750 nuclear warheads in its stockpile and 2,000 are waiting to be dismantled, according to a 
release from the State Department
, which emphasized the importance of transparency.
The release of the "Transparency in the U.S. Nuclear Weapons Stockpile" fact sheet comes as the Biden administration is conducting a review of its nuclear weapons policy and capabilities ahead of a 2022 meeting of the Nuclear Non-Proliferation Treaty conference, where the US and other nuclear powers who are party to the Treaty will review each signatory's disarmament commitments.
"Increasing the transparency of states' nuclear stockpiles is important to nonproliferation and disarmament efforts, including commitments under the Nuclear Non-Proliferation Treaty, and efforts to address all types of nuclear weapons, including deployed and non-deployed, and strategic and non-strategic," the State Department said.
As a committed supporter of international institutions and the world's 13th largest economy, Australia has real clout
"As the gap between China's military and Australia's widens, it is unlikely that Australia's capability – even with a fleet of nuclear submarines, supplied by its Aukus partners – will determine the balance of military power in the Indo-Pacific."
By Jonathan Pearlman October 6, 2021 The Guardian theguardian.com
For an emerging superpower prone to petulant outbursts and coercive retaliation, China's initial response to the recent announcement of the new three-way security pact between Australia, the United States and Britain seemed surprisingly tepid.
Hours after the trio unveiled their "forever partnership", known as Aukus, China formally requested that it be allowed to join an 11-member Asia-Pacific trade grouping, the Comprehensive and Progressive Agreement for Trans-Pacific Partnership (CPTPP).
This was an odd move by China, whose application requires the consent of the grouping's members, which include Australia. In recent years, China has responded to previous perceived slights from Canberra by imposing economic sanctions worth $20bn and freezing ministerial contacts.
Calling for swift remedies to mend a fractured non-proliferation landscape, nuclear-weapon-free States demanded an immediate end to deterrence policies and the start of dismantling atomic arsenals, as the First Committee (Disarmament and International Security) moved into the third day of its general debate.
UNITED NATIONS MEETINGS COVERAGE GENERAL ASSEMBLY FIRST COMMITTEE SEVENTY-SIXTH SESSION, 4TH MEETING (PM)
As thousands of atomic bombs located around the world pose grave risks to humanity, delegates implored nuclear-weapon States to steer the planet onto a path of peace.  Some suggested such ways to do so, with delegates agreeing that dismantling nuclear arsenals must start now, in line with the Treaty on the Non-Proliferation of Nuclear Weapons and under safeguards established by the International Atomic Energy Agency (IAEA).  Many urged all nations with atomic arsenals to sign, ratify and fully implement existing conventions, including the Treaty on the Prohibition of Nuclear Weapons, which entered into force in January, and some decried the quarter of a century delay in entering into force the Comprehensive Nuclear-Test-Ban Treaty.  To rectify this, many called for nuclear-weapon States to sign and ratify it so that atomic bomb testing can become part of the past.
Congress should require consultation, so generals wouldn't have to break the rules to save the world.

Gen. Mark Milley is being criticized for taking actions to forestall the possibility of an inappropriate nuclear launch order by President Trump. The criticism is based on steps the general allegedly took, as described in Bob Woodward and Robert Costa's new book, "Peril." Gen. Milley was ostensibly concerned that Mr. Trump was unstable and might order a nuclear launch for political reasons. The general told Congress last month that because he believed China had unwarranted worries of a U.S. attack, he acted to "de-escalate" the situation and contacted his Chinese counterparts to indicate that no attack was planned.
The critics are missing the point. The overriding issue is not whether Gen. Milley was correct in his assessment, or whether he was authorized to take the reported actions, but what the consequences could have been if his concern had been warranted. It is not hyperbole to say that the consequences could have been a profound tragedy and, in the worst case, the end of civilization.
"A pair of F-35s from Nellis Air Force Base in Nevada released dummy nuclear bombs at a nearby test range this month, moving the advanced stealth fighter closer to carrying the world's most powerful weapons into combat, the Air Force said."
By Stephen Losey • military.com
The flights on Sept. 21 marked the "graduation" test exercise necessary for the Air Force variant of the F-35 to move ahead with what's called the nuclear design certification process, according to the service's press release.
It's still not clear when the F-35A will receive its full nuclear certification allowing it to move from training ranges and dummy bombs to real-world battlefields. But when that happens, the Air Force will have a second stealth aircraft in its fleet that can carry nukes.
"The B-2 [Spirit] bomber was the prominent nuclear-capable stealth aircraft," Lt. Col. Daniel Jackson, division chief for strategic deterrence and nuclear integration at Air Combat Command, said in the press release.
F-15E Strike Eagle and F-16C and D Fighting Falcon fighters do not have stealth capability but can carry nuclear weapons. The B-21 Raider heavy bomber will also have the capability and is expected to join the Air Force's fleet in the mid-2020s, according to the latest estimates.
"We are sponsoring a bill that would make sure the government's responsibility to those who were harmed by nuclear testing does not get swept under the rug."

By Burgess Owens and Chris Stewart deseret.com
Any objective study of American history brings us to the realization that there are many Americans who quietly made, and continue to make, great sacrifices for our national security. Many of these women and men willingly give of themselves to ensure that our country remains free.
Tragically, under the banner of national security the United States government exposed Americans to radioactive uranium ore and radioactive dust — subjecting them to lung cancer and other respiratory illnesses.
On July 16, we marked the 76th anniversary of the detonation of the first nuclear weapon — code-named Trinity — in the desert of New Mexico's Tularosa Basin. Three weeks after the Trinity detonation, the United States exploded the Little Boy bomb over Hiroshima and, three days later, the Fat Man bomb over Nagasaki. Six days later, Japan surrendered. In the aftermath of World War II, a nuclear arms race began that reached its zenith with over 60,000 nuclear weapons worldwide in 1986.
Many lives were lost or severely altered by the nuclear weapons program. Thankfully, the world stockpile of nuclear weapons has steadily declined since 1986 and will, hopefully, continue to do so in the future. Yet, the effects of detonating over 1,100 nuclear weapons since the Trinity test in 1945 continue to mar the lives of Americans to this day.
Through atmospheric weapons tests, as well as mining, transporting and milling of uranium ore, many Americans have been slowly killed by radiation exposure. Thousands of Utahns were infected by radiation exposure simply by living "downwind" of the federal government's nuclear weapons testing sites. Additional Utahn miners were affected as they worked the uranium necessary for these weapons. These "downwinders" and miners and their families friends, and communities often suffered excruciating illness, loss and devastation.
In response to this malfeasance, Congress rightly enacted (and later amended in 2000) the Radiation Exposure Compensation Act (RECA) in 1990. This legislation was a good first step in making recompense to those who mined and hauled uranium ore and those who processed the ore at a mill. The RECA legislation also addresses those exposed to radiation downwind from nuclear test sites.
It has been more than 20 years since any meaningful reform to RECA has been made for those whose lives have been taken or irreversibly altered by our foray into the arms race. Several classifications of workers such as core drillers and ground workers have been denied justice by being excluded completely from the process.
Some diseases that should have been compensable have been excluded. Numerous geographical locations exposed to downwind radiation have been left out. Uranium miners continued to mine after the United States stopped buying uranium for its nuclear weapons programs in 1971. These so-called post-1971 workers were excluded from accessing benefits since the original RECA legislation had an arbitrary cutoff date of Dec. 31, 1971 — even though the federal government continued to regulate uranium mines long after 1971. To make matters worse, RECA is scheduled to sunset in July 2022 — potentially leaving all classifications of exposure victims without redress.
We are honored to represent some of these "downwinders" and their family members and want them to know their suffering — and the sacrifices they made for our nation — are not forgotten.
That is why we are pleased to be the lead Republican members of the House of Representatives on the "RECA Amendments Act of 2021," legislation that will reauthorize RECA for those still suffering the consequences of nuclear testing.
The tragic consequences of the nuclear arms race cannot be swept under the rug of history. We urge our colleagues in Congress to support the "RECA Amendments Act of 2021." Our country must act now to address the injustices of those who have been forgotten by their own government.
Rep. Burgess Owens represents Utah's 4th Congressional District. Rep. Chris Stewart represents Utah's 2nd Congressional District.
"Although net nuclear capacity rose last year, the 0.4-gigawatt increase was minuscule in comparison with the gains made by renewable energy. 'Nuclear is irrelevant in today's electricity capacity newbuild market,' the industry report concludes."
By Dawn Stover | October 1, 2021 The Bulletin thebulletin.org
Although there are 23 fewer nuclear reactors in the world today than at the 2002 peak of 438, the past year saw a small uptick in the number of reactors operating worldwide and a corresponding increase in the global fleet's net operating capacity.
That's one data point in the World Nuclear Industry Status Report 2021, the latest in a series of annual industry reports compiled by an international team of independent experts led by Mycle Schneider, a consultant based in Paris. The 409-page report, released this week, is packed with information about global and country-specific trends, but several findings stand out, and they don't bode well for the nuclear energy industry.
First, although nuclear capacity is up, nuclear electricity production is down.
As of mid-2021, there were 415 nuclear reactors operating in 33 countries, seven reactors more than a year earlier. Their total capacity was 1.9 percent higher than a year earlier. But in 2020, the worldwide nuclear fleet generated 3.9 percent less electricity than in the previous year. That was the first decrease in output since 2012, when many reactors remained shut down in the wake of the Fukushima nuclear disaster.
Without China, where most of the new construction is happening, the decrease in production would look even bigger. In 2020, China for the first time produced more nuclear electricity than France, which relies heavily on nuclear energy. Only the United States produced more.
"This legislation could end years of debate and acrimony and help determine a path forward for disposing of nuclear waste. Placing nuclear waste under bedrock environmental laws could ensure strong repository standards, while giving states the power to approve what is sequestered within their borders."
– Kit Kennedy, managing director for the Climate and Clean Energy program at NRDC (Natural Resources Defense Council)

WASHINGTON – Sen. Ed Markey (D-Mass.) and Rep. Mike Levin (D-Calif.) introduced legislation today that could end a 60-year impasse over our nation's nuclear waste.
The bill would establish a task force to consider removing exemptions for radioactive waste and spent nuclear fuel from our bedrock environmental laws. Doing so would allow for geologic repositories for nuclear waste that have strong environmental protections and the consent of state leaders and local residents.
Currently, the United States has no permanent geologic repository for disposal of high-level nuclear waste
"The current system of spent nuclear fuel storage is not sustainable, particularly for sites that no longer have operating reactors and could be redeveloped for other beneficial uses, such as the San Onofre Nuclear Generating Station," said Representative Levin.
PRESS RELEASE September 28, 2021 markey.senate.gov
Washington (September 28, 2021) – Senator Edward J. Markey (D-Mass.), Chair of the Clean Air, Climate, and Nuclear Safety Subcommittee of the Senate Environment and Public Works Committee, and Congressman Mike Levin (CA-49) today introduced the Nuclear Waste Task Force Act, legislation to establish a new task force to consider the implications of amending the Atomic Energy Act of 1954 to remove exemptions from environmental laws for nuclear waste. Eliminating this loophole could help enable consent-based siting of long-term storage solutions for nuclear waste. The task force would also be responsible for providing a clear explanation of what constitutes "consent-based siting."
"When it comes to the storage of nuclear waste, siting decisions must be rooted in geological science, not political science. After years of pushback and concern from the scientific community, it is clear that Yucca Mountain is a delusion, not a destination for nuclear waste. Storing all of our nation's nuclear waste is a hard sell for any state, especially when it's exempt from bedrock environmental laws," said Senator Markey. 
"Enabling consent-based storage is the key to developing real, practical solutions for the long-term storage of nuclear waste. This nuclear waste task force will play a critical role in determining how to make that happen."
NPR's Leila Fadel talks with Lesley Blume about the struggle of the survivors of the Trinity nuclear test in 1945 — one locals didn't know was coming and caused serious health issues.
"The compensation act – RECA as it's called – is about to expire next July…What's happening right now is that several members of Congress from New Mexico and from other Western states are trying to extend RECA, and they're making a bid to have the Trinity downwinders included under this legislation at last, among other exposed communities."
NPR News Heard on All Things Considered
LEILA FADEL, HOST:
This was most of America's introduction to nuclear power.
(SOUNDBITE OF ARCHIVED RECORDING)
HARRY TRUMAN: A short time ago, an American airplane dropped one bomb on Hiroshima and destroyed its usefulness to the enemy.
FADEL: President Harry Truman's announcement in August of 1945 heralded a terrifying new weapon.
(SOUNDBITE OF ARCHIVED RECORDING)
TRUMAN: It is an atomic bomb. It is a harnessing of the basic power of the universe. The force from which the sun draws its power has been loosed against those who brought war to the Far East.
FADEL: But the Atomic Age actually began the month before At the Alamogordo Bombing and Gunnery Range in New Mexico. The first nuclear test, codenamed Trinity, was a closely guarded secret. Locals, some as close as 12 miles away, had no idea it was coming. Lesley Blume wrote about them for National Geographic.
Welcome back.
LESLEY BLUME: Thank you so much.
FADEL: So, first, tell us what happened during that first test, codenamed Trinity.
BLUME: It was a huge success, but it also – the bomb was a lot more powerful than they had expected, three to five times as powerful. And, you know, initially they thought that the cloud was only going to go up about 12,000 or 13,000 feet. Well, guess what. It went up between 50,000 and 70,000 feet. It created sort of an estimated fallout zone about 100 miles long and 30 miles wide…
Addressing the threat of nuclear weapons, said Mr, Guterres, has been central to the work of the United Nations since its inception; the first General Assembly resolution in 1946 sought "the elimination from national armaments of atomic weapons and of all other major weapons adaptable to mass destruction." 
The UN chief pointed out that, although the total number of nuclear weapons has been decreasing for decades, some 14,000 are stockpiled around the world, which is facing the highest level of nuclear risk in almost four decades: "States are qualitatively improving their arsenals, and we are seeing worrying signs of a new arms race." Humanity, continued the UN chief, remains unacceptably close to nuclear annihilation.
To mark the International Day for the Total Elimination of Nuclear Weapons, September 26, Veterans For Peace is publishing an Open Letter to President Biden: Just Say NO to Nuclear War!

ST. LOUIS, MO –
Veterans For Peace, with over 140 chapters in the United States and affiliates abroad, is calling on President Biden to step back from the brink of nuclear war by declaring and implementing a policy of No First Use and by taking nuclear weapons off hair-trigger alert. The full letter will be published on the VFP website and offered to mainstream newspapers and alternative news sites: Click here to view.
While timed to coincide with the UN-declared International Day for the Total Elimination of Nuclear Weapons, a major motivation for the letter is the Nuclear Posture Review, currently underway.
The letter therefore states, "As veterans who have fought in multiple U.S. wars, we are concerned about the very real danger of a nuclear war that would kill millions of people and could possibly even destroy human civilization. Therefore we are asking to have input into the Nuclear Posture Review that your administration has recently initiated."
"…between 1977 and 1990, scientists tripled their estimate of the damage inflicted by a given dose of radiation. A 1992 study published in the American Journal of Industrial Medicine found that nuclear weapons production workers exposed to small doses were four to eight times more likely to contract cancer than previously estimated…even the very lowest background levels of radiation exposure are harmful to health and have statistically significant negative effects on DNA."
In a rare pushback against the radioactive pollution industry, the Nuclear Regulatory Commission — well known as a rubber stamp for the nuclear lobby — has flatly rejected an attempt to further weaken the agency's radiation exposure regulations.
After six years of deliberation, the NRC's three commissioners, two Democrats and one Republican, voted unanimously to reject formal petitions submitted in February 2015 urging the agency to adopt a cost-cutting scheme known as "hormesis" which claims that "a little radiation is good for you." The September 16 decision by the NRC says this "threshold theory posits that "there is some threshold dose below which there is either no radiation-related health detriment or a radiation-related health benefit that outweighs any detriment."
The order then rebukes this concept, finding the petitioners "fail to present an adequate basis supporting the request," and "Convincing evidence has not yet demonstrated the existence of a threshold below which there would be no … effects from exposure to low radiation doses."
The basis for hormesis had been explicitly rejected ten years earlier, the NRC pointed out, by the National Academy of Sciences in its 2005 report "Biologic Effects of Ionizing Radiation, 7th Ed" or BEIR-VII. The National Research Council summed up its book-length BEIR-7 report saying, "the smallest dose has the potential to cause a small increase in risk to humans."
"The decision to fire Leonor suggests to me that the first draft of NPR is going to be a continuation of the line of thinking we saw in the Trump administration's NPR…They have put themselves on the course that is a first draft that is 180 degrees to what Biden said on the campaign trail." – Jeffrey Lewis, a professor and nuclear weapons expert at the Middlebury Institute for International Studies and host of the podcast Arms Control Wonk.

By BRYAN BENDER and LARA SELIGMAN | September 23, 2021 politico.com
One of President Joe Biden's leading allies in his decadeslong attempt to reduce nuclear weapons has lost a battle with the Pentagon's hawks.
The ouster of Leonor Tomero, who questioned the status quo on nuclear weapons, signals the Biden administration's ambitious agenda to overhaul America's nuclear policy might be in trouble.
Early in his administration, Biden installed national security officials intent on negotiating new arms control treaties and curtailing nuclear weapons spending. One of them was Tomero, a leading voice for nuclear restraint on Capitol Hill and in the think tank community, who was appointed to oversee the Nuclear Posture Review that will set the administration's atomic weapons policy and strategy.
But officials with more traditional views on nuclear weapons, who promote a status quo agenda to include modernizing the land, sea and airborne legs of America's nuclear arsenal, did not take kindly to Tomero's progressive ideology, according to 11 current and former defense officials, as well as others with insight into the debate.
"There is always money when there's political will. This is a social, environmental and restorative justice issue that we, as a nation, can no longer look away from." — Tina Cordova, a cancer survivor and co-founder of the Tularosa Basin Downwinders Consortium
By SUSAN MONTOYA BRYAN | AP apnews.com September 22, 2021 
ALBUQUERQUE, N.M. (AP) — A bipartisan group of lawmakers is renewing a push to expand a U.S. compensation program for people who were exposed to radiation following uranium mining and nuclear testing carried out during the Cold War.
Advocates have been trying for years to bring awareness to the lingering effects of nuclear fallout surrounding the Trinity Site in southern New Mexico, where the U.S. military detonated the first atomic bomb, and on the Navajo Nation, where more than 30 million tons of uranium ore were extracted over decades to support U.S. nuclear activities.
Under legislation introduced Wednesday by U.S. Sens. Ben Ray Luján, a Democrat from New Mexico, and Mike Crapo, a Republican from Idaho, other sites across the American West would be added to the list of places affected by fallout and radiation exposure. Eligibility also would be expanded to include certain workers in the industry after 1971, such as miners.
The legislation also would increase the amount of compensation someone can receive to $150,000 and provide coverage for additional forms of cancer.
"But let's be clear about where the problem lies: It's with the existing U.S. system for controlling the use of nuclear weapons… If the United States is intent on maintaining at the ready a large nuclear strike force, as is apparently the case, the nation needs comprehensive safeguards to prevent reckless and ill-considered decisions regarding their use."
By Andrew Bacevich | LA Times latimes.com September 16, 2021
A new book by journalists Bob Woodward and Robert Costa contains a singularly startling allegation. In the waning weeks of the Trump administration, Gen. Mark Milley, chairman of the Joint Chiefs of Staff, twice called his counterpart, Gen. Li Zuocheng, of the People's Liberation Army, offering assurances that the United States was not about to launch an attack against China.
"If we're going to attack," Milley told Li, according to Woodward and Costa, "I'm going to call you ahead of time. It's not going to be a surprise."
The surprise turns out to be the revelation of Milley's actions. Some in the Defense Department may have known about the calls, but one thing seems clear: President Trump, the U.S. commander in chief, did not. Milley acted of his own volition, without prior presidential approval. On that point, Christopher Miller, then serving as acting Defense secretary, is emphatic, describing Milley's actions to Fox News as a "disgraceful and unprecedented act of insubordination."
Providing adversaries with advance notice of U.S. military actions does not number among the prescribed duties of the chairman of the joint chiefs. Arguably, the Woodward-Costa allegations, if accurately reported, qualify as treasonous. At the very least, they raise serious doubts about Milley's respect for the bedrock principle of civilian control of the military. To state the matter bluntly, when adherence to that principle raised the possibility of an outcome not to Milley's liking, he seemingly granted himself an exemption.
Of course, all of this happened in a specific context: Woodward and Costa's chilling account is only the latest to depict the unraveling Trump presidency following the November election. Unwilling to accept defeat, the incumbent all but ceased to govern and instead devoted himself to overturning the election's results by any means necessary, violating the rule of law and waiving the Constitution.
"Woodward and Costa write that after January 6, Milley 'felt no absolute certainty that the military could control or trust Trump and believed it was his job as the senior military officer to think the unthinkable and take any and all necessary precautions.'
Milley called it the 'absolute darkest moment of theoretical possibility,' the authors write."
By Jamie Gangel, Jeremy Herb and Elizabeth Stuart, CNN September 14, 2021
Washington (CNN) Two days after the January 6 attack on the US Capitol, President Donald Trump's top military adviser, Joint Chiefs Chairman Gen. Mark Milley, single-handedly took secret action to limit Trump from potentially ordering a dangerous military strike or launching nuclear weapons, according to "Peril," a new book by legendary journalist Bob Woodward and veteran Washington Post reporter Robert Costa.
Woodward and Costa write that Milley, deeply shaken by the assault, 'was certain that Trump had gone into a serious mental decline in the aftermath of the election, with Trump now all but manic, screaming at officials and constructing his own alternate reality about endless election conspiracies.'
Milley worried that Trump could 'go rogue,' the authors write.
"You never know what a president's trigger point is," Milley told his senior staff, according to the book.
In response, Milley took extraordinary action, and called a secret meeting in his Pentagon office on January 8 to review the process for military action, including launching nuclear weapons. Speaking to senior military officials in charge of the National Military Command Center, the Pentagon's war room, Milley instructed them not to take orders from anyone unless he was involved.
"No matter what you are told, you do the procedure. You do the process. And I'm part of that procedure," Milley told the officers, according to the book. He then went around the room, looked each officer in the eye, and asked them to verbally confirm they understood.
"Got it?" Milley asked, according to the book.
"Yes, sir."
'Milley considered it an oath,' the authors write.
"The Nuclear Regulatory Commission's approval of the planned facility opens a new front in a decades-long battle to find a home for the country's nuclear waste."

By: Douglas MacMillan and Aaron Gregg | THE WASHINGTON POST September 12, 2021 washingtonpost.com
A private company has won federal approval to build an expansive nuclear waste site in Texas, even as residents, state lawmakers, environmentalists and Texas Gov. Greg Abbott (R) rail against it.
The Nuclear Regulatory Commission (NRC) on Monday issued a license for Andrews, Tex.-based Interim Storage Partners to store as much as 5,000 metric tons of radioactive waste. It's one of two proposed storage sites — the other is in southeastern New Mexico — that has been under agency review for several years.
COVID-19 infections resurged at the Waste Isolation Pilot Plant in recent weeks as cases of the virus climbed in the communities surrounding the nuclear waste repository in southeast New Mexico.
There were 14 positive cases among workers at the site or associated with the facility reported between Aug. 17 and 31, per the latest report from Nuclear Waste Partnership (NWP) – WIPP's primary operations contractor.
In total, WIPP reported as of Aug. 31, there were 25 active cases.
WIPP officials did not report the identities of patients or companies where the infected workers were employed.
All employees at WIPP were encouraged to receive a COVID-19 vaccination, per an NWP news release, and required to wear protective face masks when indoors, vaccinated or not, and social distance when possible.
"North Korea's cruise missiles usually generate less interest than ballistic missiles because they are not explicitly banned under United Nations Security Council resolutions. However, analysts said calling it "strategic" could mean it was a nuclear-capable system."
Reuters reuters.com September 13, 2021
ABOARD AIR FORCE ONE, Sept 13 (Reuters) – The United States remains prepared to engage with North Korea, a White House spokeswoman said on Monday, despite Pyongyang's announcement that it had tested a new long-range cruise missile over the weekend.
"Our position has not changed when it comes to North Korea, we remain prepared to engage," principal deputy press secretary Karine Jean-Pierre told reporters.
North Korea's state media announced on Monday what it said were successful tests of a new long-range cruise missile that analysts said could be the country's first such weapon with a nuclear capability. read more
U.S. officials, speaking on the condition of anonymity, said initial indications were that North Korea had carried out such a test.
"Iran deserves a measure of the blame for resurrecting a matter that diplomats spent more than a dozen years putting to rest…It is the US that is overwhelmingly responsible for the current crisis."
The US President promised throughout the 2020 election campaign he would restore the Joint Comprehensive Plan of Action (JCPOA) with Iran, which Donald Trump withdrew from in 2018. However, his administration are reportedly getting "closer" to giving up on the deal.
Since Mr Biden took office on January 20, Iran elected hardline judge Ebrahim Raisi as their new President.
While talks have been held between Washington and Tehran on renewing the JCPOA, no new agreement has been struck.
Borzou Daragahi, senior non-resident fellow at Washington think tank the Atlantic Council, said Mr Biden's administration "still needs to figure out what it wants in Iran".
"The alliance's head Jens Stoltenberg accused Beijing of increasing its firepower 'without constraint' and urged it to sign up to international arms controls – But Beijing hit back by criticising Nato's nuclear sharing arrangements and said the US and Russia should lead the way by disarming"
Liu Zhen scmp.com September 12, 2021
He told Nato's annual arms control conference in Brussels that this was making the world "more unpredictable, more competitive and more dangerous".
"Deb Katz, the executive director of Citizens Awareness Network, a New England-wide anti-nuclear group, said her group supports ambitious improvements to the storage facilities.
"We support hardening the waste on site. This includes double walling the casks, increasing the distance between the casks, if possible, berming them in to protect them from acts of malice," she said.

"The waste must stay on site until there is a scientifically sound and environmentally just solution," she said, referring to a nuclear industry move toward building interim nuclear waste storage facilities. One is proposed for west Texas, the other in New Mexico."
By Susan Smallheer, Brattleboro Reformer benningtonbanner.com September 11, 2021
VERNON — The Vermont Department of Health is still planning for the worst at the Vermont Yankee site in Vernon.
But the worst, thanks to the active decommissioning of the Vermont Yankee site currently underway, is not as bad as it could have been six years ago, when Vermont Yankee shut down and its nuclear fuel was moved out of the reactor core and put into storage in giant steel and concrete casks.
"The Health Department's Radiological and Nuclear Emergency Response Plan originally had a heavy emphasis on releases from Vermont Yankee, which could impact large areas and populations while it operated. Even with the shutdown of Vermont Yankee, we continue to maintain many of our resources for radiological emergency response," said William Irwin, the state's radiological health chief.
The new law may soon be in conflict with federal regulators. A decision from the Nuclear Regulatory Commission on one company's license could come as early as Monday.
BY ERIN DOUGLAS 
Gov. Greg Abbott on Thursday night signed a bill into law that attempts to block a plan to store highly radioactive nuclear waste at a site in West Texas.
House Bill 7 effectively bans highly radioactive materials from coming to Texas, targeting one company's plan to build such a facility near the New Mexico border in Andrews County.
But, the new state law may soon be in conflict with federal regulators. The Nuclear Regulatory Commission is advancing the company's application for a license to allow the high-level nuclear waste to Texas, and a decision from the federal agency could come as early as Monday, a spokesperson with the commission said.
For years, environmental and consumer advocates have protested a proposal by a West Texas company, Waste Control Specialists, to build with a partner an interim storage site for high-level nuclear waste, which is mostly spent fuel rods from nuclear power plants. Waste Control Specialists has been disposing of the nation's low-level nuclear waste, including tools, building materials and protective clothing exposed to radioactivity, for a decade in Andrews County.
Continue reading
"For the W87-1, whose plutonium cores, or pits, are to be produced in part by the Savannah River Plutonium Processing Facility in South Carolina, at stake are jobs and billions of federal dollars to upgrade buildings or construct new factories. It's all intertwined with shaky plans launched by the Trump administration to have Savannah River and Los Alamos National Laboratory in New Mexico produce a combined 80 pits per year by 2030."
Joe Gould defensenews.com September 9, 2021
WASHINGTON ― Nuclear modernization opponents and defenders are gearing up to fight again over the next-generation intercontinental ballistic missile and other efforts.
Rep. John Garamendi, D-Calif., and a skeptic of nuclear spending on the House Armed Services Committee, confirmed he plans to offer nuclear-themed amendments when the annual defense bill receives House floor consideration later this month. One aims to pause the Air Force's nascent Ground Based Strategic Deterrent in favor of maintaining the missile it would replace, the Minuteman III; another would zero out funds for the GBSD's warhead, the W87-1.
"The bottom line is that we could pause the entire GBSD program and push forward into the future a $100 billion expense," Garamendi, who chairs the House Armed Services readiness subcommittee, told Defense News.
With the Biden administration's Nuclear Posture Review due early next year, Garamendi said the amendments are part of his "strategy to raise the issues, to gather the data, test the arguments against the opposition … and create an occasional success."
[WIPP is the world's only operating underground nuclear waste dump. It is limited to nuclear weapons waste, but the federal government is trying to expand WIPP and break its promises and social contract with New Mexicans.
Help Us STOP FOREVER WIPP-Waste Isolation Pilot Plant. The nuclear waste dump is permitted to operate until 2024, but the Federal government wants to expand the amount and types of waste allowed with NO end date.
We need your help to protect New Mexico!]
"At a recent Santa Fe County Town Hall, activist Cindy Weehler of 285 ALL said the U.S. Department of Energy made it clear that it's going to expand its nuclear waste program, she said. She said she's concerned about the new type of radioactive waste that would be traveling through the county, which would be diluted plutonium, instead of contaminated items."
BY ISABELLA ALVES / JOURNAL NORTH abqjournal.com Copyright © 2021 Albuquerque Journal
Spanning the length of the state, U.S. Highway 285 is a major thoroughfare for truck transports and other traffic. This busy highway, nicknamed "Death Highway" due to the number of fatal accidents on it, may get busier.
Concerned citizens in Santa Fe County recently called out the U.S. Department of Energy's Waste Isolation Pilot Plant for expanding its mission in a permit renewal application to include more nuclear waste being shipped along the 285 corridor.
Part of Highway 285 goes along the southern edge of the city of Santa Fe, and local activists are calling on local and federal leaders to halt this increase in nuclear waste transportation.
The permit application is requesting to add two nuclear waste storage panels to WIPP that would increase the waste volume in these areas.
Radioactive iodine, a contaminant that could be released in the event of a nuclear accident, can increase the risk of thyroid cancer. Potassium iodide (KI) can help protect the thyroid gland against radioactive iodine.
By Maria Pulcinella whyy.org September 8, 2021
If you live, work, or attend school within a 10-mile radius of the Limerick nuclear power plant, local health officials have a freebie for you — albeit not a sexy one.
Montgomery County's Office of Public Health will be handing out potassium iodide tablets to those in close proximity to the Limerick Generating Station.
The distribution is part of a statewide emergency preparedness effort — the Limerick site is one of Pennsylvania's four active nuclear power plants.
The President of the UN General Assembly, Volkan Bozkir, on Wednesday called for an end to nuclear tests, as ambassadors gathered to commemorate the International Day against Nuclear Tests, observed annually on 29 August.
UN News news.un.org September 8, 2021
Despite recent developments in advancing nuclear disarmament, more remains to be done, said Mr. Bozkir, urging countries which have yet to sign or ratify the Comprehensive Nuclear-Test-Ban Treaty (CTBT) to do so without delay.
Today we mark the International Day against Nuclear Tests, an opportunity to remember the victims of nuclear testing, honor the survivors and examine the legacy impacts of nuclear weapons, including that of nuclear waste. My full remarks here: pic.twitter.com/1onIGt3TJ5

— UN GA President (@UN_PGA) September 8, 2021
"More than 2,000 nuclear tests have been conducted since the advent of nuclear weapons. While the rate of testing has declined, they have not stopped," he said.
"These tests have long lasting health and environmental consequences. They devastate the communities they impact. They displace families from their homelands."
Progress on disarmament
Underlining the General Assembly's commitment to nuclear disarmament, Mr. Bozkir welcomed progress achieved over the past year amid the challenges of the COVID-19 pandemic.
"The indictment reveals important new information about how Benjamin and Westinghouse conspired to hide crucial information about reactor completion dates from the owners…It states that the defendant made "false and misleading statements" and "knowingly devised a scheme" to continue the project based on misrepresentations."
By Tom Clements | thebulletin.org
The ill-fated construction of new nuclear reactors in South Carolina—one of two such troubled Westinghouse reactor construction projects in the United States—was abruptly terminated on July 31, 2017, but the effort to determine legal accountability for the project's colossal failure is only now hitting its stride.
The South Carolina legislature conducted hearings about the project's collapse. But it has fallen to the United States Attorney for South Carolina to outline internal decisions that led to project abandonment—via court filings, plea agreements, and indictments. These filings are proving to be the best documentation so far of criminal behavior related to projects that were part of a much-hyped "nuclear renaissance" that began in the early-2000s but has since petered out in the United States.
On August 18, 2021, a second Westinghouse official was charged in a federal grand jury indictment filed with the court in Columbia, South Carolina. The charges outline "the scheme" to cover up key details about the problem-plagued project to construct two 1,100 megawatt (MW) Westinghouse AP1000 light-water reactors at the VC Summer site north of Columbia.
The project was initiated in May 2008 and gained final approval in February 2009.
According to the 18-page indictment, former Senior Vice President of New Plants and Major Projects Jeffrey Benjamin "had first-line responsibility for Westinghouse's nuclear reactors worldwide." He was charged, according to a news release, "with sixteen felony counts including conspiracy, wire fraud, securities fraud, and causing a publicly-traded company to keep a false record." On August 30, the US attorney's office announced that Benjamin would be arraigned on August 31.
In order for SCANA, parent of utility South Carolina Electric and Gas, to gain a federal production tax credit of $1.4 billion, essential to the financial viability of the project, both units had to be finished by December 31, 2020.
Benjamin and Westinghouse knew that the dates would never be met, but SCANA doggedly stuck with them given production-tax-credit pressure.The indictment reveals important new information about how Benjamin and Westinghouse conspired to hide crucial information about reactor completion dates from the owners, the publicly held utility SCANA, now defunct, and its junior partner, the state-owned South Carolina Public Service Authority (known as Santee Cooper). It states that the defendant made "false and misleading statements" and "knowingly devised a scheme" to continue the project based on misrepresentations via Westinghouse to the owners, state regulators, the Securities and Exchange Commission, investors, and ratepayers. Nervous SCANA officials played along with the inept cover-up efforts and passed on false and inaccurate information to regulators.
Benjamin, the fourth official to be charged, faces 20 years in prison and a $5 million fine. Issuance of the indictment suggests he intends to face trial rather than plead guilty—a risky proposition given the waste of $9 billion on construction of a project that delivered nothing to consumers (and potential jury members) but a series of nine rate hikes. While those hikes were eventually eliminated and further rate hikes were avoided, a small nuclear construction charge in current bills stands as an enduring reminder of the debacle.
On May 21, 2021, Carl Churchman, Westinghouse Electric Corporation vice president and project director, was indicted on the felony charge of making false statements to the FBI about the status of the project. He pleaded guilty on June 10.
In February, Kevin Marsh, former SCANA CEO, also entered a guilty plea in federal court for conspiracy to commit felony fraud. And Stephen Byrne, former SCANA chief operating officer and executive vice president, pleaded guilty in July 2020 to conspiracy to commit mail and wire fraud. Both gave false testimony numerous times to regulators.
The August 18, 2021 news release from the South Carolina US Attorney's Office made clear that the investigation continues: "`This indictment with its attendant allegations and charges is another step toward justice for all those responsible for the VC Summer nuclear plant fiasco,' said FBI Special Agent in Charge Susan Ferensic."The two SCANA officials and Westinghouse's Churchman are subject to five-year prison sentences and stiff fines but will likely face reduced sentences in exchange for fully cooperating with investigators, something required in their plea agreements.
Both Westinghouse and SCANA were eventually forced into bankruptcy. Westinghouse was acquired by Brookfield Business Partners, and SCANA vanished after an easy takeover by Dominion Energy, approved in December 2018. The fate of the debt-strapped, state-owned partner Santee Cooper rages on in the South Carolina Legislature.
One entity that will likely never be held responsible for the disastrous project that it authorized is the South Carolina Public Service Commission. Members of this body unanimously voted in favor of anything SCANA requested during the entire course of the project and balked at providing oversight as it fell apart. All were replaced by the Legislature at the end of their terms with new members, who have been less accommodating to utility requests.
Public interest intervenors were prescient in their early assessments of the project. Friends of the Earth, which intervened before the Public Service Commission against the project in August 2008, noted SCANA's disregard for energy efficiency and alternative forms of energy. That organization predicted that the project's fate would be what the US Attorney's Office affirmed in the August 18, 2021 indictment: "from the outset, the Project was characterized by cost overruns and significant delays." Likewise, toward the end of the project in June 2017, just after Westinghouse declared bankruptcy, Friends of the Earth and the Sierra Club filed a formal complaint detailing why the project must be canceled. As money hemorrhaged, the owners made that earth-shaking decision a month later. And the mighty crash still reverberates.
In Georgia, construction of the other AP1000 project, located at Plant Vogtle, stumbles along to massive cost overruns and significant schedule delays. A main difference between the projects: Georgia Power has a large enough customer base to absorb the financial blow of its struggling project. With cost projections for the two Vogtle units nearing a stunning $30 billion, finishing dates presented to the Georgia Public Service Commission remain open to question.
The Carolina and Georgia reactor projects went forward under laws related to "construction work in progress" that allowed financing charges to be billed to the ratepayers from the start of construction, long before the reactors were online. Both the South Carolina law, the Baseload Review Act, and Georgia's Nuclear Energy Financing Act have been repealed.
The fault for the shocking AP1000 misadventure falls squarely on the shoulders of Westinghouse and the involved utilities. They all fell victim to their own reactor-promotion propaganda but lacked the technical and management competence to pull off the projects as envisaged. With pursuit of large light-water reactors in the United States all but dead, the nuclear industry is now endlessly touting an array of "small modular reactors" and a dizzying menu of so-called "advanced reactors," all of which exist only on paper. It's unclear if there's a path forward for this nuclear renaissance redux, and if there is, whether taxpayers will be put on the hook for financing some of it.
Informal negotiations stalled after Iran's new hardline president was elected in June. Tehran has caused an international outcry in recent months over the broadening scope of its nuclear program.
"US President Joe Biden has signaled his eagerness to resume direct talks, but Iranian officials have yet to do the same."
The German Foreign Ministry on Wednesday said it "vehemently" urged Iran to restart negotiations aimed at reviving a defunct nuclear deal.
"We are ready to do so, but the time window won't be open indefinitely," a ministry spokesman said.
The French foreign ministry made a similar statement later on Wednesday.
In 2015, Iran, the United States, United Kingdom, Germany, France, Russia, China, plus EU representatives, worked out a deal to place curbs on Iran's nuclear program. The Joint Comprehensive Plan of Action (JCPOA) sought to prevent Iran from making nuclear weapons by restricting the extent to which it could enrich uranium, install nuclear centrifuges, and stockpile radioactive material. In exchange, the other signatories agreed to drop certain sanctions against Tehran.
The San Onofre nuclear power plant shut down years ago – but residents and experts worry what will happen with the waste left behind
More than 2 million visitors flock each year to California's San Onofre state beach, a dreamy slice of coastline just north of San Diego. The beach is popular with surfers, lies across one of the largest Marine Corps bases in the Unites States and has a 10,000-year-old sacred Native American site nearby. It even landed a shout-out in the Beach Boys' 1963 classic Surfin' USA.
But for all the good vibes and stellar sunsets, beneath the surface hides a potential threat: 3.6m lb of nuclear waste from a group of nuclear reactors shut down nearly a decade ago. Decades of political gridlock have left it indefinitely stranded, susceptible to threats including corrosion, earthquakes and sea level rise.
The San Onofre reactors are among dozens across the United States phasing out, but experts say they best represent the uncertain future of nuclear energy.
"It's a combination of failures, really," said Gregory Jaczko, who chaired the US Nuclear Regulatory Commission (NRC), the top federal enforcer, between 2009 and 2012, of the situation at San Onofre.
ABQ at center of research for tomorrow's weapons
"Albuquerque, New Mexico, is the epicenter of directed energy research in the United States…If the arms race for directed energy indeed takes off, much of the action could take place in Albuquerque."
BY RYAN BOETEL / JOURNAL STAFF WRITER Copyright © 2021 Albuquerque Journal August 20, 2021 abqjournal.com
Force fields protecting us from drones and missiles.
Guns that shoot lasers instead of firing bullets.
Rock 'em Sock 'em Robots zapping at each other on the battlefield.
A new report by the Air Force Research Laboratory titled Directed Energy Futures 2060 describes the sorts of "directed energy" weapons that may come to exist in the next 40 years. And the expected technology – much of which may be researched and developed in Albuquerque – is like something out of a science fiction movie.
Officials from multiple Department of Defense entities, partners with the North Atlantic Treaty Organization and other experts came together to write the report, which says the world is at a "tipping point."
"Even with a potential surge in production at Los Alamos, there remains uncertainty about that capability, especially with their history of outages," U.S. Rep. Joe Wilson
By Colin Demarest cdemarest@aikenstandard.com postandcourier.com August 21, 2021
By Leonard Eiger nrconline.com
"I am grateful for having been invited to speak to you on disarmament because it forces me to a kind of personal disarmament. This is a subject I have thought about and prayed over for many years. I can recall vividly hearing the news of the atomic bombing of Hiroshima in 1945. I was deeply shocked. I could not then put into words the shock I felt from the news that a city of hundreds of thousands of people had been devastated by a single bomb. Hiroshima challenged my faith as a Christian in a way I am only now beginning to understand. That awful event and its successor at Nagasaki sank into my soul, as they have in fact sunk into the souls of all of us, whether we recognize it or not."
Those are the opening lines of the "Faith and Disarmament" speech Seattle Archbishop Raymond Hunthausen delivered on June 12, 1981. Hunthausen had become active in resistance to the U.S. stockpiling of nuclear weapons and the new Trident submarine-based nuclear weapons system, which included the Bangor Trident submarine base in Puget Sound just 20 miles west of Seattle.
In that 1981 speech, Hunthausen referred to the Trident submarines based there as "the Auschwitz of Puget Sound." In context, it was both a profound and prophetic statement of fact.
As Hunthausen said, "Trident is the Auschwitz of Puget Sound because of the massive cooperation required in our area — the enormous sinful complicity that is necessary — for the eventual incineration of millions of our brother and sister human beings."
Nuclear News Archives – 2020
November 4, 2020
The Los Alamos National Laboratory (LANL) proposes to vent up to 114,000 curies of radioactive tritium gas to the open atmosphere while claiming that it poses no public health and safety risks. Public outcry and congressional pressure prompted the National Nuclear Security Administration (NNSA) to host a public information virtual meeting on this issue on October 20. Due to the overwhelming turnout of some 150 interested citizens and ear-splitting technical difficulties NNSA is holding another public virtual meeting at 5:00 pm Thursday November 5.
Interested citizens can join the discussion at https://www.lanl.gov/environment/flanged-tritiumwaste-containers.shtml
If you wish to speak or ask questions you should pre-register at the same site.
RE: Docket ID NRC-2016-0231/Report Number NUREG-2239, the U.S. Nuclear Regulatory Commission's Interim Storage Partners/Waste Control Specialists Consolidated Interim Storage Facility Draft Environmental Impact Statement
Dear U.S. Nuclear Regulatory Commission (NRC) Commissioners and Staff,
We respectfully submit these comments in response to the Draft Environmental Impact Statement (Docket ID NRC-2016-0231) regarding Interim Storage Partner's (ISP) application for a license to build and operate a "Consolidated Interim Storage Facility for Spent Nuclear Fuel in Andrews County, Texas" (NUREG-2239), which plans to bring at least 40,000 metric tons of spent fuel, high-level radioactive waste, from nuclear reactors around the country to west Texas. Please know that we do not consent to our region becoming a national radioactive high-level waste dumping ground or to transporting up to thousands of canisters of radioactive waste through thousands of communities. We should not have to risk the contamination of our land, aquifers, air, plants, wildlife, and livestock. We do not consent to endangering present and future generations.
Read/Download full comments HERE 
BY DR. VIRGINIA NECOCHEA & CHARLES DE SAILLAN
Tritium is a radioactive isotope of hydrogen. It emits beta radiation, which can be very dangerous if inhaled. Like other forms of ionizing radiation, tritium can cause cancer, genetic mutations and birth defects, and assorted other adverse health effects.
So it is not surprising that many people were dismayed when they learned that the U.S. Department of Energy (DOE) and its contractor at Los Alamos National Laboratory plan to release 114,000 curies of tritium gas into the atmosphere at Technical Area 54 and, possibly, at Technical Area 16. DOE has been storing this waste tritium in four steel canisters at TA-54 at the Laboratory for more than a decade. Over time, pressure has built up in the canisters, which DOE plans to relieve by venting the tritium gas into the atmosphere.
November 5, 2020
The U.S. Department of Energy (DOE) today issued a formal decision that it will pursue a massive Plutonium Bomb Plant (PBP) at the DOE's Savannah River Site (SRS) in South Carolina, in order to produce plutonium "pits," or cores, for nuclear warheads. The provocative decision, which adds fuel to concerns about a new nuclear arms race with Russia and China, drew immediate opposition from public interest groups near DOE sites in South Carolina, New Mexico and California.
The issuance by DOE's National Nuclear Security Administration (NNSA) of the "Record of Decision" (ROD) on the Environmental Impact Statement (EIS) on pit production at SRS, issued in late September, officially affirms the "preferred alternative" that DOE intends to produce a minimum of 50 plutonium "pits" per year by 2030 at SRS. Also on November 5, NNSA issued an "Amended Record of Decision" (AROD) to its 2008 nation-wide Complex Transformation Programmatic Environmental Impact Statement that incorporated its SRS pit-production decision.
Critical Applications' ventilation project was tied to a radiation leak in 2014 that often is recalled as the "kitty litter" incident.
BY: SCOTT WYLAND | santafenewmexican.com
A subcontractor is suing the company that operates the Waste Isolation Pilot Plant in Southern New Mexico, claiming $32 million for what it says was gross mismanagement of a major construction project at the nuclear waste disposal site.
In a federal lawsuit, Texas-based Critical Applications Alliance LLC, which was hired to build a ventilation system at WIPP, says Nuclear Waste Partnership was such a disorganized project manager that it caused repeated delays and cost overruns, resulting in multiple breaches of contract.
The subcontractor also complains WIPP managers abruptly canceled its $135 million contract in August with no explanation and without paying millions owed.
United States Attorney David M. DeVillers
Southern District of Ohio
FOR IMMEDIATE RELEASE                                                 THURSDAY, OCT. 29, 2020
CINCINNATI – A longtime campaign and political strategist for Ohio House Representative Larry Householder and a lobbyist hired by an energy company to funnel money to Householder's enterprise each pleaded guilty in federal court today.
Jeffrey Longstreth, 44, and Juan Cespedes, 41, of Columbus, each pleaded guilty to participating in a racketeering conspiracy involving more than $60 million paid to a 501(c)(4) entity to pass and uphold a billion-dollar nuclear plant bailout.
"While most of the world's countries are evolving to a view that nuclear weapons are unacceptable under all circumstances, the U.S. is testing a nuclear missile built to fight the Cold War; one which is designed to cause the indiscriminate slaughter of hundreds of thousands of people."
By: Sandy Jones | wagingpeace.org
SANTA BARBARA, CA– Early tomorrow morning, between 12:01 a.m. and 6:01 a.m., the United States will launch an unarmed Minuteman III intercontinental ballistic missile from Vandenberg Air Force Base. While the Air Force maintains that missile tests are planned many months in advance, the timing of this test is questionable, at best.
This test will take place just five days after Honduras became the 50th country to ratify the Treaty on the Prohibition of Nuclear Weapons (TPNW). With the 50th ratification, the treaty will enter into force on January 22, 2021. The treaty prohibits the possession, testing, use, or threat of use of nuclear weapons.
The Santa Susana Field Laboratory site is "one of the most toxic sites in the United States by any kind of definition," Jared Blumenfeld, head of the California Environmental Protection Agency, told me. "It demands a full cleanup."
BY: MICHAEL HILTZIK | latimes.com
One thing is certainly true about NASA's curious effort to place 2,850 acres above the Simi Valley on the National Register of Historic Places: The parcel is certainly a landmark.
Among the points in dispute is what makes it so.
To several local Native American tribes, including the Santa Ynez Band of Chumash Indians, the Ventura County site's cave drawings and rock shelters bespeak a cultural heritage dating back centuries.
The time has come for us to make sure that we hold the polluters accountable for their legacy….We will make sure the site gets cleaned up and we will exercise our legal authority in pursuit of that. – CALEPA SECRETARY JARED BLUMENFELD
To environmentalists and the site's neighbors, it's historic for the extent of its contamination by chemical and nuclear research performed there during the Cold War.
"The disposal of contaminated water at the Fukushima Daiichi plant has been a longstanding problem for Japan as it proceeds with an decades-long decommissioning project. Nearly 1.2 million tonnes of contaminated water are currently stored in huge tanks at the facility."
BY: Peter Fairley | grist.org This story was produced in collaboration with InvestigateWest, a nonprofit newsroom in Seattle with a focus on the environment, public health, and government accountability
It was a scorching August day at the Hoover Dam as three Trump administration officials gathered for a little celebration honoring pollution-free hydroelectricity. Inside the dam's Spillway House Visitor Center, air conditioning thankfully kept people comfortable as the president's appointees heaped praise on hydropower. A U.S. Department of Interior news release about the event calls hydroelectric dams such as Hoover —where the Colorado River slips between Arizona and Nevada — a "unique resource critical to America's future, which supports the integration of other renewables like wind and solar onto the grid."
But what went unsaid at the grip-and-grin was that one of those high-ranking officials, Dan Simmons of the U.S. Department of Energy doesn't appear to fully support renewables. In fact, he has presided over his agency's systematic squelching of dozens of government studies detailing its promise.
One pivotal research project, for example, quantifies hydropower's unique potential to enhance solar and wind energy, storing up power in the form of water held back behind dams for moments when the wind isn't blowing and the sun isn't shining. By the time of the Hoover Dam ceremony, Simmons' office at the Energy Department had been sitting on that particular study for more than a year.
"The TPNW arrives at a time when the risks of nuclear war are rising and as the world's major nuclear armed states are building up their nuclear weapons capabilities. It enters into force at the same time that other key agreements limiting nuclear weapons are being discarded or threatened, and as the major nuclear-armed states are failing to meet their NPT nuclear-disarmament obligations…The entry into force of the TPNW is a much-needed wake-up call that has the potential to stimulate further action on disarmament and take us closer to a world without nuclear weapons."
BY: Daryl G. Kimball | justsecurity.org
The Treaty on the Prohibition of Nuclear Weapons (TPNW) marks a turning point in the long history of the effort to reduce nuclear risks and to eventually eliminate the 13,000 nuclear weapons that remain today, 90 percent of which are held by the United States and Russia. On Oct. 24, Honduras became the 50th country to ratify the treaty, triggering its entry into force 90 days later, on Jan. 22, 2021.
That date will mark the first time since the invention of the atomic bomb that nuclear weapons development, production, possession, use, threat of use, and stationing of another country's nuclear weapons on a state party's national territory are all expressly prohibited in a global treaty. The TPNW's entry into force will arrive almost exactly 75 years after the United Nations General Assembly's (UNGA's) adoption, on Jan. 24, 1946, of its very first resolution, Resolution 1 (I), which was to establish a commission to ensure "the elimination from national armaments of atomic weapons and all other major weapons adaptable to mass destruction."
"Atomic bomb survivors, who have long worked to achieve the treaty, renewed their call for Japan to become a signatory. Terumi Tanaka, a survivor of the Aug. 9, 1945, Nagasaki bombing who has long campaigned for a nuclear weapons ban, said he has not given up hope."
BY: Mari Yamaguchi The Associated Press | apnews.com
TOKYO – Japan said Monday it will not sign a U.N. treaty that bans nuclear weapons and does not welcome its entry into force next year, rejecting the wishes of atomic bomb survivors in Japan who are urging the government to join and work for a nuclear-free world.
The United Nations confirmed Saturday that 50 countries have ratified the Treaty on the Prohibition of Nuclear Weapons, paving the way for its entry into force in 90 days.
The announcement was hailed by anti-nuclear activists, but the treaty has been strongly opposed by the United States and other major nuclear powers.
Decommissioned Reactors OK-ed for Landfills in Big Gift to Nuclear Industry
By: Jeff Ruch & Kirsten Stade | peer.org
Washington, DC —The Nuclear Regulatory Commission is finalizing a year-long drive to functionally deregulate disposal of massive amounts of radioactive waste. NRC's  plan would allow commercial nuclear reactors to dump virtually all their radioactive waste, except spent fuel, in local garbage landfills, which are designed for household trash not rad-waste,  according to comments filed today by Public Employees for Environmental Responsibility (PEER).
Today marks the end of public comments for an NRC "interpretative rulemaking" that would, in effect, abrogate longstanding requirements that virtually all such waste must be disposed of in licensed radioactive waste sites meeting detailed safety standards and subject to NRC inspection and enforcement.  Instead, NRC would grant generic exemptions for unlicensed waste handlers.
NRC declares its "intent" that these newly exempt disposal sites would be limited to "very low-level radioactive wastes" – a term undefined by statute – which NRC considers to be "below 25 millirem per year."  Yet, NRC's definition would allow public exposure to the equivalent to more than 900 chest X-rays over a lifetime, create a cancer risk twenty times higher than the Environmental Protection Agency's acceptable risk range, thousands of times the risk goal for Superfund sites, or enough radiation to cause every 500th person exposed to get cancer.
The plant was erected in Pike County, Ohio during the cold war to enrich uranium. Then people started getting sick. Now, they're stuck cleaning up the mess.
By: Kevin Williams | beltmag.com
Vina Colley, a slight woman with a bob of thick blond hair, climbs into her white Ford Explorer. Her thirteen-year-old Maltese, Hercules jumps onto her lap, wedging comfortably between her legs and the steering wheel, and stays put as she navigates the steep ridges and plunging hollows of Pike County, Ohio. Colley is seventy-four, and, for nearly forty years, she's been fighting the Portsmouth Gaseous Diffusion Plant, known locally as "The A-Plant" or PORTS. Her home library holds scores of totes filled with neatly labeled documents, a paper trail that exposes what she sees as Portsmouth's darkest and most egregious secrets.
"The radioactive incineration unleashed by nuclear war involving even less than 1% of the global nuclear arsenal targeted on cities in one part of the world would be followed by a worldwide nuclear ice age and nuclear famine, putting billions of people's lives in jeopardy."
On Saturday 24 October 2020, Honduras brought the number of nations ratifying the United Nations Treaty on the Prohibition of Nuclear Weapons ('TPNW') to 50. This milestone means that after 90 days have elapsed, on 22 January 2021, the treaty will enter into legal force, becoming international law and binding on the states that have ratified it, and all those which ratify in future. The treaty will, however, stigmatise nuclear weapons for all states, whether or not they join the treaty.
It is fitting that 24 October also marked the 75th anniversary of the founding of the UN, 'determined to save succeeding generations from the scourge of war'. The very first resolution of the UN General Assembly, on 24 January 1946, established a commission to develop a plan for the elimination of atomic weapons.
This is a historic achievement and an enormous win for humanity and planetary health. Outlawing nuclear weapons is an essential step towards eliminating them, which is the only reliable way to prevent their use.
"The disposal of contaminated water at the Fukushima Daiichi plant has been a longstanding problem for Japan as it proceeds with an decades-long decommissioning project. Nearly 1.2 million tonnes of contaminated water are currently stored in huge tanks at the facility."
BY: Yuka Obayashi and Kaori Kaneko, Reuters | readersupportednews.com
Nearly a decade after the Fukushima nuclear disaster, Japan's government has decided to release over one million tonnes of contaminated water into the sea, media reports said on Friday, with a formal announcement expected to be made later this month.
The decision is expected to rankle neighbouring countries like South Korea, which has already stepped up radiation tests of food from Japan, and further devastate the fishing industry in Fukushima that has battled against such a move for years.
"Adjusting U.S. nuclear weapons plans is notoriously difficult, as nearly every president has experienced. Yet it is urgent to halt and reverse the trend of increasing nuclear capabilities that lower the threshold for nuclear war and increase miscalculation risks."
BY: CHRISTINE PARTHEMORE AND ANDY WEBER | warontherocks.com
How might America's nuclear weapons plans change in the years ahead? Buoyed by the revelation of President Donald Trump describing a potential secret new nuclear weapon system to Bob Woodward, continuing U.S.-Russian dialogue on nuclear weapons, and the upcoming November elections, experts are speculating about what the next four years may mean for U.S. nuclear policy.
Former Vice President Joe Biden has indicated that, if elected, he would seek a posture aligned with his stated belief "that the sole purpose of the U.S. nuclear arsenal should be deterring — and, if necessary retaliating against — a nuclear attack." This would be a pivot from Trump's 2018 Nuclear Posture Review, which elevated the role of nuclear weapons in U.S. defense planning by, among other things, describing America's nuclear forces as a hedge against large-scale conventional attacks and strategic cyber attacks. The declaratory shift — along with elevation of so-called low-yield nuclear options that are considered more usable, and support for more dual conventional and nuclear systems that could be indistinguishable in the absence of verification measures — increased concern that the Trump administration viewed nuclear weapons as acceptable for warfighting, not just deterrence.
Trump administration officials want to broaden the New START accord and warn that the price of a new deal will rise after the election. Joe Biden supports a straight five-year extension of the deal.
BY: David E. Sanger and Andrew E. Kramer | nytimes.com
President Trump had a pre-election plan to show he had gotten something out of his mysteriously friendly relationship with President Vladimir V. Putin of Russia.
In the weeks before the election, the two men would announce that they had reached an agreement in principle to extend New START, the last remaining major arms control agreement between the two countries. It expires on Feb. 5, two weeks after the next presidential inauguration.
Mr. Trump has long refused to sign off on a clean five-year extension of the agreement, a step both leaders could take without Senate approval. He has described the Obama-era treaty as deeply flawed — the same thing he said about the North American Free Trade Agreement and the Iran nuclear accord — because it did not cover all of Russia's nuclear arms, or any of China's.
How the US poisoned Navajo Nation.
BY: Ranjani Chakraborty and Melissa Hirsch  | vox.com
How the US poisoned Navajo Nation
For decades, Navajo Nation was a primary source for the United States' uranium stockpile during the nuclear arms race. It was home to more than 700 uranium mines, which provided jobs to Navajo residents. But the mining industry came with impending peril. Cases of lung cancer and other diseases began cropping up in a community that had previously had few of them. Land, air, and water was poisoned. And on July 16, 1979, the mining led to the biggest radioactive spill in US history.
October 21, 2020
Ms. Fana Gebeyehu-Houston
NEPA Document Manager
National Nuclear Security Administration
Lawrence Livermore National Laboratory
P.O. Box 808, L-293, Livermore, CA 94551-0808
By Email to:LLNLSWEIS@nnsa.doe.gov
Re: Scoping Comments on the LLNL SWEIS
Dear NEPA Document Manager:
I appreciate this opportunity to submit comments on the scope of the National Nuclear Security Administration's (NNSA) Site-Wide Environmental Impact Statement (SWEIS) for the continued operation of the Lawrence Livermore National Laboratory (LLNL) Main Site in Livermore, CA and Site 300 high explosives testing range near Tracy, CA.
Nuclear Watch New Mexico is a nonprofit watchdog organization based in Santa Fe, New Mexico. We seek to promote safety and environmental protection at nuclear facilities; mission diversification away from nuclear weapons programs; greater accountability and cleanup in the nation-wide nuclear weapons complex; and consistent U.S. leadership toward a world free of nuclear weapons.
Pursuant to the National Environmental Policy Act the purpose of scoping is: "early identification of concerns, potential impacts, relevant effects of past actions and possible alternative actions." Therefore, I ask that the analyses I am requesting be fully undertaken – and my questions fully answered – in the draft SWEIS.
First, I am skeptical of the timing of the initiation of this new SWEIS for LLNL during the COVID-19 pandemic and just before the November 3 election. As a prerequisite, the
National Nuclear Security Administration (NNSA) should have already begun a nationwide programmatic environmental impact statement (PEIS) on expanded plutonium pit
production which would then inform the LLNL SWEIS of the Livermore Lab's role in that national effort, which is not insignificant. Following that pit production PEIS, both a
LLNL and Los Alamos National Laboratory SWEIS should proceed in parallel. It is particularly striking that NNSA is claiming NEPA compliance while relying on an
outdated Complex Transformation Supplemental PEIS and LANL SWEIS, both completed in 2008, and refusing to prepare new or supplemental ones.
How Kodak Exposed The Atomic Bomb
Simulation of a Nuclear Blast in a Major City
"Are WIPP workers getting infected at the site and taking it back into the communities?" Don Hancock said. "WIPP is clearly not always a safe place, but we don't know if WIPP is a place where workers get infected or if infected workers brought it to WIPP."
BY: ADRIANE HEDDEN | currentargus.com

In August and September, the Waste Isolation Pilot Plant received about $3.8 million per month of federal COVID-19 funding as the U.S. Department of Energy elected to renew the facility's primary contractor for one year despite an option to keep Nuclear Waste Partnership (NWP) at the helm of the nuclear waste repository until 2022.
NWP spokesman Donavan Mager said the site received $3.816 million in August and $3.803 in September and that the funding was designated to "support operations" although he did not elaborate on how, specifically, the public money was to be spent.
Per the latest reports from WIPP, 39 workers had contracted COVID-19 as the pandemic appeared to pose a resurgence in New Mexico in recent weeks.
The public will get a chance to comment and learn more about Los Alamos National Laboratory's plans to release radioactive vapors into the atmosphere from several barrels of tritium-tainted waste.
BY: SCOTT WYLAND | santafenewmexican.com
The federal agency that oversees the lab scheduled the meeting for Oct. 20 after three New Mexico delegates — U.S. Sens. Tom Udall and Martin Heinrich and U.S. Rep. Ben Ray Luján — wrote a letter calling for more transparency and public participation.
An open forum on the release of vapors from Cold War waste is especially important for Pueblo people and others who live near the site, the delegates said in the letter to the National Nuclear Security Administration.
"We strongly believe that protecting public health and safety must always be the highest priority at Los Alamos," they wrote in the Oct. 1 letter. "Safety is particularly important when there is a possibility of a release to the environment involving radioactive or hazardous materials."
The agency has said ventilating the containers is necessary to relieve built-up radioactive hydrogen in their headspace, so they can be safely handled and shipped to a commercial storage site.
Continue reading
Image Slide 2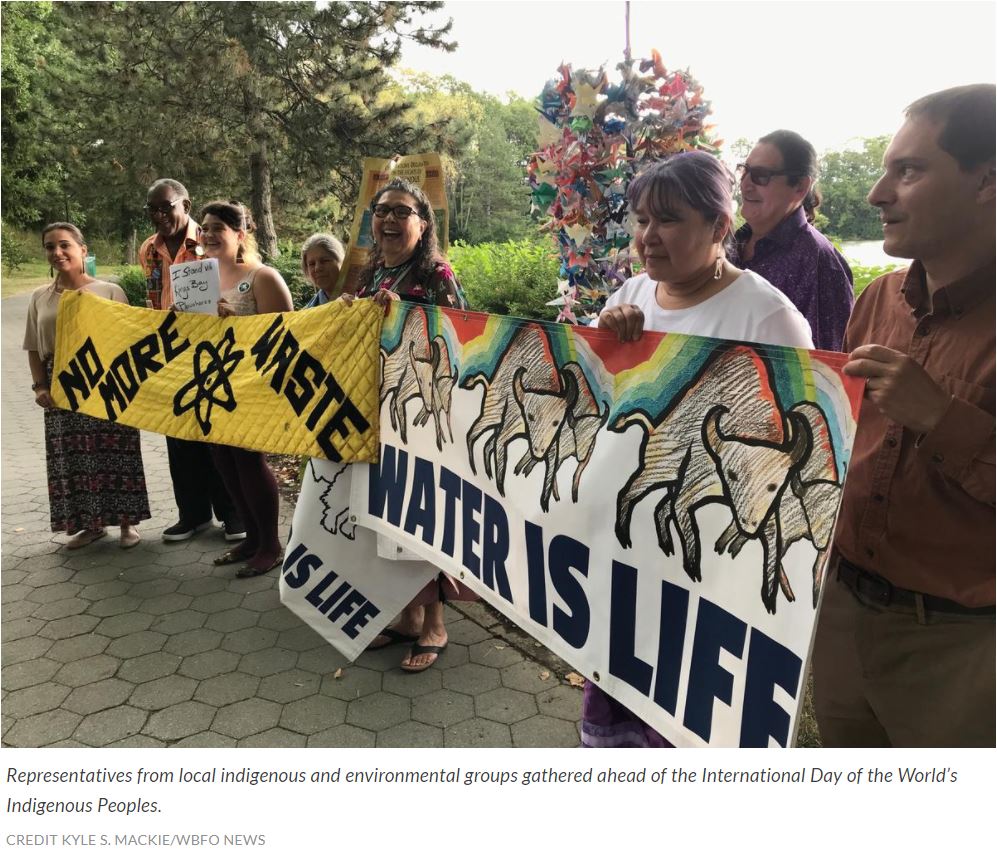 Image Slide 1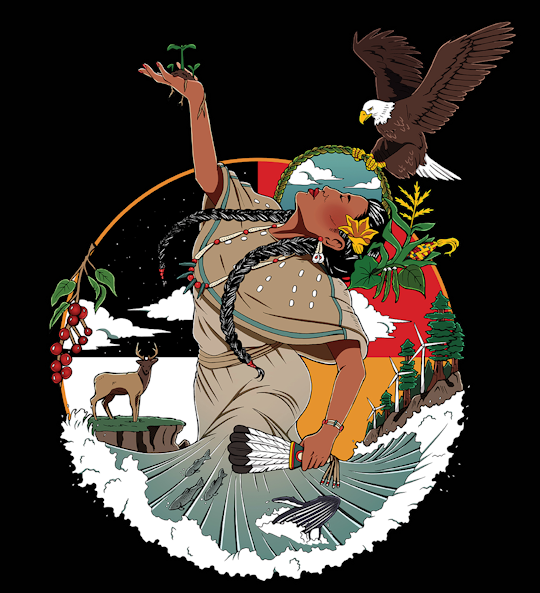 Image Slide 3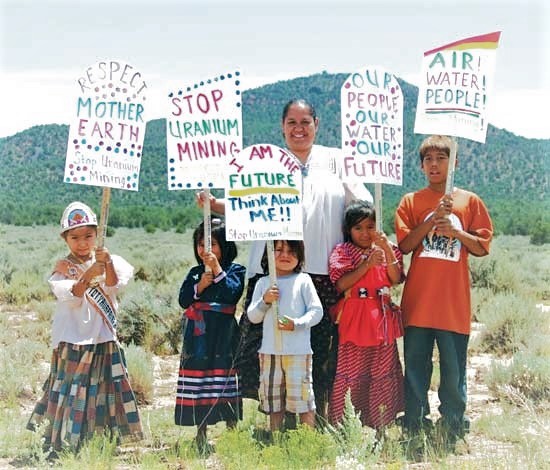 Today, on Indigenous People's Day 2020, we join our friends and speakers from indigenous rights and environmental groups from throughout the US in condemning nuclear colonialism. From uranium mining, milling, and processing, to atomic power and nuclear weapons, to radioactive waste – the resulting environmental injustices have disproportionately impacted Native Americans & other indigenous peoples.
---
Sarah Fields, Uranium Watch and Sierra Club Nuclear-Free CampaignLas Vegas, NV — Indigenous rights and environmental advocates from throughout the US condemned nuclear colonialism on what is recognized as "Columbus Day" Tuesday, October 11, 2016. Native Community Action Council held a press conference in front of the Thomas and Mac Moot Court at the Boyd Law School on the campus of UNLV for participants in the Native American Forum on Nuclear Issues at UNLV.
Defense Nuclear Facilities Safety Board (DNFSB) Report demonstrates beyond doubt that a FULL programmatic environmental impact statement on expanded plutonium pit production is needed, as well as new site-wide EIS for the Los Alamos Lab.
The 760 rem estimate is equal to 380,000 chest X-rays, said Dan Hirsch, retired director of programs on environment and nuclear policy at the University of California, Santa Cruz. "This is vastly above what's permissible for workers' exposure," Hirsch said, adding that far lower doses can cause cancer.
BY: SCOTT WYLAND | santafenewmexican.com
Los Alamos National Laboratory is storing hundreds, maybe thousands, of barrels of radioactive waste mixed with incompatible chemicals that have the potential to cause an explosion , putting workers and the public at risk, a government watchdog said in a report.
LANL personnel have failed to analyze chemicals present in hundreds of containers of transuranic nuclear waste, making it possible for an incompatible chemical to be mixed in and cause a container to burst, the Defense Nuclear Facilities Safety Board said in a September report.
Such an explosion would release radiation in doses lethal to workers and hazardous to the public, the safety board said. And yet the radiation levels that would be released have not been sufficiently estimated, it said.
Some of LANL's facilities store radioactive waste without any engineered controls or safeguards beyond the containers, the board wrote in a cover letter addressed to the U.S. Department of Energy.
Nuclear power is often promoted as one of the best ways to reduce our reliance on fossil fuels to generate the electricity we need, but new research suggests that going all-in on renewables such as wind and solar might be a better approach to seriously reducing the levels of carbon dioxide in the atmosphere.
BY: DAVID NIELD| sciencealert.com
Based on an analysis of 123 countries over a quarter of a century, the adoption of nuclear power did not achieve the significant reduction in national carbon emissions that renewables did – and in some developing nations, nuclear programmes actually pushed carbon emissions higher.
The study also finds that nuclear power and renewable power don't mix well when they're tried together: they tend to crowd each other out, locking in energy infrastructure that's specific to their mode of power production.
Given nuclear isn't exactly zero carbon, it risks setting nations on a path of relatively higher emissions than if they went straight to renewables.
The public information session will be hosted via Webex; people who wish to attend can join by following this link (meeting password GckhzZ5nv33), or call in by phone at 415-527-5035, access code 199 995 9074 if people do not have internet access.
Media Advisory
CONTACT: Peter Hyde, pahyde@lanl.gov
LOS ALAMOS, N.M., Oct. 8, 2020—The National Nuclear Security Administration is hosting a virtual public information session at 5 p.m. on Tuesday, Oct. 20, to inform the public about the process of venting Flanged Tritium Waste Containers (FTWCs) that are located at Los Alamos National Laboratory.
Flanged Tritium Waste Containers are pressure vessels specifically designed to contain waste metal that has been exposed to tritium. As the tritium ages and separates into helium and hydrogen, those gases can create pressure inside the container. This is expected and accounted for in the design.
To reduce the amount of waste stored on site, Los Alamos National Laboratory will ship the containers off-site to a licensed storage facility. In order to ship the containers, the pressurized gases inside the containers must be vented to meet regulatory requirements of the U.S. Department of Transportation (DOT).
The Department of Energy (DOE) has approved its plans to increase plutonium pit production at Los Alamos National Laboratory (LANL) by 50 percent as a way to comply with what is described in the 2018 Nuclear Posture Review as a need for "an effective, responsive, and resilient nuclear weapons infrastructure" that can "adapt flexibly to shifting requirements."
The Pentagon has stated it needs annual production of 80 plutonium pits, the triggers for nuclear weapons.  The DOE has approved its Supplement Analyses for four possible ways to execute this upgrade.
Continue reading
"NASA's absurd excuse for cleaning up so much less contamination than it promised is that it has discovered there is much more contamination at the site than it had previously realized," — cleanup activist Dan Hirsch, president of the Committee to Bridge the Gap
BY: Mike Harris | Ventura County Star vcstar.com
NASA has decided to clean up contaminated soil at its portion of the Santa Susana Field Laboratory site to a less stringent standard than it agreed to in a 2010 legally binding agreement with the state.
The federal agency announced its decision last week, outraging cleanup activists and some local officials.
The activists say NASA's planned cleanup, outlined in a formal Record of Decision, would leave 84% of its contaminated acres not remediated at the site outside Simi Valley.
That would violate a 2010 legally binding agreement — formally called an Administrative Order on Consent — NASA signed with the California Department of Toxic Substances Control to clean up its acres "to background," the most exacting standard.
Nuclear waste shipments to the Waste Isolation Pilot Plant near Carlsbad from Lawrence Livermore National Laboratory (LLNL) near San Francisco, California resumed this month after a 10-year pause.
BY: ADRIANE HEDDEN | currentargus.com
The waste was received at WIPP and will be permanently disposed of in the underground repository about 2,000 feet beneath the surface.
The resumption of shipments from LLNL was the result of a multi-year project and collaboration between the Department of Energy's Carlsbad Field Office (CBFO), WIPP contractor Nuclear Waste Partnership, National Nuclear Security Administration (NNSA) and the NNSA's Livermore Field Office, read a DOE news release.
LLNL is primarily a research laboratory that generates transuranic (TRU) waste during its research and engineering operations related to nuclear weapons, plutonium and other technological aspects of the DOE's nuclear complex.
"The proposed sites in Texas and New Mexico do not provide the deep geologic isolation required for permanent storage in order to minimize the risks of accidents, terrorism or sabotage which could disrupt the country's energy supply with catastrophic effects on the American economy," Abbott wrote to the president.
BY: ADRIANE HEDDEN | currentargus.com
Republican Texas Gov. Greg Abbott was the latest public official to oppose a proposed nuclear storage facility to be built near Carlsbad and Hobbs, along with another in West Texas.
In a Sept. 30 letter to President Donald Trump, Abbott wrote that he worried locating high-level nuclear waste facilities in the Permian Basin region could put the U.S.'s most active oil and gas field at risk.
Holtec International proposed building a consolidated interims storage facility (CISF) to hold spent nuclear fuel rods temporarily in southeast New Mexico while a permanent repository — as required by federal law — was developed.
The federal government should not turn Los Alamos National Laboratory into a hub for making nuclear bomb cores and instead should spend the money to assist the state with education, health care, poverty and climate change impacts, a group of activists and concerned residents said Wednesday at the state Capitol.
BY: SCOTT WYLAND | santafenewmexican.com
The nonprofit Los Alamos Study Group, which supports nuclear disarmament, set up a sound system outside the deserted Roundhouse so critics could express their ire about plans for LANL to produce 30 warhead triggers a year by 2026 without a sitewide environmental study.
The comments, recorded as if the event were a public hearing, will be sent to New Mexico's congressional delegates, including Sens. Martin Heinrich and Tom Udall, who support LANL reviving and expanding plutonium pit production, saying it will boost the regional economy and strengthen national security.
"The shift is as significant as the one the world has seen in the auto industry, with electric vehicle maker Tesla overtaking the biggest car companies in the world in the last year, to the point where it is now valued at more than the next five biggest global car makers combined, despite producing just a fraction of the number of cars."
BY: GILES PARKINSON  | reneweconomy.com
In yet another sign of the pace of the global energy transition – and the massive switch taking place in the investment community – the market value of company that describes itself as the world's biggest producer of wind and solar power, US utility NextEra, has overtaken that of what used to be the world's most valuable company, oil major ExxonMobil.
The flip occurred last last week, when NextEra overtook ExxonMobil to become the largest energy company in the US by market value. As Forbes reported, an investment in NextEra a decade ago would have delivered to return of 600 per cent, while an investment in ExxonMobil would have returned minus 25 per cent.
3 Oct 2020 – The United Nations General Assembly holds a high-level meeting to commemorate the International Day for the Total Elimination of Nuclear Weapons. Because of the COVID-19 pandemic, many leaders speak by pre-recorded video to call for a nuclear-weapon-free world.

"The only way to completely eliminate nuclear risk is to completely eliminate nuclear weapons" and that the nuclear ban treaty "remains the cornerstone of the nuclear disarmament and nonproliferation regime," Guterres said at a meeting of the General Assembly on Friday.
NEW YORK/UNITED NATIONS – A U.N.-adopted nuclear ban treaty is likely to enter into force early next year as the number of signatories is anticipated to reach the needed threshold of 50 soon, possibly later this month, a diplomatic source said Friday.
According to the source and the International Campaign to Abolish Nuclear Weapons (ICAN), 46 countries and regions have completed ratification procedures.
The Treaty on the Prohibition of Nuclear Weapons, adopted in 2017, will enter into force 90 days after it has been ratified by at least 50 countries and regions.
At least four additional countries have already notified the United Nations of their intention to ratify the treaty, the source and the nonprofit organization said, without revealing the names of any such signatories.
Noting that the current international security environment "is not very positive," [Gustavo Zlauvinen, President-designate of the 2020 Review Conference for the Nuclear Nonproliferation Treaty (NPT)] said a lack of progress on nuclear disarmament will likely "play a big role, unfortunately" at the forthcoming NPT review conference.
By: KYODO NEWS | kyodonews.com
Questioning the effectiveness of a U.N.-adopted nuclear ban treaty, which involves no nuclear powers, the president-designate of an upcoming nonproliferation conference has stressed that the pact should not be allowed to undermine the legitimacy of the Nuclear Non-Proliferation Treaty.
"You can't have nuclear disarmament without the nuclear weapon states in that system. And that's why, for the time being, the only treaty that has been accepted by at least five nuclear weapon states, that includes obligations on nuclear disarmament, is the NPT," Gustavo Zlauvinen said in a recent exclusive interview with Kyodo News.
There is a "huge difference" between the NPT and the pact, Zlauvinen said, adding that it is necessary to make distinctions between the two treaties and "try not to erode the validity and the legitimacy of the NPT."
He also noted that some members of the NPT are opposed to any reference to the nuclear ban pact at the review conference to be convened early next year and indicated that a wide gap between nuclear power states and those pushing for the nuclear ban treaty could be an "issue of contention" at the NPT gathering.
SANTA FE, N.M. (KRQE) – The state Public Lands Commissioner is speaking out against a proposed nuclear waste storage facility in Lea County. In comments submitted to the National Regulatory Commission, Commissioner Stephanie Garcia Richard says that Holtec International ignored concerns about storing nuclear waste in a highly active oil field.
BY: KRQE Staff  | krqe.com
Read Garcia Richard's full comment and submission to U.S. Nuclear Regulatory Commission 
Commissioner Garcia Richard's released the following statement in a news release Monday regarding the public comment:
I remain vehemently opposed to this proposal for reasons stated since I took office in January 2019. Holtec has misrepresented themselves and this project through every step of the process, including recently raising the intended number of nuclear canisters from 500 to 10,000. They have misrepresented their purported control of the site while also lying about their ability to restrict oil and gas operations in the area.

Holtec has ignored numerous safety concerns regarding the transportation of high-level nuclear waste through New Mexico communities, as well as failing to address questions about storing such waste in the middle of a highly active oil field. As Commissioner of Public Lands, I have a constitutional obligation to protect state trust land for future generations. This project comes with far too much risk and little to no reward.
"Nuclear Regulatory Commission killed study in 2015 after spending five years and $1.5 million on the effort"
BY: TERI SFORZA  | ocregister.com
Scientists and activists were stunned back in 2015 when the Nuclear Regulatory Commission pulled the plug on what was designed to be the best study of cancer near nuclear power plants ever done.
The pilot study's price tag was $8 million — a pittance in the NRC's $1 billion budget — and five years of work had already gone into it. But it was killed because officials were convinced it would be too costly and couldn't link reactors to disease, a Southern California News Group investigation found.
Last week, a petition with some 1,200 signatures demanding that the study resume went to members of Congress representing Southern and Central California.
"It's an unusual thing for environmentalists and oil companies to be on the same page, and we are on this issue," says an Austin-based environmental advocate.
BY: Travis Bubenik, Courthouse News; | texasstandard.com
From Courthouse News Service:
Texas Governor Greg Abbott has come out against two rival plans to ship highly radioactive waste from the nation's nuclear power plants to sites on the Texas-New Mexico border, saying either plan would be unsafe and would threaten the region's sprawling Permian Basin oilfield.
"A stable oil and gas industry is essential to the economy, and crucial to the security of our great nation," Abbott, a Republican, wrote in a letter to President Donald Trump on Wednesday. "Allowing the interim storage of spent nuclear fuel and high-level nuclear waste at sites near the largest producing oilfield in the world will compromise the safety of the region."
The nuclear waste plans have for years drawn the ire of advocacy groups who worry about a range of possible environmental and safety threats, but oil and gas interests have become increasingly involved in the fight as well.
A coalition of oil companies and West Texas landowners called Protect the Basin was launched in 2018 to oppose the plans and has more recently stepped up its outreach. One of the coalition members, a ranching and oil company tied to one of the nation's richest families, has been involved in fighting the issue all the way up to the D.C. Circuit.
"If countries want to lower emissions as substantially, rapidly and cost-effectively as possible, they should prioritize support for renewables, rather than nuclear power."
BY: University of Sussex | techxplore.com
That's the finding of new analysis of 123 countries over 25 years by the University of Sussex Business School and the ISM International School of Management which reveals that nuclear energy programs around the world tend not to deliver sufficient carbon emission reductions and so should not be considered an effective low carbon energy source.
Researchers found that unlike renewables, countries around the world with larger scale national nuclear attachments do not tend to show significantly lower carbon emissions—and in poorer countries nuclear programs actually tend to associate with relatively higher emissions.
"Trump administration official's comments suggest the two sides might be able to come to terms on broad principles"
BY: MICHAEL R. GORDON | wsj.com
U.S. and Russian negotiators made progress Monday on a new framework accord that would freeze each side's nuclear arsenal and outline the parameters for a detailed treaty that would be negotiated next year, a senior Trump administration official said.
The accord, if it comes together in the coming month, would give each side something it has sought. President Trump would have a demonstration that his diplomacy toward Moscow has borne fruit, arriving before the November election. Russia would get an extension of the New START…
"In the nearly sixty years since the Cuban missile crisis, the story of near-catastrophe has only grown more complicated. What lessons can we draw from such a close call?"
"…what almost no one knew until four decades later—was that one of B-59's torpedoes was carrying what the Soviets called "special ammunition." The "special" part was a fifteen-kiloton nuclear warhead. Had Savitsky's orders been carried out, chances are good that the Americans would have responded in kind, and a full-scale nuclear war would have broken out. There should, it seems, be a useful lesson to be learned from that frantic afternoon. But what, in God's name, is it?"
BY: ELIZABETH KOLBERT | newyorker.com
On October 27, 1962, a day that's been described as the "most dangerous" in human history, a Soviet submarine designated B-59 was churning through the Sargasso Sea when suddenly it was rocked by a series of explosions. "It felt like you were sitting in a metal barrel, which somebody is constantly blasting with a sledgehammer," Vadim Orlov, a communications specialist on board the sub, later recalled. "The situation was quite unusual, if not to say shocking, for the crew."
Four weeks earlier, B-59 had been dispatched from the U.S.S.R. with three other so-called F-class subs as part of Operation Anadyr, Nikita Khrushchev's top-secret effort to install ballistic missiles in Cuba. (The Anadyr is a river that flows into the Bering Sea; the code name was intended to make even soldiers participating in the operation believe they were headed somewhere cold.) Pretty much from the outset of the voyage, things had not gone well.
"For the sailors, this Cuban missile crisis started even before its beginning," Ryurik Ketov, the captain of another Cuba-bound sub, once observed. The Atlantic that October was turbulent, and the pitching sea made it tough for the boats to maintain their desired speed.
"You have to hold on to something even in your sleep, or else you'll fall off," a crew member complained. Communications, too, were difficult. Once past Iceland, the subs had trouble contacting Moscow; for a while, according to Ketov, the only voices audible over the radio "were those of Murmansk fishermen."
"The Finnish president's office says the United States and Russia will hold a round of nuclear arms control talks in Finland's capital, Helsinki, on Monday to follow up on negotiations in Austria this summer"
By: Associated Press | abcnews.com
HELSINKI — The United States and Russia will hold a round of nuclear arms control talks in the Finland's capital, Helsinki, on Monday to follow up on negotiations in Austria this summer, the Finnish president's office said.
"The round of discussions on strategic stability and nuclear weapons between the United States and Russia, which began in Vienna in the summer, will continue in Helsinki on Monday," the office of the Finnish President Sauli Niinisto said in a brief statement late Sunday.
The office said nuclear arms negotiators from Washington and Moscow met a previous time in Finland in 2017.
"Finland welcomes the negotiators, this time (U.S.) Ambassador (Marshall) Billingslea and (Russian) Deputy Foreign Minister (Sergei) Ryabkov," the statement said, adding that Niinisto would meet both representatives after the talks.
"Most of the effects of the law at the heart of a $60 million Statehouse bribery scandal are set to take effect Jan. 1. The law generally creates or expands consumer-fueled subsidies for legacy nuclear and coal-fired power plants in Ohio and offsets those costs by rolling back and eliminating existing surcharges designed to create markets for renewable sources like wind and solar and reduce energy consumption overall."
By: Jim Provance | limaohio.com
COLUMBUS — EDP Renewables North America, the world's fourth-largest wind developer, invested more than $700 million into projects in Paulding and Hardin counties when Ohio first rolled out the red carpet.
But more recent signals from the state — including last year's passage of the $1 billion bailout of two nuclear plants — have convinced the company to look elsewhere for its future investments.
"HB 6 created a false dichotomy — that Ohio must sacrifice a clean-energy future at the expense of its energy past," Erin Bowser, EDP's director of project management, on Wednesday told a House of Representatives select committee now considering repealing House Bill 6.
"But if we are truly to have a world free of the horrific threat of nuclear arms, the goal needs to be more. A world free of the other side of the nuclear coin – nuclear power –is also necessary. Radical? Yes, but consider the even more radical alternative: a world where many nations will be able to have nuclear weapons because they have nuclear technology. And the world continuing to try using carrots and sticks to try to stop nuclear proliferation — juggling on the road to nuclear catastrophe."
By: KARL GROSSMAN | independentaustralia.net
At the start of 2020, Bulletin of the Atomic Scientists moved its Doomsday Clock to 100 seconds to midnight — the closest to midnight, doomsday, since the clock started in 1947.
There are two gargantuan threats — the climate crisis and nuclear weapons/nuclear power.
The only realistic way to secure a future for the world without nuclear war is for the entire planet to become a nuclear-free zone — no nuclear weapons, no nuclear power. A nuclear-free Earth.
How did India get an atomic bomb in 1974? Canada supplied a reactor and the U.S. Atomic Energy Commission provided heavy water for it under the U.S. so-called "Atoms for Peace" program. From the reactor, India got the plutonium for its first nuclear weapon.
Any nation with a nuclear facility can use plutonium produced in it to construct nuclear arms.
Nuclear News Archives – 2019
Tehran has rejected the Trump administration's demand that a a new deal imposing stricter limits on its nuclear capacity as well as curbs on its ballistic missile programme and on its regional behaviour.
ARTICLE BY PARISA HAFEZI | reuters.com
DUBAI (Reuters) – Iran said on Monday it had launched a new batch of advanced centrifuges to accelerate uranium enrichment, further reducing compliance with the 2015 nuclear deal following the withdrawal of its arch-foe the United States. Iran has gradually shed commitments made under the deal with world powers since being hit with renewed U.S. sanctions that have crippled its oil exports. Germany said on Monday Iran's announced roll-out of modernised centrifuges jeopardises the accord and called on Tehran to return to it.
Responding to Washington's "maximum pressure" campaign, Iran has bypassed the restrictions of the deal step-by-step – including by breaching both its cap on stockpiled enriched uranium and on the level of enrichment.
Tehran, however, has left room for diplomacy by saying that talks are possible if Washington lifts all the sanctions and itself returns to the nuclear deal.
"If they (Washington) return to their commitments, we also will go back to our commitments," Salehi said, adding that "Iran is ready to fully implement the deal if its rights are respected".
ARTICLE BY JESSICA MCDONALD | factcheck.org
Ryan Jones, an expert in electricity systems and a co-founder of Evolved Energy Research, a consulting company that models low-carbon transitions, agreed. "Anyone who says that nuclear is 100% necessary on a technical basis, I would claim, just hasn't looked at the alternatives in enough detail," he said in an email.
Most experts FactCheck.org contacted, including those who think nuclear power should remain an option, said that from a technical perspective, nuclear is not needed to decarbonize the grid.
The US nuclear forces' Dr. Strangelove-era messaging system finally got rid of its floppy disks
BY: VALERIE INSINNA | c4isrnet.com
OFFUTT AIR FORCE BASE, Neb. — In 2014, "60 Minutes" made famous the 8-inch floppy disks used by one antiquated Air Force computer system that, in a crisis, could receive an order from the president to launch nuclear missiles from silos across the United States.
But no more. At long last, that system, the Strategic Automated Command and Control System or SACCS, has dumped the floppy disk, moving to a "highly secure solid state digital storage solution" this past June, said Lt. Col. Jason Rossi, commander of the Air Force's 595th Strategic Communications Squadron.
The communication system which keeps the president in touch with the nuclear triad during a crisis will now be the responsibility of the head of U.S. Strategic Command.
Russia has successfully test-fired an intercontinental ballistic missile from its latest nuclear-powered submarine, the country's defence ministry says.

BY: JONATHAN MARCUS | bbc.com
Footage captured overnight shows the release of the so-called Bulava missile from an underwater position in the White Sea, the ministry said.
It was fired from Russia's new Prince Vladimir submarine and was reported to have travelled thousands of kilometres.
The submarine is expected to be operational by the end of the year.
Completed in the early hours of Thursday, the Bulava missile launch – the first of its kind from the Prince Vladimir – was one of many weapons tests expected to take place in the coming weeks.
ARTICLE BY JOE GOULD | defensenews.com
WASHINGTON ― Key Senate Democrats signaled Monday their caucus is likely to filibuster a proposed 2020 defense spending bill, which Senate Republican leaders plan to offer for a vote this week.In a Senate floor speech Monday, Majority Leader Mitch McConnell, R-Ky., dared Democrats to hold up the bill, accusing them of blocking a troop pay raise "for the sake of picking a fight with the White House," even after the raid that killed Islamic State leader Abu Bakr al-Baghdadi.
October 29 This week on Press the Button: Chairman Adam Smith of the House Armed Services Committee. His remarks on the future of U.S. nuclear policy at the National Press Club last week made the news when he said that it was very unlikely major policy provisions would survive conference, particularly on the new, more usable nuclear weapon.
Hear his comments directly in a special edition of Press the Button called "The Chairman's Choice."
Geoff Wilson of Council for a Livable World discusses this surprise development with Michelle Dover and Mary Kaszynski of Ploughshares Fund on Early Warning.
Listen, Subscribe and Share on iTunes · Spotify · SoundCloud · YouTube · Google Play · Sticher
Also available on ploughshares.org/pressthebutton
Who will be the ultimate bearer of the nation's nuclear waste?
In Mashable's series Wasted, reporters dig into the myriad ways we're trashing our planet. Because it's time to sober up.
WRITTEN BY MARK KAUFMAN | mashable.com
Of all the states in the union, and to the certain dismay of many local residents, New Mexico presently has the potential to become the future bearer of more and more of the nation's nuclear excesses.
Though New Mexico will resist, and may prevail. "Folks in New Mexico are not going to take it," said Albuquerque resident Don Hancock, who is the director of the Nuclear Waste Safety program at the Southwest Research and Information Center, an advocacy group focused on environmental and social justice. "We'll stop this."
"New Mexicans should not have to tolerate this risk."
Top Armed Services leaders in both houses of Congress are considering passing a slimmed-down National Defense Authorization Act that defers controversial measures for the sake of getting something passed, our colleague Connor O'Brien writes.
"It's amounted to a backup plan," House Armed Services Chairman Adam Smith (D-Wash.) told POLITICO, referring to the "skinny NDAA." "It's amounted to, we're going to keep working on the bill itself, try to get resolved the top drawer issue of the [border] wall and we'll have this as a backup discussion if necessary. I don't have a problem with that."
CHECKING TRUMP: More than 40 advocacy groups are out with a letter calling on lawmakers to oppose a final defense bill that doesn't include the "core progressive priorities" aimed at constraining the Trump administration in the House-passed bill. That includes provisions to limit Trump's Iran war powers, end U.S. support to the Saudi-UAE coalition in Yemen, bar new detainees at Guantanamo Bay, protect transgender troops and block deployment of new low-yield nuclear warheads.
October 22 Congressman Gerry Connolly (D-VA) gives us an insider view of the impeachment crisis and its impact on US foreign policy. Connolly serves on the Foreign Affairs and the Oversight Committees, both charged with the impeachment inquiry.

Early Warning features Joe Cirincione and Elizabeth Beavers discussing the Turkish president's recent comments on nuclear weapons, and why we should keep the Open Skies Treaty. Joe Cirincione answers a question from Alec in Louisiana.
Listen, Subscribe and Share on iTunes · Spotify · SoundCloud · YouTube · Google Play · Sticher
Also available on ploughshares.org/pressthebutton
Calling the National Nuclear Security Administration's latest Record of Decision (Federal Register, October 4, 2019) for the Continued Operation of the Y-12 National Security Complex , "an obvious attempt by the government to deliberately circumvent this Court's ruling," the Oak Ridge Environmental Peace Alliance, Nuclear Watch New Mexico, the Natural Resources Defense Council and four individual co-plaintiffs today filed a Motion to Enforce the judgment handed down in federal court in September by Chief United States District Judge Pamela Reeves.
"Within hours of the Judge's September ruling, NNSA told reporters that it would keep right on doing what it was doing, including building the UPF bomb plant. Then they published the new Record of Decision which is a direct challenge to the Court—it says they have decided they will comply with the Court's order at some uncertain date in the future, and in the meantime, it's business as usual. We went to court in the first place, because 'business as usual' was violating the law." — OREPA coordinator Ralph Hutchison
"There are approximately 50 US nuclear weapons, stored on Turkish soil. The United States had never openly acknowledged its existence, until Wednesday, when Trump did exactly that. When asked about the safety of these weapons, stored in a bunker controlled by the Americans at Incirlik Air Base, Mr. Trump said, "We have confidence and we have a large air base there, a very powerful air base." But not everyone is so confident, because the air base belongs to the Turkish government. If relations with Turkey deteriorate, US access to that base is not guaranteed."
ARTICLE BY DAVID E. SANGER & WILLIAM J. BROAD | nytimes.com
Erdogan is playing before an anti-American domestic audience with his nuclear rhetoric, but he is very unlikely to look for nuclear weapons,,quot; said Jessica C. Varnum, an expert in Turkey at the James Martin Center for Nonproliferation Studies in Middlebury in Monterey, California, "There would be huge economic and reputational costs for Turkey, which would damage the pockets of Erdogan voters."
"With today's technology, land-based [ballistic] missiles are an embarrassment," the late, great strategist Thomas Schelling wrote in 1987. The weapons, he added, "seem to give the entire deterrent a bad name."
ARTICLE BY STEVE FETTER & KINGSTON REIF | warontherocks.com
Schelling was right: Intercontinental ballistic missiles (ICBMs) are by far the least valuable leg of the so-called nuclear triad, which also consists of submarine-launched ballistic missiles, and air-delivered cruise missiles and gravity bombs.
So long as U.S. adversaries possess nuclear weapons, we believe the United States should maintain a safe, secure, and effective nuclear arsenal to deter nuclear attacks against itself and its allies. But the Trump administration's approach to sustaining and upgrading the arsenal is unnecessary, unsustainable, and unsafe. Nowhere is this more evident than with respect to its plan to build a new ICBM.
Instead of proceeding with current plans to build an entirely new ICBM system at a cost that is likely to exceed $100 billion, the Pentagon could save scores of billions — without sacrificing U.S. security — by continuing to rely on a smaller number of existing Minuteman III missiles.
On Thursday, the Senate failed a veto override on Donald Trump's emergency declaration, which is being used to purloin funds appropriated for other programs and use them for his border wall. That sets up yet another budget fight that will simmer along between the House, Senate, and White House for the next month. It also sets up another fight over a Trump government shutdown.
ARTICLE BY JOAN MCCARTER | dailykos.com
Before the August recess, all parties agreed to a continuing resolution to fund the government until the week before Thanksgiving, in anticipation that all the individual spending bills for all the departments would be passed and signed by then. What it really set up was another fight with Trump. "Trump is not interested in signing other domestic spending bills until there is agreement on the border wall," a senior administration official told The Washington Post.
A High Country News investigation finds the EPA awarded Tetra Tech a contract despite knowing its subsidiary had likely engaged in data manipulation, false reporting and profiteering.
ARTICLE BY SUSIE NIELSEN | hcn.org
In September 2017, the Environmental Protection Agency received a troubling message from the Navy: Tetra Tech EC, the firm tasked with cleaning up the radioactive former naval shipyard Hunters Point in San Francisco, might have manipulated its data.
The past performance of Tetra Tech, even beyond its subsidiary at Hunters Point, has been marked by controversy. The parent company has been at the center of other lawsuits, including a consolidated case regarding its involvement in cleaning up after the North Bay Fires, a series of wildfires that devastated regions north of San Francisco in the fall of 2017.
"The Navajo Nation project is a bull's-eye radioactive project with dangerous radioactivity. For Tetra Tech to get that project at all — to be even allowed to bid on it — is shocking." – David Anton, attorney for the Tetra Tech EC whistleblowers
In 2008, the EPA and five other federal agencies, in consultation with Navajo Nation, developed the first comprehensive plan to address the legacy of uranium contamination in and around the Navajo Nation. As of 2014, of the 43 highest-priority Navajo Nation mines as designated by the EPA, only one of them — the Skyline Mine — had been mostly cleaned up.
NPR ALL THINGS CONSIDERED JEFF BRADY | npr.org Updated at 6:30 p.m. ET
Secretary of Energy Rick Perry plans to leave his position at the end of the year, President Trump confirmed to reporters Thursday in Fort Worth, Texas. Trump praised Perry and said he already has a replacement in mind.
"Rick has done a fantastic job," Trump said. " But it was time."
Trump said that Perry's resignation didn't come as a surprise and that he has considered leaving for six months because "he's got some very big plans."
Perry, 69, is one of Trump's original Cabinet members and recently has emerged as a central figure in the impeachment inquiry of Trump.
BLOG BY HANS M. KRISTENSEN | fas.org
Should the U.S. Air Force withdraw the roughly 50 B61 nuclear bombs it stores at the Incirlik Air Base in Turkey? The question has come to a head after Turkey's invasion of Syria, Erdogan's increasingly authoritarian leadership and deepening discord with NATO, Trump's inability to manage U.S. security interests in Europe and the Middle East, and war-torn Syria only a few hundred miles from the largest U.S. nuclear weapons storage site in Europe.
"The US is storing perhaps 50 air-dropped thermonuclear bombs at its Incirlik Airbase in southern Turkey, less than 100 miles from the Syrian border where this conflict is taking place."
BY: TIM FERNHOLZ | qz.com
Turkish forces are pushing into northern Syria, replacing and sometimes even firing on the US troops retreating at Donald Trump's orders.
The question of whether Turkey, a member of the North Atlantic Treaty Organization, is really a US ally was put to US defense secretary Mark Esper on Fox television this morning. "No, I think Turkey, the arc of their behavior over the past several years has been terrible," he said.
The nuclear stockpile dates back to the Cold War, when the US sought to keep a sufficient supply of atomic weapons deployed in Europe to deter potential Soviet aggression. Belgium, the Netherlands, Germany, and Italy also host similar arsenals, and the US trains the participating nations in the use of the doomsday devices.
Turkey Troubles
October 15 Heather Hurlburt, director of the New Models of Policy Change project at New America's Political Reform program, joins Michelle Dover for a discussion on US national security and foreign policy under President Donald Trump. She is the co-author of The Consensual Straitjacket: Four Decades of Women in Nuclear Security.
News analysis with Michelle Dover, John Carl Baker and Geoff Wilson of Council for a Livable World focuses on the Trump administration's decision to withdraw US troops from the Turkey-Syria border. Joe Cirincione answers a question from Johnny from Massachusetts.
Listen, Subscribe and Share on iTunes · Spotify · SoundCloud · YouTube · Google Play · Sticher
Also available on ploughshares.org/pressthebutton
From study: "Rapidly expanding nuclear arsenals in Pakistan and India portend regional and global catastrophe"
"The world has changed in the past few years with world leaders again explicitly and publicly threatening each other with nuclear weapons. Many experts think the danger of a nuclear strike is higher than it has been in decades.
Governments tell their citizens that it's good that we have nuclear weapons, but bad when others have them; that it's somehow necessary to threaten others with mass destruction to keep us safe. But does this make you feel you feel safe? It only takes a small group of people in power to go crazy or rouge, a small misstep or simple misunderstanding to release a catastrophe of unimaginable proportions."
Video Description: "Until we did the research. It turned out we were a bit oblivious off the real impact of nuclear weapons in the real world, on a real city. And especially, how helpless even the most developed nations on earth would be if an attack occurred today. So hopefully this video demonstrates how extremely non fun a real world nuclear attack would be, without being too gruesome."
Chair Hamilton responds, "Pursuant to our enabling legislation, we have directed our staff to attend all phases of the NES study process. Should you wish to prohibit our access to a particular study, we respectfully request written communication to the Board."
[NES = the nuclear explosive safety (NES) elements of DOE O 452.1E, Nuclear Explosive and Weapon Surety Program]
Oct. 11, 2019

The Honorable James Richard Perry Secretary of Energy
U.S. Department of Energy
1000 Independence Avenue, SW Washington, DC 20585-1000
Dear Secretary Perry:
We have received NNSA's response dated August 9, 2019, concerning Board access to all phases of the nuclear explosive safety study process. We respectfully disagree with the justification offered for continued exclusion of our staff from NES study deliberations. NNSA's response notes deliberations as collaborative efforts where participants consider all sides of identified issues, requiring free and open communication. Our staff's observation of this interaction provides them with an understanding of the bases of the safety decisions being taken.
Today is Indigenous People's Day, a holiday to honor and celebrate Native American and Indigenous peoples.
Among the many injustices suffered by native communities in the centuries that have passed since Europeans arrived on North America's shores and claimed it for their own is the dangerous and deadly exposure to the radioactive materials used to create nuclear weapons. The United States' nuclear arsenal has taken an especially hard toll on the Navajo, who continue to live with the repercussions of nuclear mining even today.
BACKGROUND
EXCERPT FROM POST BY CASSANDRA VARAKA, POLICY DIRECTOR OF WAND |
The process of building nuclear weapons starts with mining. One of the main elements of a nuclear bomb is enriched uranium. Some of the world's richest uranium deposits span across Arizona, New Mexico, and Utah — heavily overlapping with the Navajo Nation. These mines provided the uranium used in the Manhattan Project; the United States' top-secret endeavor to build the first nuclear bombs. Between 1944 and 1986 mining companies blasted 4 million tons of uranium out of Navajo land. Until 1971, uranium from these mines was sold exclusively to the United States government. Many Navajo were employed in the uranium mines and exposed to unsafe conditions by the companies in employing them. The mining companies knew that mine workers were at heightened risk for developing lung cancer and other serious respiratory diseases in 15 or 20 years. Additionally, the mines operated in a way that contaminated the surrounding lands and water by leaving large piles of radioactive materials exposed.
Many Navajo continue to live in close proximity to contaminated uranium mines. Of the 523 abandoned mines, the Environmental Protection Agency has only successfully cleaned up nine. The legacy of these mines and the contamination they leached into the environment on the Navajo Nation has been devastating: the cancer rate on the reservation doubled from the early 1970's to the late 1990's, even as the cancer rate declined nationwide. Each and every day, minority populations like the Navajo continue to be unduly affected by the militaristic pursuits of our government. For the Navajo, that means generations of health problems in the name of our nuclear weapons. We owe it to them, and to all the marginalized communities harmed by our pursuit and maintenance of nuclear weapons, to highlight the price they have been forced to pay for our nuclear arsenal.
Both are existential threats, but only one is getting the attention it deserves.

BY: MATT KORDA | thenation.com
"The current attention gap between the climate crisis and nuclear weapons is bizarre, given their common existential stakes and challenges. Climate change and nuclear weapons have a symbiotic relationship: Each threat exacerbates the other. Climate change is setting the stage for conflict between nuclear-armed states, and a recent study suggests that even a regional nuclear war would cool the planet by 2 to 5 degrees Celsius and cause mass starvation for over a decade. Not to mention the fact that even during peacetime, decades of uranium mining, nuclear testing, and nuclear waste dumping have contaminated some of our planet's ecosystems beyond repair, displacing entire communities—often communities of color—in the process.
The flip side of this symbiosis, however, means that climate change and nuclear weapons also share a common solution. A progressive nuclear policy should be based upon four core principles of the Green New Deal—international cooperation, reductions, transparency, and justice. Only by challenging the nuclear-industrial complex in its entirety—in a way akin to how the Green New Deal challenges the carbon economy in its entirety—can a progressive nuclear policy pull us back from the brink of atomic and environmental catastrophe. Progressive climate change policies should include demilitarization and disarmament provisions, and progressive nuclear policies should address the climate and humanitarian impacts of nuclear weapons. Similarly, nuclear activists and climate change activists are natural allies in the fight against existential risk, and both causes would benefit from a more robust partnership.
To that end, the significant attention imbalance between climate change and nuclear weapons must be urgently corrected; keeping them siloed reinforces an incomplete narrative about the nature of these existential threats.
"There's enough high-level nuclear waste awaiting disposal in the U.S. to fill a football field 65 feet (20 meters) deep. Few states want to house it within their borders."
"The public defines 'safe' as zero risk…the technical community defines 'safe' as complying with regulatory standards." – Robert Halstead, head of the Agency for Nuclear Projects, is currently fighting plutonium shipments to Nevada and spent nuclear fuel transfers to the proposed Yucca Mountain dump.
BY: SCOTT SONNER | phys.org
The plutonium core for the first atomic weapon detonated in 1945 was taken from Los Alamos National Laboratory to a test site in the New Mexico desert in the backseat of a U.S. Army sedan.
Officials put other bomb parts inside a metal container, packed it into a wooden crate and secured it in the steel bed of a truck under a tarp, the U.S. Energy Department's National Nuclear Security Administration says in a historical account.
Grainy black-and-white photos show special agents and armed military police accompanying the shipment nearly 75 years ago.
"Nuclear materials transportation has evolved since then," the department posted online last year.
Today, radioactive shipments are hauled in double-walled steel containers inside specialized trailers that undergo extensive testing and are tracked by GPS and real-time apps.
But whether shipping technology has evolved enough to be deemed safe depends on whom you ask.
Two scientific studies modelling the effects of nuclear war released in the past few weeks have revealed some terrifying figures:
91.5 million deaths in a matter of hours, if nuclear conflict breaks out between the United States and Russia,
125 million deaths in case of a week-long conflict between India and Pakistan using 100 kilotonne nuclear warheads,
A 30% reduction in surface sunlight due to the 36 teragrams of black carbon released into the atmosphere after the India-Pakistan conflict,
Two billion people at risk of famine.
The two studies, Princeton's Science and Global Security programme "Plan A" [ 1] and Science Advances' Rapidly expanding nuclear arsenals in Pakistan and India portend regional and global catastrophe [ 2], show that there is no such thing as a contained nuclear conflict.
These are not farfetched scenarios. This new research comes out as tensions are increasing between India and Pakistan, and four of the nine nuclear-armed states have tested nuclear missiles in just the past two weeks. [3, 4] You can read more about this new research here.
The science is clear: we need to eliminate nuclear weapons, before they are used again.
BY: MIKE HARRIS | vcstar.com
The U.S. Department of Energy announced this week it has decided to demolish and remove, without state oversight, 13 of 18 remaining structures from its portion of the contaminated Santa Susana Field Laboratory as part of the much-delayed cleanup of the site.
However, in a so-called record of decision it issued Monday, the federal agency said it recognizes that the demolition and removal of the other five structures must be "compliant" with state permits and state hazardous waste laws.
"Placing a novel warhead design in the active nuclear weapons stockpile with a substantially untested pit is irresponsible. Rapidly increasing production at sites with spotty records compounds that error with added safety hazards. Increasing plutonium pit production to a rate of 80 or more annually is both reckless and unnecessary."
BY: MARYLIA KELLEY &  JOSEPH RODGERS | thehill.com
Behind closed doors, Congress is in the process of making a decision that will have a profound impact on nuclear risk levels and global security. Hanging in the balance is a decision to recklessly increase production of plutonium bomb cores or "pits." The NDAA conference committee must not make that mistake.
Pits are the triggers for thermonuclear weapons. Currently, the United States does not manufacture plutonium pits on an industrial scale. In its fiscal 2020 budget request the National Nuclear Security Administration (NNSA) seeks authorization to produce at least 80 plutonium pits per year by 2030 at two facilities separated by some 1,500 miles. The Senate NDAA fully funds the request. The House instead authorizes 30 pits per year, all at the Los Alamos National Laboratory in NM. Los Alamos is presently authorized to produce 20 pits annually.
A group of governors from western states voiced "disappointment" in a recently released five-year strategic plan for ongoing operations at the Waste Isolation Pilot Plant, contending they weren't adequately consulted on the future of the nuclear waste repository near Carlsbad.
BY: ADRIAN HEDDEN | carlsbadcurrentargus.com
Don Hancock, director of the Nuclear Waste Program at the Southwest Research and Information Center said the plan was insufficient in that it did not detail plans and costs needed to keep WIPP open until 2050. He said the plan detailed projects intended to keep WIPP open beyond 2025, without adequately explaining the associated costs.
"It's not a five-year plan," Hancock said. "The centerpiece of the plan is WIPP being open until 2050. That's 30-year plan. They're saying WIPP's timeline needs to be doubled. This should be saying how WIPP is transitioning from emplacement to closure, but it does the opposite."
Hancock said the DOE must communicate with the public on either keeping WIPP, known as a pilot project, open indefinitely or developing other repositories to handle the low-level transuranic (TRU) waste disposed of at the site.
He said another alternative would be for the DOE to develop a plan to emplace the waste at the generator sites – multiple nuclear facilities across the country – themselves.
About a quarter of Navajo women and some infants who were part of a federally funded study on uranium exposure had high levels of the radioactive metal in their systems, decades after mining for Cold War weaponry ended on their reservation, a U.S. health official said. The early findings from the University of New Mexico study were shared Monday during a congressional field hearing in Albuquerque.
MARY HUDETZ, ASSOCIATED PRESS jhnewsandguide.com
Dr. Loretta Christensen — the chief medical officer on the Navajo Nation for Indian Health Service, a partner in the research — said 781 women were screened during an initial phase of the study that ended last year. Among them, 26% had concentrations of uranium that exceeded levels found in the highest 5% of the U.S. population, and newborns with equally high concentrations continued to be exposed to uranium during their first year, she said. The research is continuing as authorities work to clear uranium mining sites across the Navajo Nation.
"It forces us to own up to the known detriments associated with a nuclear-forward society," said U.S. Rep. Deb Haaland, who is an enrolled member of Laguna Pueblo, a tribe whose jurisdiction lies west of Albuquerque.
The hearing held in Albuquerque by U.S. Sen. Tom Udall, Haaland and U.S. Rep. Ben Ray Lujan, all Democrats from New Mexico, sought to underscore the atomic age's impact on Native American communities. The three are pushing for legislation that would expand radiation compensation to residents in their state, including post-1971 uranium workers and residents who lived downwind from the Trinity Test site in southern New Mexico.
A 'dirty, dirty process'
BY: KENDRA CHAMBERLAINE | nmpoliticalreport.com
Los Alamos has a starring role in a shift to U.S. nuclear policy that's two presidential terms in the making. Nuclear watchdog groups in the state are concerned about the United States' evolving nuclear agenda, which will see a sharp increase in plutonium pit production at Los Alamos National Laboratory (LANL).
LANL recently released its $13 billion expansion proposal to accommodate increased pit production at the site. The expansion is part of a wider push across the country to ramp up the nuclear warhead manufacturing machine, according to Greg Mello, executive director of the Los Alamos Study Group.
Plutonium pits are central to nuclear weaponry. They are the "radioactive cores of modern nuclear weapons," said Jay Coghlan, executive director of Nuclear Watch New Mexico. He added that the pits themselves are weapons. "It was essentially a plutonium pit that destroyed Nagasaki on August 9, 1945,"
The ramp-up is years in the making, as successive presidential administrations have struggled to address how to modernize the U.S. nuclear stockpile. But nuclear watchdog groups worry an increase in pit production at LANL would have negative repercussions for the region. While LANL has touted the proposed economic benefits of its proposal for the area, activists argue the dangers outweigh the benefits.